Tetz Ready to Return After Shoulder Surgery
By: Ted Stovin Wednesday, June 26, 2019 @ 4:42 PM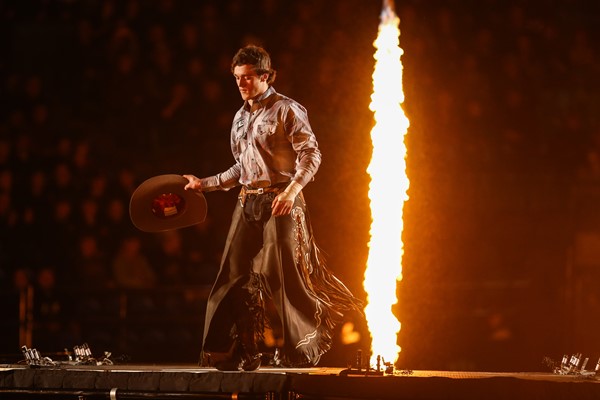 CALGARY, Alberta – Separating your shoulder in the bull riding business is something that's quite common. Especially with the smaller guys of our sport.
Bull riders are built slim already and with a hand tied in a rope with rosin on both it and a glove, when it's the only thing keeping the rest of your body tied to an animal that out-weighs you by 10-times, somethings gotta give.
A separated shoulder loses most of its strength and mobility. A rider can still compete and make qualified rides with the injury however they are far from 100% and eventually have to take at least a break of six months for the operation to repair a labrum and rotator cuff.
After surgery, it's time in a sling and months of exercises with a rubber band and light weights to regain the lost strength and mobility.
This is what 2018 PBR Canada Rookie of the Year Nick Tetz has gone through over the past six months since his surgery on December 27th.
"I would go see Brandon [Thome, of the Canadian Pro Rodeo Sports Medicine Team] and he would give me a set of exercises," Tetz said, noting Thome told him to check in when he got bored of the routine. "Every couple of weeks I would go in and see him."
RELATED: Tetz to Miss 6-12 Months After Shoulder Surgery
Finishing No. 9 in the 2018 PBR Canada National Standings, Tetz was in elite company at the end of the season, three spots back of three-time PBR Canada Champion Aaron Roy, four spots back of two-time Champ Zane Lambert and one behind the 2018 Calgary Stampede $100,000 Champion Marcos Gloria. Not bad for an 18-year-old rookie.  
"I think I've been to the gym about 115 times since I got my shoulder surgery," Tetz said. "A week after I got my surgery I was doing whatever I could just to try to stay active, keep the blood flowing to get the nutrients back into the shoulder. I stayed really active the entire time, a lot of the stuff that I've been doing is more bull riding focused."
In 2018, Tetz wouldn't start the season until May 25th in Swift Current, Saskatchewan but gathered up nine Top 5 finishes and one event win in Lloydminster, Saskatchewan on July 13th. His season ended at his first PBR Canadian Finals in Saskatoon with 14 qualified rides in 39 outs with all his scores in a four-point range from 82 to 86 points.
RELATED: Tetz Eyes Canadian Rookie of the Year Title
"I think right now I'm probably in the best shape bull riding wise," Tetz said. "A couple years ago I was in pretty good shape for hockey. I played some pretty serious high-level hockey and then over these last couple years since I haven't been playing hockey, I've been trying to work on getting more into bull riding shape.
"These last couple of months have really helped me out with that."
Transitioning from high-level hockey to the PBR has helped Tetz maintain as an athlete.
"My last year I played Midget AAA for the Royals in Calgary, so I got to play in the Mac's and everything so that was pretty cool," Tetz said of the famous Midget level hockey tournament that's been a stepping stone to the NHL for players such as 2019 Stanley Cup Champion Jay Bouwmeester, Sidney Crosby, Jordan Eberle, Jarome Iginla and even 1996 Stanley Cup Champion and PBR Canada judge and stock contractor Curtis Leschyshyn. "Then I was going to go play Junior but the LRA Finals were on that weekend so I entered the LRA Finals instead of registering for the Junior camp."
"That's how I broke the news to my dad," Tetz laughed.
A defenseman like Leschyshyn, but about a foot shorter, Tetz has chosen his path and looks to get right back to where he left off.
"The goal right now is being able to get back to the CFR and PBR Canada Finals," Tetz said. "I want to try to come into those in the Top 5. Realistically, I wanted to do that last year. Halfway through the year when those started kinda clicking I think I was sitting sixth at one point but I was quite a few points back.
"I really want to get into the Top 5 in the PBR Canada and do something and make something happen, start making some noise up here."
Tetz proved the doubters wrong after making the jump to the PBR in his earliest opportunity.
"I felt like last year I made a little bit of noise. I know there's a lot of people, especially your first year, you're 18, they look at you and go: 'Yeah I don't know if you shoulda went pro.'
"So getting to the CFR and PBR Canada Finals, that's something that was really important to me last year, just to prove those people wrong," Tetz said. "I don't know if they were out there or not but I like to think there were some people out there that said: 'I don't know why Nick's going pro.' Especially the first couple months I was kinda struggling there but things click at around this time for me anyways. I usually start riding pretty good right around now."
Cowboy Christmas is a great time to start riding well and returning to action with ten PBR Canada events on the schedule in July and numerous rodeos across North America.
"I think if I can get back to the CFR and get to the PBR Canada Finals in that Top 10 minimum, I'll be pretty happy with that," Tetz said.