Radford Eyes Return to PBR Competition
By: Ted Stovin Friday, June 21, 2019 @ 9:06 AM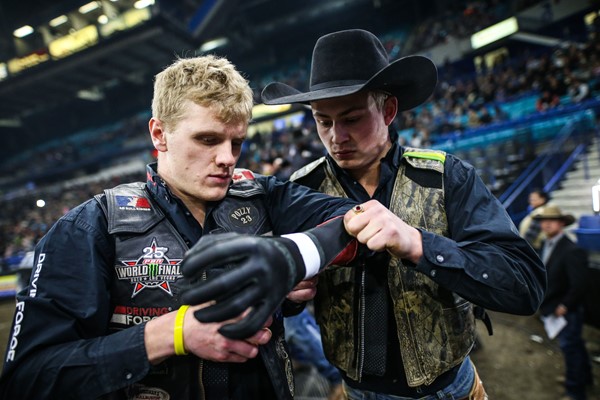 CALGARY, Alberta – In both 2017 and 2018 despite holding down the No. 1 spot in the nation for a portion of the season, Brock Radford finished No. 2 in the national standings, just points away from the PBR Canada Championship.
And while Radford detests the ever-close finish he has had the past two season, this year he faces an even steeper battle in his hunt to win the elusive title and the added $50,000 bonus in 2019.
"I've gotta do some making up on the ground," Radford said. "Them boys have got a big head start on me, but it's a marathon not a sprint so there's a lot of the year left. Lots of time to catch them boys."
Thus far in 2019, Radford has been relegated to the sidelines as he recovered from knee surgery to repair a torn ACL/MCL sustained in August 2018 at a CPRA event in Jasper.
RELATED: Radford Tears Left ACL, MCL in Jasper
While rehab began in August 2018, it was a temporary measure so he could continue the season and contend for both a spot at the World Finals and a Canadian Championship.
RELATED: Radford not Deterred by ACL Injury
"I'm pretty active on days that I don't do any workouts or anything," Radford has said of his day-to-day as of late. "We're always doing something; I'm either fencing or messing around here at home or going hiking, so I've been pretty active. It feels really good."
Radford is fast to credit Brandon Thome of the Canadian Pro Rodeo Sports Medicine Team for his expedited return to competition.
"I started off seeing him twice a week and working it and we've been really pushing it," Radford explained. "I've kinda been pushing it more than anyone else would to get back. I'm ahead of the eight ball right now so it's really good. [Brandon] says I'm about two months ahead."
After his first month of recovery, Radford's visits decreased to one a week, but his commitment to returning to competition only increased.
"He'd give me new exercises and new stuff to do," Radford explained of his recovery trajectory. "The first month and a bit was all about getting my range of motion back and getting that flexibility back. Then after I got that it was slowly easing into getting it strong again and now I'm lifting weight and squatting weights and trying to get all my other muscles around my knee back to where they need to be. [Now] I'm strengthening my groin and all that. It's not just my knee that's weak now, I've had a lot of time off. Just kinda making sure that everything is good and firing for when I go."
While Radford will first test his knee in competition at the Ponoka Stampede, his return to PBR action will be seen on the final day of the Ranchman's Charity Classic on July 4.
And from there, the world is Radford's oyster, with an intense slate of summer events on the near horizon.
A whopping 12 PBR Canada events are on tap in July with the standings currently led by Jared Parsonage with 1,800.83 points. Between 350 and 550 Canadian points are available at each event.
"I just need to go on a little heater like I did in 2017, win a couple in a row, and I'll be right back in the mix," Radford said.
"I'm kinda going for quality over quantity," he explained further of his comeback plans. "Over these past six months it's gave my body a chance to heal everything else too, like my wrist and all that and everything else that had been bugging me so this is the best I've felt in a long time. I don't really have any aches and pains right now so I'm pretty excited right now to be going 100% healthy."
With three days of bull riding, the Ranchman's Charity Classic PBR could have meant six bovine athletes to attempt and possibly more, and true to his "quality over quantity" mantra, Radford only entered the final night when he'll compete against the top riders from the prior two nights of action and invites from both the world and Canadian rankings.
"I looked into the way Ranchman's is formatted and I get an injury exemption into the final day so I don't have to ride every day there. I like that," Radford said.
A $20,000 purse on the line during the first two days of competition at the iconic Calgary bar/ The final day will award $25,000, while the winner will walk away with an additional $25,000 check. 
"Bull riding is too hard to do it for free. I like going where the money's at," Radford said. "I like $25,000 to the winner. It's a good incentive for a lot of bull riders to go. Most people kinda know during Cowboy Christmas, you know, Calgary, Ponoka; Alberta's the place to be.
"It's really good for bull riders in Canada. The $25,000 is what interested me quite a bit. That's a pretty big bonus to win and obviously the (Monster Energy Tour) points."
Also new this season, Ranchman's will be awarding Monster Energy Tour points. With 170 world points available to each event winner, one rider has the shot to earn a maximum 340 points between the two events spanning three days.
"Life's pretty slow when you don't have an event to go to every weekend," Radford said of his slowed down approach to life the past six months. "I've just been enjoying time with the family and hiking with my girlfriend and yeah, just kinda kicking it at home and looking after this knee and trying to get it ready for when I come back."
In 2018, Radford finished a career-high No. 39 spot in the world standings, competing at his first PBR World Finals in November as an alternate. When he was injured in August he sat in the No. 29 spot in the world and ranked No. 1 in Canada.
Fast forward to present and Radford, and his knee, are good to go and excited to be back.
"Tying my hand in the rope with my buddies and having some rank bulls run under me, it's been a while," Radford said. "I'm excited. I've got the fire again and I'm really craving it."