Chotowetz's Climb Continues – One Bull at a Time
By: Kacie Albert Wednesday, June 19, 2019 @ 10:32 AM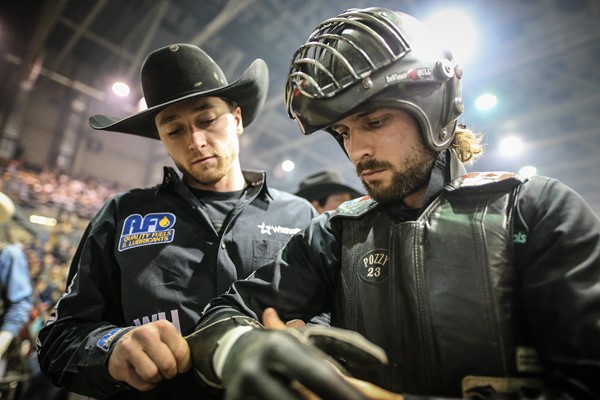 NEW YORK CITY – In 2018, PBR Canada held its inaugural event in Falher, returning this past weekend for the second edition of the event amidst the town's 100th birthday.
And while many things were different for the fans that packed the Falher Regional Recreational Complex one thing remained the same – Todd Chotowetz emerged the victor.
"Yeah, it's treated me pretty good," the Saskatchewan man said humbly. "This year it came with a little bit of luck, for sure, but I was lucky enough to get out in the second round and made the most of it."
RELATED: Todd Chotowetz Wins Touring Pro Division Stop in Falher
In 2018, Chotowetz used a flawless 2-for-2 showing to seal the event win, however that was not the case this past weekend.
RELATED: Persistence Pays Off for Chotowetz
While seven riders recorded Round 1 rides, Chotowetz was not one of them. Instead he was one of the three riders that advanced on time after he was bucked off by Can't Catch Me in a 6.95 seconds.
"I had seen [Logan] Biever rode him, and he's good," Chotowetz said of the Wild Hoggs bull. "He just got me when he went back the other way. But it worked out.
"I came up just short, kind of stubbed my toe there, and was pretty disappointed in myself. But I was sure happy when they asked if I wanted another one."
Awaiting him in the championship round was Devour from reigning Canadian Stock Contractor of the Year Nansen Vold.
In 11 outs on record with ProBullStats.com, the Vold Rodeo bovine athlete had been ridden just twice. Reigning PBR World Champion Kaique Pacheco was the first to accomplish the feat in April 2018 at the Billings Unleash The Beast event, marked 84.25 points, with young gun Daylon Swearingen the only other rider to hear the 8-second whistle aboard the bull, scored 85 points at the 2018 PBR Canada Finals.
"I hadn't seen that bull in a long time, but shoot, he's always been good and I did my part and it worked out."
The match-up, worked out to the tune of an event-best, and career-high, 89 points, propelling him to his second consecutive event win in Falher.
RELATED: Chotowetz Wins Inaugural PBR Event in Falher
And for Chotowetz the win comes amidst a career-best start to the 2019 season. After winning the first PBR event of his career in Falher in 2018, he won his second this March when he went 2-for-2 in Teepee Creek, Alberta.
RELATED: Chotowetz Claims Second Career Victory in Teepee Creek
But it's been his latest streak, dating to June 1 on the Canadian Monster Energy Tour in Halifax, Nova Scotia, that has allowed him to reach even greater heights.
RELATED: Chotowetz Soars to New Career Highs in Teepee Creek
After climbing to a career-best No. 6 after his win in Teepee Creek, Chotowetz had slipped to No. 17 in the nation prior to Halifax.
Finishing a career-high third in Halifax after he won the event's championship round with an 86-point ride on One for the Money (Vold Rodeo), Chotowetz climbed to No. 9 in the Canadian national standings.
His latest win gained him even more ground in the national standings as the riders battle it out to reach the Top 20 and qualify for the 2019 PBR Monster Energy Canadian Finals, presented by Dakota Dunes Casino, where a $50,000 bonus will be on the line for the nation's champion.
For his efforts in Falher, Chotowetz collected a check for $5,875.53 along with 275 Canadian and 60 world points.
He is now the No. 5 ranked rider in Canada, yet another career-best for Chotowetz, within 968.33 points of No. 1 Jared Parsonage.
"I haven't really been paying much attention to it," Chotowetz explained of the national standings. "But I'll keep going to as many as I can throughout the summer, and keep climbing."
"The $50,000 would sure be nice, that's for sure," he said further of the bonus available this season to the PBR Canada Champion. "There's sure a lot of bulls to get on though between now and then so we'll just take it one bull at a time, each weekend at a time."
With Cowboy Christmas, and the intense summer slate of events, fast approaching, Chotowetz's next opportunity will come this weekend, Saturday, June 22, in Medicine Hat, Alberta. Thunderbuck in the Badlands will get underway at 7:30 p.m. MDT inside the Canalta Centre.
Looking even further into the furture, riders will have an additional 10 events in the month of July, including the three days of action in Calgary at Ranchman's which will offer both an increased purse, and world points.
"We're spoiled now in Canada," Chotowetz said. "We've got so many good events to go to and July is super busy."
"Cowboy Christmas and a bull rider's dream up here in Canada. And we've got such good bulls everywhere we go. So it's awesome."
Another event on the horizon for bull riders is the 2020 WinStar World Casino and Resort PBR Global Cup USA, presented by Monster Energy, in February 2020 at AT&T Stadium in Arlington, Texas.
"That would be awesome, I would be honored for sure," Chotowetz said of a potential selection. "But like I said, I'm not putting much thought into that, or anything too far ahead right now. Just want to keep things rolling, stay healthy, and ride my bulls. And if that happens, that would be awesome."
Be sure to stay tuned to PBRCanada.com and follow the tour on Facebook (PBR Canada), Twitter (@PBRCanada), and Instagram (@PBRCanada) for the latest results.