Byrne to Retire at End of 2019 Season to Pursue Bullfighting Career
By: Justin Felisko Friday, June 28, 2019 @ 12:00 PM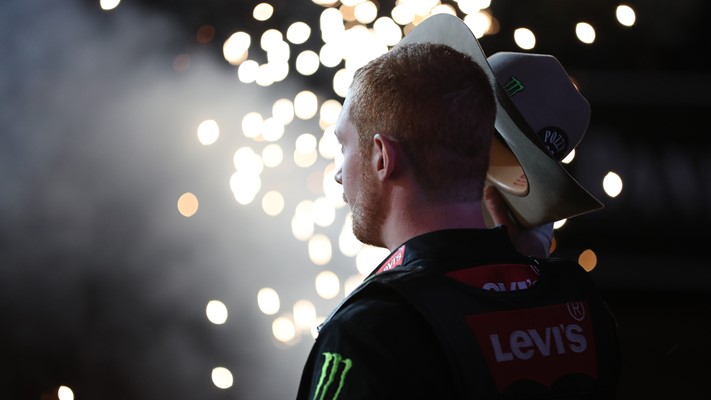 PUEBLO, Colo. – Tanner Byrne stuck out his long left arm and used a quick love tap to gather the attention of Chiseled In Stone two weeks ago in Falher, Alberta.
Byrne – the 6-foot-4 professional bull rider – then swung his hips to the right after taking a quick stutter step left to gather up Chiseled In Stone before using his long legs to gallop to the edge of the arena.
Childhood best friend Dakota Buttar was quickly crawling his way to safety and Byrne could feel the adrenaline oozing out of his pores.
Byrne's heart was racing.
His blood was pumping.
He was smiling and laughing too.
The 27-year-old then looked up at the back of the bucking chutes – a place that has historically been his home on a weekly basis on the PBR's premier series in the United States, as well as throughout all of Canada.
"It is going to be pretty tough to put my hand back in the bull rope after this," Byrne thought. "This is pretty cool stuff. This is what we have been missing for a while now. This is what I am ready to go full force at."
Byrne had a similar kind of joy in that moment as he did when he was a kid growing up in Prince Albert, Saskatchewan, fake bullfighting the family dog on the trampoline in the backyard with Jesse and their other brother, Bo.
For a few hours at the PBR Canada Touring Pro Division event on June 15, Byrne had fulfilled a lifelong dream.
The four-time PBR World Finals qualifier has always wanted to one day follow in the footsteps of his father, Ryan, and brothers, Jesse and Bo, and add his name to the prestigious list of Byrne family members to cowboy protect at a professional bull riding event.
For the last eight years, Tanner has been putting on an annual bull riding and bullfighting school with Jesse.
Tanner had always put his bullfighting dream on the backburner, though, as his primary goal in life was to become a World Champion bull rider, and he limited his bullfighting to the practice pen.
But the time is coming for Byrne to begin a new chapter of his life.
Byrne has decided that 2019 will be his final season as a professional bull rider so that he can begin to pursue a fulltime career as a bullfighter in cowboy protection.
"The deal is since I was a little kid – since I can always remember – I always had a plan of riding bulls and at some point switching over and joining the family business of fighting bulls," Byrne said. "I told a lot of guys that I used to rodeo with in Canada that I was going to ride bulls until I was 25, but I was still rolling and things had been going well.
"I had my 27th birthday the other day and it comes down to, really, it is now or never. If I wait any longer I am going to be in my later years and I won't be able to go at this cowboy protection bullfighting career as hard as I want to, or as physically the best way I can go at it. It just came down to either do it now or I am not going to do it all.
"I just want to follow my dream. Life is too short not to go out after something full-heartedly. It is time for me to do what it takes, enjoy what I am doing and go after it. It was a lifelong goal and dream of mine that I am going to go at now and start this new chapter and see how we can get it done."
And if everything goes as he is planning, Byrne will return to the PBR World Finals and the PBR Canada Finals even after he hangs up his bull rope following this year's competitions in Las Vegas (Nov. 6-10) and Saskatoon (Nov. 22-23).
"The goal is to try to be the first guy to ever ride bulls at the PBR World Finals and fight bulls at the PBR World Finals," Byrne said. "I know that may sound cocky to some, but you have to have goals in life."
BULLFIGHTING IN HIS BLOOD
The son of Ryan and Kelley Byrne, Tanner was born on June 4, 1992 in Prince Albert, Saskatchewan.
He is the youngest child of the Byrne family, following his older brothers BoYou' and Jesse.
As he got older, Tanner, shoved in the middle backseat of the family car, would be stuck between his two older brothers as the family drove across Canada for Ryan to cowboy protect bulls at various rodeos or for Kelley to compete in a barrel race.
Bullfighting and rodeo was always a subject of conversation for the Byrne family.
In the car, in the grandstands, at the supper table – you name it.
When the National Finals Rodeo would be on television, Tanner can still remember passing over the bull riding at times to watch freestyle bullfighting highlights from the 1980s and '90s with his brothers.
"Bullfighting has always been what my family has always known," Tanner said.
It did not take long before Bo and Jesse stated their desire to follow their father's example and make bullfighting a career.
Ryan was a professional rodeo bullfighter from 1983 to 1998, retiring from the sport when Tanner was 6 years old. Ryan qualified for the Canadian Finals Rodeo 14 consecutive times and, in 1987, became the first Canadian to ever cowboy protect at the NFR.
"It is kind of crazy," Tanner said. "I was a bull rider for so long, but my whole family dynamic and everything I knew growing up was bullfighting."
The older the Byrne boys got, the more bullfighting began to consume their lives, as well as that of their cousin, Scott, who later went on to fight bulls for 20 years, including 14 appearances at the CFR.
Bo, Jesse and little Tanner – sometimes accompanied by Scott – would practice nearly all the time in the backyard.
Imaginary bull riding and bullfights with the family dogs, in the grass or on the trampoline, later evolved into the real deal in the practice pen, Jesse recalled this week.
"We did a lot of bull riding on the trampoline," he said. "I know we did a lot of bullfighting with the dogs too. It's just something that's been a part of everyday life for as long as I can remember. If I was trying to ride, somebody else in the family was trying to bullfight, and vice versa, and away we would go."
Tanner would often be the first bull rider among his friends to ride so that he could then jump into the arena and cowboy protect.
"I would ride, jump off and then go fight bulls for all of my friends," Tanner said. "I then worked my way up from steer riding to junior bull riding and bull riding."
Despite his ongoing success as a bull rider, Tanner still always had a love for bullfighting.
His first trip to the PBR World Finals was in 2007 when Jesse, who later became the first Canadian bullfighter to work the Finals in 2008, was participating in a freestyle bullfighting competition. Tanner, then only 15 years old, was thrilled to see bullfighting legends such as Rob Smets and Miles Hare in person.
"I was more excited to meet Miles Hare and Rob Smets – these legendary bull fighters –  that I looked up to my whole life than I was meeting the bull riders," Tanner said with a laugh.
Meanwhile, Tanner was well on his own path to making a run at a professional career, albeit as a bull rider.
Tanner, though, dropped a hint that bullfighting was still in his blood a month after watching his brother freestyle bullfight in Las Vegas at the Thomas & Mack Center – the former longtime home of the PBR World Finals.
The ever-growing and lanky redheaded bull rider "borrowed" his dad's bullfighting gear without Ryan knowing.
Ryan, of course, later noticed his gear was missing because Tanner left the cupboard door open a crack, which led to his dad peeking inside.
The legendary bullfighter was not concerned, seeing as his kids always seemed to be snagging his gear, but it was a surprise when he later learned that it was Tanner.
Tanner had headed down to southern Saskatchewan with some friends where he stepped into the bullfighting ring.
It was a sensation to this day that Tanner has never forgotten.
"It was scary and got my adrenaline running," Tanner said. "I thought, 'Well this is different. This is a little bit of a different feeling then the riding side of it.' That was one of the first times I really knew I wanted to one day pursue this."
But Tanner had other priorities first…
"I knew I wanted to focus 100 percent on my riding from then on, but I knew in the back of my mind that at some point there would be this switch over."
A CANADIAN BULL RIDING GREAT
Byrne has since gone 107-for-285 on the PBR's premier series with three victories, which is tied with Reuben Geleynse for the most in PBR history by a Canadian-born rider, and he has ridden at the PBR World Finals on four different occasions.
"He's just got fire in his belly, and he always has," good friend Chad Besplug said. "That's what I liked about him right from the start. He was so tall, and I remember people saying it, like, 'He's too tall to ever be that good.' He's surpassed all that and proved all those guys wrong. I can just tell. I know him like that. When he sets his sights on something, he just will not quit until he accomplishes it.
"I don't have any doubts in the guy. No matter what he's doing, I'd believe in him."
Byrne's journey to the PBR's highest level began on June 3, 2010, when he made his PBR Canada debut in Asquith, Saskatchewan.
Two years later, Byrne had his first cup of tea on the PBR premier series in Tulsa, Oklahoma, on August 10, 2012.
Byrne became a mainstay for good on the premier series in 2014 by riding his first six bulls, including Speckled Ivory for 85.5 points for the first ride of his career, and picked up back-to-back runner-up finishes.
He then went on to capture the first of three Glen Keeley Awards, which is given annually to the highest finishing Canadian in the world standings, by going 3-for-6 at the 2014 PBR World Finals.
"I am very proud of what I have accomplished in the arena as a bull rider," Byrne said. "Even from just making the World Finals for the first time. I wasn't the most skilled guy when I was 18 or 19 years old and Ty (Pozzobon) was always on tour and always would tell me, 'You could make it up and do it up here.'
"I just worked harder and harder and harder and never said die. I kept putting my nose to the grindstone and doing what it took to keep working my way up the ranks to make the World Finals for the first time in 2014. Then kind of kept rolling from there. I started to get comfortable and honing my skills a little bit more every time."
Byrne went on to put together the greatest season ever by a Canadian bull rider the next season by going a career-best 35-for-78 (44.87%) to finish No. 8 in the world standings.
The Prince Albert bull rider then went 3-for-6 again at the World Finals to finish a career-best third overall for a $105,000 payday.
"I rode Who Dey (88.25 points), a couple of bulls, and won over $100,000," Byrne said. "That is a lot of money and unheard of for a lot of bull riders."
To this day, Byrne's 2015 finish is the highest in the world standings ever by a Canadian-born rider. Byrne also won the PBR Canada championship that same year.
"It is cool," Byrne said. "A lot of guys get hung up on where you are from and the highest-ranked Canadian to ever do this. To me, my career was never about being the best Canadian; it was about being the best bull rider in the world. I had success outside of Canada and I always wanted to show I could do it on a world stage, and I feel like I did that and I always represented my country and my roots.
"Where you are from makes you who you are. It is my home, and I like Canada, and I guess the goal for me or what set me apart from a lot of other guys was not trying to be better than all of the other Canadians. I was just trying to be the best bull rider that I could be and help all of my fellow Canadians get to that top level to find success like I did.
"Now looking back at those times, it is something I get to cherish for the rest of my life, and I will always have those memories and have that I did that. I can feel good about my career."
A WIN FOR FAMILY & ALL OF CANADA
Coincidentally, Byrne's best season in 2015 did not feature an event win.
In fact, wins have been hard to come by for Canadian riders down south in the United States.
Byrne finally ended that narrative in 2016 when he won the first event of his career by going 3-for-3 in Anaheim, California.
Byrne is the first Canadian-born bull rider to win a premier series event outright since 2003. Geleynse split an event win with Justin McBride in Greensboro, North Carolina, in 2004.
"To be the first Canadian to win an event in a long time was a big one," Byrne said. "That was because me, Aaron (Roy) and Pozzy always talked about that and, 'Oh, we have to do this. It has been 1,000 years and we need to do this for the country.'
"To do that was pretty cool.  That is definitely one of the highlights that stands out for me."
The win inside the Honda Center could not have been that much more special and fitting for Byrne because of who attended. 
Byrne's childhood best friend and Anaheim Ducks player Josh Manson was there on the back of the bucking chutes, as was Tanner's father, two brothers and mother.
The only thing better would have been for his wife, Meghan, to be there, but she was on the verge of giving birth to the family's first of two children.
"Winning in Anaheim with my buddy Josh Manson being there. My family being there. Then not a week later having my first child. That whole time in my life is something I will never forget and always cherish," Tanner said.
"My mom and dad. Obviously, they started me into this career of riding bulls. Hauling me down the road and all across Canada to junior steer ridings and just doing whatever it took so I could be happy and follow my passion and my dream. Without them, there is no way I would have made it to the top level and done it like I did."
Tanner did not stop there, either.
Byrne won the second event of his career by riding Crackerjack for 87.5 points in Duluth, Georgia, two months later.
"The first event win is obviously pretty amazing," Tanner said. "That is a huge goal for any bull rider, to win at the elite series. To get that out of my way and to win a few weeks later in Duluth was like, 'Okay, I can do this.'
Normally Tanner rooms with his brother during the Unleash The Beast season.
Jesse has always cherished those moments with his younger brother.
"I just think about the times we spent together on the Unleash The Beast," Jesse said. "Seeing him come to his first one. I remember him being in Tulsa for his first Built Ford Tough event, and just getting to be able to share the things I'd been experiencing with him. To see that raw excitement in him. Him making his way onto tour, finding his way, and then getting his first event win in Anaheim, and the event win in Duluth.
"I felt like I won those events. I was ready to celebrate and act like I won, and I had to remind myself that I didn't get the $30,000 that day."
Jesse admits it has been lonely this season without Tanner, who is currently ranked No. 58 in the world standings and has bounced on and off the Unleash The Beast.
He knows it will be even more lonesome without his brother next season, but he knows there is a chance they will get to work together as bullfighters someday.
"Obviously there was a part of me at first that was a little bit sad that our routine that we had going on now is probably no longer going to be, but I kind of have a hope that one day we could just do it again in a different capacity," Jesse said.
AN EMOTIONAL WIN IN ST. LOUIS
Byrne's latest win on the premier series came last season during an emotional weekend in St. Louis.
Byrne clinched the victory with an 88.75-point ride on Bad Beagle – ending the bull's streak of 18 straight buckoffs – for his first win since Duluth.
Less than 24 hours earlier, Byrne had learned that his grandfather, Marvin, had passed away at 97 years old.
It was another moment of mourning for Byrne, as the bull rider was still grieving the passing of his best friend, Pozzobon, a year earlier.
Byrne also had been battling a slew of injuries and had nearly been cut from the PBR's elite series.
"Winning in St. Louis was a big win for me just because of everything I have been through," Tanner said. "I went through some serious groin injuries. Losing Ty. So many different aspects the year leading up to that. Getting cut from tour. Coming all the way back. I think I was 35th going into St. Louis and didn't even have a guaranteed spot on tour. Then everything just kind of fell into place.
"It was a whirlwind of crazy stuff that went on in those few days, and to win and it kind of set me up for the whole rest of the year."
Byrne knows he would not have continued riding if not for the support of his wife over the years.
"My wife Meghan has been through the whole journey," he said. "The ups and downs of the sport. Winning. Losing. Injuries. Making things work at home. So many different aspects that she has to deal with in the background without the limelight that I have as being the successful bull rider. She is the one really holding everything together.
"I have to thank her so much for being supportive of this new career path. She is excited about it. We can travel with the kids and do it all together as a family."
DEDICATING HIS LIFE TO ATHLETES IN AND OUT OF THE ARENA
Byrne has been advocating for the health and well-being of rodeo competitors inside and outside of the arena ever since Pozzobon's death in 2017.
He has been the President of the Ty Pozzobon Foundation, and he added that stepping into the arena as a bullfighter only helps in his mission to keeping future generations of bull riders safe.
"This fits into everything I want to do along with the Ty Pozzobon Foundation of protecting and supporting the health and well-being of Western Sports athletes in and out of the arena," Byrne said. "I have done that through the foundation and communication pieces and what we have done outside of the arena for everybody. Now it is kind of cool for me to do it inside of the arena. In our group of friends, and everybody that knows me, knows I have always wanted to protect my friends and everybody around me. I guess that is that bullfighter instinct I have always had since I was 3 years old of protecting people and making sure everybody is OK.
"It is going to be really exciting to able to step in there and take a shot or do what it takes to make sure these guys can continue to do what they are doing in their career. I know for a fact of what it takes to ride and the mindset and all the different stuff you go through as a rider. If I can take that into this bullfighting side of it and use that to help and perfect and make sure these guys can fulfill their dreams, that will definitely make my chest puff up a little bit more."
FROM TULSA TO FALHER
Dakota Buttar was confused when Byrne offered to drive with him to Falher two weeks ago.
The two have been friends since they were 8 years old when Buttar met Byrne at a Little Britches Rodeo and needed to borrow his gear.
Buttar was puzzled when Byrne's name was missing from the draw for Falher.
"I've got a surprise for you," Byrne texted Buttar. "I'm going to be bullfighting. I'm not riding."
Buttar figured this day would come sometime, but he still was taken aback.
The fellow Saskatchewan native understood the bewilderment of the other bull riders when they saw Byrne step into the arena with his black and white cleats.
"Every one of us couldn't believe how well he fit in though," Buttar said. "I didn't expect anything less; I thought he was going to be awesome. The second bull I got on, he made a pretty good save on me and saved my ass that night.
"It's a little different seeing him out in the arena. He doesn't have his bull riding gear on, he has his bullfighting stuff on. It's going to be an adjustment for the rest of us too, I think, not having him riding, but fighting."
Buttar rests assured that everyone could trust Byrne with their life.
"Tanner has your back everywhere," Buttar added. "It don't matter where you are or what you're doing. He has it. He's one of those guys you want on your side no matter what."
Another person who was not surprised to hear of how well Tanner did in Falher was papa Byrne.
Ryan glanced down the night of June 15 and saw he had a text message from his son.
The current stock contractor had offered to go with Tanner to Falher, but Tanner said it was no big deal and he was going to make the drive that weekend with Buttar.
Tanner often will text his parents when he is at an event riding to let them know he is safe or provide an update on how he has done riding.
Falher was a little different.
The event was not even over yet when he had texted his father that things were "going great" and that he still had the championship round left to go.
Ryan later chatted with Tanner on the phone, and he could sense the excitement in his son's voice that was so reminiscent of when Tanner made his PBR premier series debut seven years ago.
Jesse heard the same thrill in Tanner's voice as their father did these past two weeks.
"Totally," Jesse said. "It's just that everything's new and it's exciting and you're trying to learn on the go, and I can hear in his voice that's that feeling. He's so excited about every aspect of it. The bullfighting, and the training, and the knowledge. He's going to go back to square one, start at the bottom, and see if he can make his way through the ranks. That's something that he's willing to put himself through. He wants to do it that way."
Tanner agreed that he is motivated by the nerves of being a rookie again.
"It is kind of fun now to be an 18-year-old-kid again, just buying his PBR card, hitting the trail, trying to make it to the top. That is what I am doing as a bullfighter. It is fun to start over and see how far I can get on this side of it."
LOOKING INTO THE FUTURE
Tanner knows he has a lot of work to do to achieve his goal of one day working the PBR World Finals alongside his brother Jesse.
He looks forward to the day when he, Bo and Jesse may also be able to work a PBR Canada event together.
Until then, Tanner is focused on learning how to master the craft of bullfighting from the best coaches and mentors out there – his family.
"That support and that family aspect and backing. My dad is one of the best coaches in the world. I have the most decorated bullfighting family in history to help me be the best I can be," he said.
Ryan believes it will likely take Tanner three years to rise through the ranks, and he has already taken him into the practice pen.
He knows his son has the selflessness to succeed, let alone the physical attributes.
"The biggest thing is you have to do it for the right reasons," Ryan said. "It is not to be glorified or whatever or to be the first guy to do this or do that. You have to do this job, be humble about it and do it for the right reasons. Don't do it for the glory. Do it for the job and the satisfaction to yourself that you helped somebody out."
Jesse will be spending this upcoming weekend with Tanner to help him prepare for the upcoming Ranchman's PBR Canada Touring Pro Division event next week.
It will be the first time in roughly 15 years that Jesse will have worked a practice session.
Jesse has been beaming ever since Tanner informed him he would be switching careers at the end of this year.
"It's so much fun to be able to kind of get your childhood innocence back, in a sense, where you're going back to the roots of where it all started," Jesse said. "It wasn't even a real bull at that time, you know, just doing it in the backyard all based on imagination. And to be able to come all the way to adult life and to actually have that become reality would be pretty darn special."
So as Tanner counts down his final days as a bull rider and balances a part-time schedule, he is excited to prepare for the next journey in his life.
Yes, this may be a retirement, but in many ways it is more like switching jobs in the same company.
He is not leaving the sport that he has grown up in for 27 years.
He is doubling-down in the sport that he will forever love and cherish. 
It is time to help the next generation succeed and stay safe in the arena.
"I have wanted to do this for so long," Tanner concluded. "It was just the initial point of saying I am done with that chapter and I am moving onto this next chapter. It is time to push forward and be the best I can and make sure that I am 100 percent into it and willing to do what it takes to make sure these bull riders are safe.
"It is hard. It was a hard decision to make because of the amount of success I have had as a bull rider. It is hard to walk away from something you have made such a good living at and what you have done for 27 years, but it is not hard in the sense of this excitement and this new drive that I found inside of myself to try and become the best bullfighter I can be."