Acing the Test – Buttar Returns to Action, Shoulder 'Feels Awesome'
By: Kacie Albert Thursday, June 13, 2019 @ 10:05 AM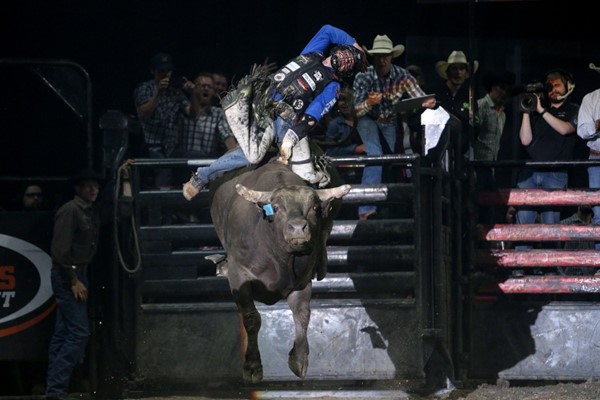 NEW YORK CITY – In mid-April, Dakota Buttar faced the reality that he may be watching the remainder of the season from the sidelines.
With both a fractured humerus and torn labrum, the Kindersley-native had what would be a season-ending surgery on the horizon.   
But in late May, Buttar was able to push play once again on his season, receiving word from his surgeon that the procedure could be postponed.
Wasting no time in returning to competition, Buttar rode for the first time at a PBR event in nearly two months last weekend at the Canadian Touring Pro Division event in Moose Jaw, Saskatchewan.
"Shoulder felt good and that was the main thing I was worried about going into last weekend," Buttar said. "[I] was just seeing how the shoulder would feel and how it would hold up; and it felt good, so I was happy about it."
The 26-year-old, however, had more to be happy about than just a pain-free shoulder – he won the event.
"I was pretty pumped about it," he said.
RELATED: Dakota Buttar Victorious at PBR Moose Jaw
Riding Lon's Lost It for 85 points in the opening round, the 26-year-old covered Grey Tower III for an event high 89.5 points in the championship round to seal the victory.
"Bull I got on in the long round, I had seen a couple of videos of him before, [and] he was a pretty nice one to have in the long round," Buttar said in reflecting on the weekend.
"I got on Grey Tower in the short round. I was pretty excited to draw that bull, I had seen him a few times and liked the looks of him. He felt good."
Buttar's return – and victory – came at a crucial point in the season.
With the intense summer run fast approaching, he found himself on the outside looking in for both the Top 20 in the Canadian national standings and Top 35 in the broader PBR world standings.
In Canadian competition, the Moose Jaw event marked the Saskatchewan man's firs event on home soil in 2019.
"It was awesome, and I didn't even have to get up early," Buttar said of competing less than four hours from home. "Just get up whenever, and get in the truck to drive down, drive back home that night, it was nice."
Even nicer --- the 305 Canadian points he collected for the win. Entering the event unranked, he was propelled to No. 22 in the national standings.
This season the PBR Monster Energy Canadian Finals, presented by Dakota Dunes Casino, set for November 22-23 at the SaskTel Centre in Saskatoon, Saskatchewan, will once again feature the Top 20 riders in the national standings vying for the title of PBR Canada Champion. But the stakes will be even higher, with the 2019 Canadian Champion set to earn a $50,000 bonus.
"A goal would be to win PBR Canada," Buttar said of his plans for 2019. "But I'm kind of behind in there, so if I can make up some ground this month that would be another one of my goals I'm shooting for this year too."
With another Canadian Touring Pro Division set for this weekend in Fahler, Alberta, Buttar will have countless opportunities during the PBR Unleash The Beast break to make up the 40 points which separate him from the Top 20.
And with respect to the PBR Unleash The Beast, the 60 world points Buttar collected for the win in Moose Jaw allowed him to inch within 47.5 points of the Top 35 and a return to the premier series for the Last Cowboy Standing Major event at Cheyenne Frontier Days on July 22-23.
"I'm not too far out," Buttar said optimistically. "Hopefully I can get some more points this weekend and keep going from there."
Looking forward, Buttar's plan to climb both rankings is simple.
"Just going to take it weekend by weekend and see how the shoulder is feeling."
"It doesn't bother me at all, really," Buttar said further. "The first bull I got on there I kind of landed on it and it hurt for maybe five minutes, and then it went away and didn't bother me the rest of the night.
"It didn't bother me at all riding, just when I landed on it there it kind of burned for a bit, otherwise it don't bother me day to day. I can use it with a normal day."
And while Buttar is excited to once again be pushing hard after his goals, he is equally as excited to once again be able to do what he loves most – ride bulls.
"It feels awesome," Buttar said of being back in commission. "I was getting pretty bummed seeing everyone going hard, and riding, having fun. So when I got that news, I was pretty excited to try it out. I'm pumped now, I'm ready to go this summer."