Young Eyes Finals Berth Amidst Summer Run
By: Kacie Albert Monday, July 1, 2019 @ 1:00 PM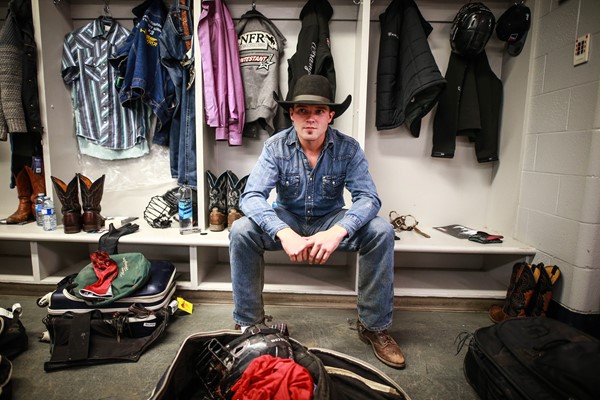 NEW YORK CITY – For the second consecutive season, the PBR Monster Energy Canadian Finals, presented by Dakota Dunes Casino, will once again feature the Top 20 riders from the Canadian national standings.
And while this fact is top of mind for many, it is especially at the forefront for Cole Young who missed the cut in 2018.
"Right now I haven't been going that hard, and I'm sitting outside that Top 20," Young reflected. "I'd like to get inside the Top 10 and put myself in a good position of making the Global Cup again."
With a heavy slate of summer events on the near horizon, the Fairview, Alberta native is currently No. 24 in the nation, 28.34 points outside of the Top 20.
He took a large step towards narrowing the gap at the most recent Touring Pro Division event, recording a pair of Top 10 finishes at the Thunderbuck in the Badlands in Medicine Hat, Alberta.  
"Getting back twice is nice," Young said of his double-entry at the event which featured him advancing to the championship round twice. "Sometimes it does work out good, and sometimes it works out bad, and there it just worked out really good. I was just really happy to get them covered and make it to the short round."
In addition to tying for fifth alongside Jared Parsonage, Young also finished eighth to net a collective 51.66 Canadian points.
RELATED: Dakota Buttar Wins PBR's Thunderbuck in the Badlands
In Round 1 he rode Whiskey Mussels for 82 points and Cypress Hills Sinner for 81.5 points.
His perfect streak, however, came to an end in the final round when he was bested by Catch My Drift in 2.69 seconds, and Homegrown in 3.25 seconds.
"I thought I was going to enjoy the short round a little bit more walking out of there, I had two really good draws," Young explained. "Homegrown of Eno's, I didn't think he was as strong as he is. I knew he was big, and holy [he] had some power.
"And then Catch My Drift, he just had me kind of set off from the get go the way he takes the gate. He kind of leaves leaning, pushing on that gate and follows it, kind of comes out on top of it. That was a rider error on my part, taking him the way he was standing, but he was a cool bull and I would like to get on him again."
And his inability to make the 8 in the championship round seems to be an unfortunate theme thus far in Young's 2019 campaign.
In Dawson Creek, the first event of the 2019 Canadian season, it was a 7.7-second buckoff of Ray's Last Jump which left Young sixth. In Calgary for the season-launch of the Monster Energy Tour, Colt .45 sent the 27-year-old to the dirt in 2.64 to send him out of the Nutrien Western Event Centre sixth.
And a similar story unfolded for Young in Moncton, New Brunswick.
"It could be a confidence thing," Young said. "Like there's probably something, these bulls are a little bit bigger, and stronger and better, and buck quite a bit harder and leave stronger. But I'm going in with a pretty clear mindset that I'm feeling confident, and if it could come back to anything, I could say it's a mental thing. Subconsciously there's part of it saying okay now's the time to bring it all and you start thinking a little too much."
"I think I just need to keep going," Young continued. "Get on those short go bulls a bit more, get back to riding them, and riding the bulls at that level, the short round level, every weekend, in and out, and pretty soon it's just going to click.  
Despite the need to connect in the championship round, Young is having a successful start to the year with five Top-10 efforts, highlighted by a fourth-place finish on the Monster Energy Tour at the Moncton Classic.
"It's kind of been going good here and there," he said. "I haven't been going super hard, I've been trying to focus between having the life of taking care of things at home and making work, work, and bull ride as much as I possibly can.
"It kind of gives you a sense of comfort when you're going down the road, you're not always stressing about having to do something to be able to afford to keep going. So I feel like that takes a bit of stress off of it and you enjoy it, you enjoy leaving work to go bull riding, it kind of puts you back to having fun and just going riding loose and cool, and not having to clamp down and try to make every ride work out.
"You're just there to have some fun, and enjoy the time off and doing what you love."
Next on the docket for Young is a trip to Calgary for the Ranchman's Charity PBR Classic which will payout a total of $70,000 CAD during the three days of action between July 2-4.
In addition to the increased money on the line, riders will be competing for Monster Energy Tour points, with one rider having the chance to earn a total of 340 world points.
Fans will be able to watch all the action LIVE on RidePass via RidePass.com or the mobile app starting nightly at 7:00 p.m. MDT.
Be sure to stay tuned to PBRCanada.com and follow the tour on Facebook (PBR Canada), Twitter (@PBRCanada), and Instagram (@PBRCanada) for the latest results.