West Back to Business After Second-place Finish in Manor
By: Ted Stovin Monday, July 29, 2019 @ 10:56 AM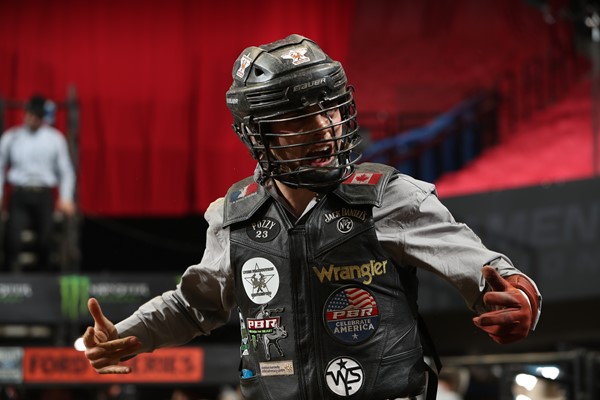 BILLINGS, Montana – After recovering from a broken leg, Lonnie West is back to business, earning two Top 5 finishes in the span of five days.
It's been a sub-par season so far for West who finished No. 37 in the PBR World Standings in 2018, making his first appearance at the PBR World Finals as an alternate and contending for a Canadian title.
West was second in Manor, Saskatchewan at the Manor Fun Daze and picked up a win in Oyen, Alberta at the 21st edition of the White Lightning Pro Cowboy Crunch, part of the Canadian Pro Rodeo schedule.
"It's been a slow start to the season with injuries and being hurt and stuff," West said. "I'm not really complaining about it, that is part of the game we all know that, but just takes a bit every time you get injured to come back from it."
West's most recent injury, a broken leg, was sustained at the first-ever PBR Global Cup on U.S. soil in Arlington, Texas on Feb. 9-10.
"It's kinda been just getting sored up and not really riding like I know I can, so it feels good," West said. "The last couple here I've been turning it around, I've been riding bulls here like every weekend just not putting two-and-two together."
Coming into Manor, West was in a position to turn things around and he did just that with the second-place finish worth $2,745.49, 30 world points and 200 Canadian points.
Error loading Partial View script (file: ~/Views/MacroPartials/RichtextEmbedVideo.cshtml)
Today he ranks No. 35 on Canadian soil, 262.5 points outside the Top 20.
"That kinda got things rolling for me especially riding Rat Trap in the short round," West explained. "I know he's a hard bull and not a lot of guys get by him or even want to get on him, so to get him rode there and roll on to Oyen last night to be able to win that, that was fricken sweet."
With injuries, it's not only the physical challenge of returning to competition, but the mental side too.
"I'm feeling good, I feel as healthy as I have all year so yeah last night was cool too. I've been wanting to win that bull riding for a long time," West said of Oyen, a stop that has been part of the PBR Canada schedule in previous years. "It is badass, to go out and do it how I did it, two big scores it feels really fricken good."
At the event, West first rode Positively Bangin for a Round 1-best 87 points, before reaching the 8 on Red Pheasant for an event-high 90 points.
"You see him everywhere in the short rounds all the time," West said of Red Pheasant. "Two years ago I got on him and he bucked me off at Whitecourt I think it was."
Red Pheasant was one of four Canadian bucking bulls selected to the PBR World Finals, Wrangler National Finals Rodeo and Canadian Finals Rodeo in 2018. West's score in Oyen was marked 90 points by CPRA officials in the final round, one of many in the event and arena's illustrious 20 years of competition.
Error loading Partial View script (file: ~/Views/MacroPartials/RichtextEmbedVideo.cshtml)
"[Red Pheasant] made short work of me [two years ago], so to get him rode it was good, good for the truck too," West said of traveling partners Brock Radford and Coy Robbins.
"Me and Brock were actually just talking the day before yesterday and we were saying we need to not draw around the 80 pointers, but we need to draw some rank bulls."
"He said we need to be 90 points, like we got to start smashing some 90's, to be 90 again feels good just to reassure yourself that you got them in you." 
With the magnitude of events on the schedule this time of the season, a bull rider can go to an event nearly every day of the week, sometimes with the chance to hit two or three.
"Yeah, we had to do some cowboy shit there to even make it," West said of Manor. "A lot of years, a lot of guys have rolled in and not even made it in time so we rode in Kennedy, I didn't get one rode but Brock rode and kept it in the truck.  
"Then it was just jumping in that truck and hauling ass with your spurs and boots on and rolling into Manor. And riding two bulls, that's a good feeling and it's a good reminder too that you know it's good to get on the rodeo trail and you know do some cowboy shit to try make different events.  
"A guy can get comfortable coming to a bull riding every weekend so it's good to switch it up."
Speaking to switching it up, the season for 2019 with the injuries has changed West's plan of action as compared to last year when both he and Radford were chasing the PBR World Finals.
"I'm gonna gun for everything still," West said. "I gotta cover some ground in the PBR Canada standings to get to the finals, but there are so many events left that it is really doable.
"And then putting myself in a spot for the CFR now, I really wanna gun for that especially since I was hurt last year and had to miss it. That really sucked having to turn out of that."
In the current CPRA standings West is 11th with $13,565.03.
In fact, West has not competed at the CFR for either of his past two consecutive qualifications, deciding in 2017 to instead compete at the inaugural PBR Global Cup in Edmonton.  
"I wanna go in there in a good spot too, last year we kinda messed around, well not messed, but we had bigger goals going down south for the PBR Finals and we were sitting really good for that," West said. "Now it's kind of swapped a bit we have had a lot of time off and we are not up there in the world standings where we want to be."
On that same note however, West holds five injury event exemptions for the PBR's elite Unleash the Beast  
"I might go to Nashville, if not I'll start in Anaheim and get my rodeo count which I think I am pretty close to now," West said. "But we are gonna hit Strathmore and all of them. We will be up and down, we are still hitting everything we can, staying busy."
Follow Ted Stovin on Twitter: @TedStovin