Sage Kimzey Wins 2019 Calgary Stampede
By: Kacie Albert Sunday, July 14, 2019 @ 10:51 PM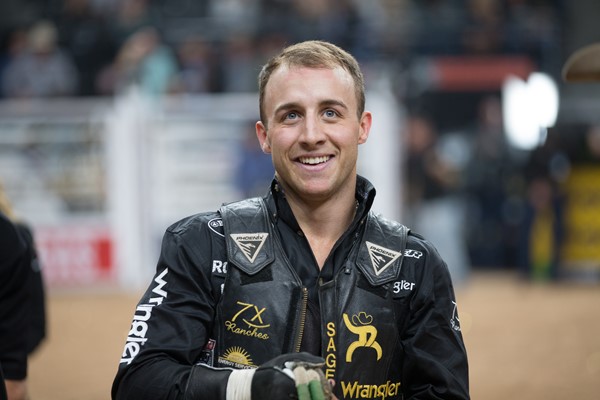 NEW YORK CITY – When the four men that advanced to the final round of the Calgary Stampede strode onto the dirt Sunday afternoon to draw their final bovine opponents, a matchup for the ages was brewing.
One of those men standing at arena center was five-time PRCA champion Sage Kimzey, while one of the bulls awaiting the riders was Night Moves.
Having matched up three prior times, the two most notably paired up for a 91-point score in the final round of the 2017 Calgary Stampede, propelling Kimzey to his second title at the "Greatest Outdoor Show on Earth."
While the Calgary bull had bested the Texan in their first meeting at the 2016 Calgary Stampede, Kimzey first reached the 8-second whistle aboard the black bull during Round 3 of the 2016 National Finals Rodeo for 87.5 points en route to his third PRCA title.
After top-seeded Jess Lockwood drew Blackstone Afterparty, current Canadian No. 1 Jared Parsonage pulled Grey Tower III and PBR world No. 1 Jose Vitor Leme selected Chrome, leaving Kimzey clapping on the dirt, grinning ear-to-ear as he prepared to square off against the bull that had propelled him to two prominent titles. 
"My girlfriend Alexis and I were joking about it," Kimzey said. "She said, 'Rematch tomorrow?' and I said, 'Well I hope so, because he's always just great, allows for big scores.'
"Not the easiest to get by, but I was happy to have him by my name. Night Moves always bucks super hard here."
And if Kimzey's excitement to have his name beside Night Moves' prior to climbing aboard his back in the bucking chutes wasn't evident, it was ever clear from his celebration on the dirt after his 92.5-point score was announced over the loudspeaker.
"He left really hard out of there," Kimzey said of the ride. "Kind of hopped and skipped around to the right, and then got to it really fast, bucking hard.
"He's a bigger bull, got some power, and he threw everything at me but the kitchen sink. But I got him rode."
The score was the fifth 90-point ride of the 107th edition of the Calgary Stampede, and Kimzey's second. On the final day of competition in Pool B, Kimzey won the round with a 91-point ride on Nickle Package.
RELATED: Kimzey Splits Pool B Victory with Leme
"He's getting older," Kimzey said when comparing his most recent trip against the duo's 2017 meeting. "A lot stronger than what he used to be. Kind of gave me a little fit in the chute trying to get my rope set.
"But just got everything set, took my time, and he bucked really hard right out of there, had me shook loose a little bit. But then whenever he settled into the spin, I could just tell he's really bucking under me. So just gritted my teeth and got through it."
As the first man out of the chutes, Kimzey waited patiently by the back pens to see if any of the three other riders could top his marks. While Parsonage got within striking distance, scoring 89 points, neither Leme nor Lockwood reached the 8-second whistle.
"I like the ring that has to it," Kimzey said upon hearing himself announced as a three-time Calgary Stampede Champion.
"Man just what an incredible place," he said further of the iconic event. "There's nothing that really compares to Stampede.
"It's a once in a lifetime rodeo. To even have the chance to compete here, definitely to come in here and win it once, but you know, three times in six years, it's pretty special. It really is. And like I said, it's one of my favorite places to compete. To have it again on Night Moves, it's pretty special."
Kimzey won his first Calgary Stampede championship in 2015, followed by his second in 2017, making the odd years seemingly a good luck charm for him.
"I don't know, that's the pattern we have going," Kimzey said. "I guess if there's a rodeo to win every other year, Calgary's a good one to do it at."
And while Kimzey's final out was one for the record books, his first out of Championship Sunday left him in a precarious position.
Attempting Panda Haus, the initial seconds of Kimzey's trip looked more like a leisurely stroll as the bull walked out of the chutes before he began to buck. As a result, Kimzey's score was 78.5 points with the option of a re-ride.
The fifth man out, Garrett Green, reigning Calgary Stampede Champion Marcos Gloria and two-time PBR Canada Champion Zane Lambert had bucked off, while Parsonage had an 85.5-point score on the board.
With Cody Teel, Lockwood, Leme, Chase Outlaw and Ryan Dirteater left to ride, Kimzey gambled and declined his re-ride.
"As soon as I got off the first bull, obviously the score wasn't going to be very big, but I just had this peace come over me," Kimzey said of the decision making process.
"Of course for this amount of money, you want to have the best chance to win, and I just had a peace come over me, and it was just out of my hands, and it was like, just take the score and see what happens in the short round."
His gamble proved to be a $100,000 decision.
While Teel bucked off, Lockwood and Leme recorded 91.5 and 83-point scores, respectively, leaving Kimzey on the bubble with Outlaw and Dirteater still to ride. In a true nail-bitter, Outlaw took Grey Eyes to 6.67 seconds, while Dirteater lasted 2.38 seconds aboard VJV Whiskey Hand.
Kimzey is now the first bull rider to win the Stampede's $100,000 title three times since event organizers increased the payout in 2006.
"What a blessing," he said. "That's the only way I can put it into words. It's a rodeo that we always dream about coming to, and like I said, to have the success I've had, I just want to thank the big man upstairs because it's been a real fun ride and love it."
Fans can relive all the action from the 2019 Calgary Stampede on-demand at RidePass.com or via the mobile app.