Lakevold Injured At PBR Canada Event In Lloydminster
By: Justin Felisko Saturday, July 13, 2019 @ 3:00 PM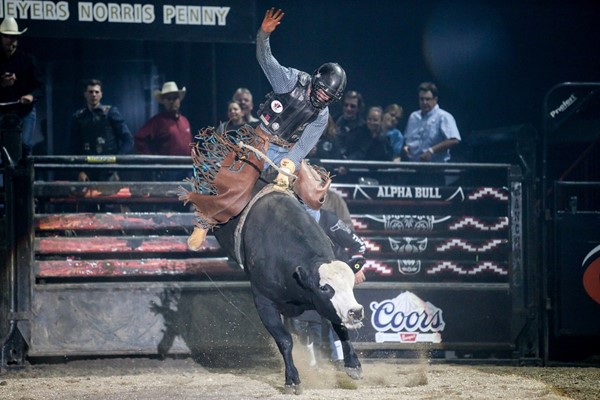 PUEBLO, Colo. – PBR bull rider Klayton Lakevold remains at the University of Alberta Hospital in Edmonton, Alberta, following injuries sustained during the PBR Canada Touring Pro Division event in Lloydminster, Saskatchewan, on Friday night. 
The 19-year-old was attempting to ride Certified & Tested when he was jerked down, which led to a collision with the bull's head. 
Lakevold, who had been wearing a helmet, was transported to Lloydminster Hospital before later being transferred to the University of Alberta Hospital for additional care. 
According to Lakevold's father, Darcy, Klayton is in an induced coma and is scheduled to undergo further tests Saturday.
"He has bleeding on his brain," Darcy told PBR Canada Director of Operations Jason Davidson on Saturday morning. "Never fractured or broke any bones. He is starting to respond to some pain tests by moving his right side a little bit. His left side is not very responsive. We are grateful for everyone's calls and texts. He is going to need everyone's prayers. He is a fighter as everyone I'm sure is aware. 
"Just know that he loves his entire bull riding family and we will all help him through this."
Kellie Mohr - Klayton's sister - issued the following statement on behalf of Darcy and Brenda (Klayton's mother) and the entire family.
"Friday night Klayton suffered a head injury resulting in a small bleed on his brain," Kellie wrote. "He has been flown to Edmonton, where he remains in coma for the time being so that he can allow his brain to have the proper chance to heal. He is surrounded by his family and loved ones. 
"Our family is deeply touched by the overwhelming outpouring of love and support that we have received from the PBR organization and rodeo community as a whole. 
"As many of you know, long ago, Klayton was given the nickname Mighty Mouse due to his tenacious spirit and fearlessness despite his stature. He continues to live up to that name fully during these circumstances."
Lakevold is amidst his second season in the PBR and is in the hunt for a spot at the 2019 PBR Canada Finals. He is also hopeful to make the Team Canada squad for the 2020 PBR Global Cup USA. He had just posted the top ride of his career last month when he rode Finning Medicine Man for 87 points at the Moose Jaw, Saskatchewan, Touring Pro Division event.
The Provost, Alberta, native made his debut last year, finishing as the No. 44 ranked bull rider in Canada. 
The PBR sends its thoughts and prayers to Klayton and his family and friends. The PBR will provide additional updates as they become available. 
Follow Justin Felisko on Twitter @jfelisko