Green and Gloria Advance to Showdown Sunday at Calgary Stampede
By: Justin Felisko Saturday, July 13, 2019 @ 8:33 PM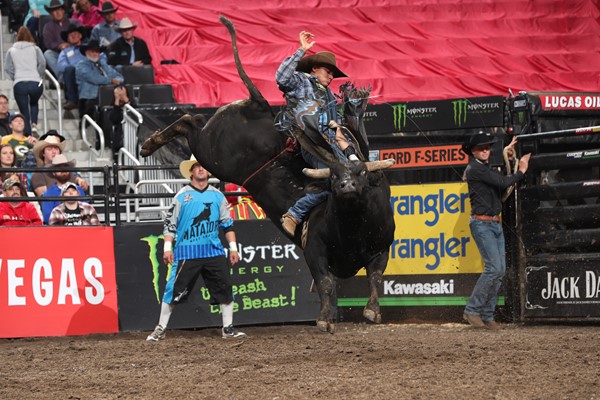 PUEBLO, Colo. – Could history be in the making in the bull riding at the Calgary Stampede?
It has been 16 years since a bull rider has won back-to-back Stampede titles – Justin Volz in 2002-03 – but that may change on Sunday afternoon at the "Greatest Outdoor Show on Earth"
Defending Calgary Stampede champion Marcos Gloria used an 86.5-point ride on Speak Easy to advance out of the Wild Card Round on Saturday and earn one of the final two positions for Showdown Sunday.
"I had to be focused," Gloria said. "One hundred percent. I stayed in my room last night and I thought about it all night because we have the best guys here. I knew this was going to be all or nothing, and it was going to be very competitive. I focused on doing my job today, and I knew it was going to be hard."
Gloria is no stranger to making history in Calgary.
Last year, the 28-year-old became the first Brazilian bull rider to win the Calgary Stampede since three-time World Champion Adriano Moraes did so in 1994.
"I was the first (Brazilian) in over 20 years," Gloria told PBR Canada's Ted Stovin with the help of a translator. "I feel honored for that. I am focused to do my best tomorrow. I want to make history to be the first Brazilian to win two. That is what I want, and I will hopefully do my best."
Garrett Green also advanced out of Wild Card Saturday by posting the highest score of the day, an 88-point effort aboard Son of Odin.
"Well I knew it was all or nothing today, so I went at it like it was the practice pen and cleared my head," Green said. "I knew I had a good draw and just went at him. He bucked just as good as I had seen him buck all spring and it worked out really good."
Green has never competed on Showdown Sunday, and he is looking forward to getting his crack at the $100,000 CAD prize money that is awarded to the event winner.
"When a guy first gets here it is really cool," Green said. "This is the best rodeo of the year. It was really cool to come here. The first four days didn't go as planned. I had a couple of low scores and a couple buckoffs. So I ended up back here on Saturday. I knew I had to come in here and make it count. I couldn't be happier with the way it ended up.
"Coming up for Sunday this way is a little bit more exciting I guess."
Chase Doughtery was the only other rider to reach 8 seconds, posting 85 points on Waiting on You, but he will not advance to Showdown Sunday.
The final bull riding field is now set.
Green and Gloria join the top four riders that advanced out of Pool A – Jess Lockwood, Chase Outlaw, Jared Parsonage and Zane Lambert – and Pool B – Jose Vitor Leme, Sage Kimzey, Ryan Dirteater and Cody Teel.  
International fans living outside of Canada can watch the conclusion of the Calgary Stampede on RidePass beginning at 3:15 p.m. ET.
For the PBR's top bull riders, Sunday is the first of two opportunities to take home $100,000 this month. The Unleash The Beast resumes on July 22-23 with Last Cowboy Standing at Cheyenne Frontier Days.
Failing to advance to Showdown Sunday out of the Wild Card Round were Claudio Montanha Jr., Brock Radford, Marco Eguchi, Jordan Hansen, Ramon de Lima, Cody Nance, Joe Frost and Wacey Finkbeiner.
While money earned had been the deciding factor in Pool play, once Sunday arrives, the slates are wiped clean and the champion will be the rider who posts the single highest-marked ride in the championship round, which features the top four riders that advance out of Sunday's long round.
The winner of each of the six rodeo disciplines at the Calgary Stampede takes home $100,000. The bull riding victor earns 170 points toward the world standings.
Green is currently in contention for both the 2019 PBR Canada and Canadian Pro Rodeo Association titles, but the 27-year-old could potentially soar to No. 55 in the PBR world standings with a win Sunday.
Gloria is 10-for-19 (52.63%) in nine events this season and is ranked 140th in the world standings. A victory on Sunday would push him into the Top 70 and potentially spur him on a run back to the Unleash The Beast like it did last season.
Gloria, who concluded 2018 ranked No. 38 in the world standings, was able to advance to Showdown Sunday last year as one of the Top 4 bull riders in Pool B.
The Brazilian native that now lives in Edmonton, Alberta, took a different path this year via the Wild Card Round, but he is now looking forward to potentially another $100,000 payday.
"I am going to focus even more," Gloria concluded. "I think I wont sleep another night thinking about tomorrow. It is different. It is exciting. The Wild Card is the last chance I got, and now I made it. That drives me to focus more for tomorrow. I want to be the champion again."