Gardner Cracks Canadian Top 10 with Win in Manor
By: Kacie Albert Tuesday, July 23, 2019 @ 2:12 PM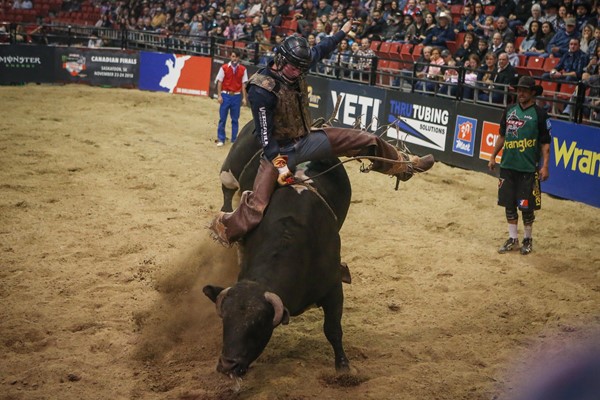 NEW YORK CITY – When Jake Gardner arrived in Manor, Saskatchewan Saturday night, he was the No. 25-ranked rider in Canada, 176.25 points removed from the Top 20.
Outside of the field that would qualify to compete for the 2019 PBR Canada Championship at the finals on Nov. 22-23 where a $50,000 bonus will also be on the line, the Fort St. John native knew he needed to start climbing the national standings.
As one of three riders to go a perfect 2-for-2, Gardner swept both rounds of the Manor Fun Daze PBR to earn the second PBR event win of his career and net 350 national points.
Now the 23-year-old is the No. 8 man in the nation, and within 1,208.32 points of No. 1 Jared Parsonage.
RELATED: Jake Gardner Victorious at Manor Fun Daze PBR
"My goal is to be the Top 10 in the PBR," Gardner said. "You never know what happens, it only takes a few event wins and you're back in the game."
"I was falling behind in the standings so I wanted to focus on gaining some points, so this last weekend was good, it got me back up there."
"But definitely now, I will make a push to see if I can get into that Top 5 and get into that spot where a guy has a chance," he continued. "Them guys have quite the lead so I'll have to pull my socks up."
In Manor, Gardner's event began with an 84-point ride on Parachute in Round 1.
"I knew if I rode him it would be good," Gardner said. "He's normally supposed to go right so I kind of thought that was going to happen, but he went left and felt really nice."
"And then when he went back the other way he kind of had me strung out and I just gritted it out and he pulled me back around there and it worked out."
As the top-ranked rider entering the championship round, fellow Vold Rodeo bovine athlete Venom awaited Gardner.
"I was pretty pumped," he said of the matchup. "I've seen that bull lots and he's right up my alley, into my hand. So I knew if I did my job right it would come together. I just had to breathe and not think about it really."
Reaching the 8-second whistle, the duo combined for an event-best 89.5-point score, now the high-marked ride of Gardner's PBR career.
"I didn't know I was going to be that much," Gardner said humbly. "I knew when I was spurring on him I was going to get a few more points, but I guess they liked what they seen and it worked out good.
"I was, to say the least, pretty freakin pumped."
The win, however, nearly didn't happen.
Competing that weekend in Kennedy, Saskatchewan for CPRA's Moose Mountain Pro Rodeo, Gardner travelled the 70 kilometers to Manor that day, arriving just in the nick of time for his first round draw.
"We were kind of pressed on time getting there," Gardner explained. "When I got there the bull was in the chute, [and] I threw my rope on him. "
Forward looking, Gardner has carefully scheduled the remainder of his summer run to actualize both his PBR ambitions, and repeat as the CPRA All Around Champion via bull riding and steer wrestling.
After a stop in Oyen, Alberta for the CPRA event on Wednesday, July 24, Gardner will head to North Battleford, Saskatchewan on Thursday for the next PBR Canada Touring Pro Division event. Then it's a return to the Pro Rodeo events with stops in Medicine Hat, Lacombe and Bruce, Alberta from Friday-Sunday.
"We're just jammed packed, but I wouldn't have it any other way."
PBR Canada's Ted Stovin contributed to this report.