Fielder Showing in Canada He May be Moving up Global Cup Ranks for Team Australia
By: Justin Felisko Monday, July 15, 2019 @ 5:03 PM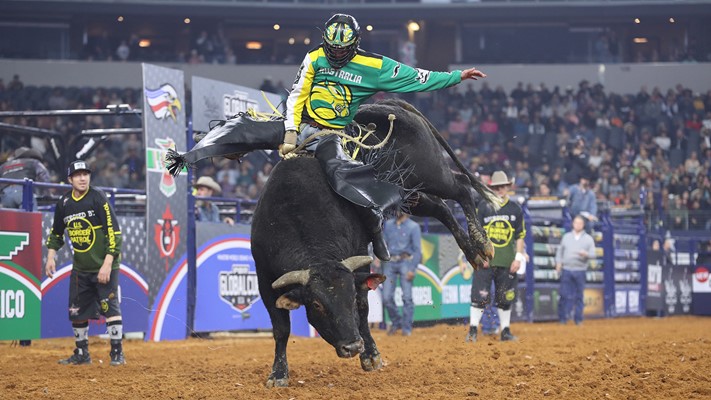 PUEBLO, Colo. – Every time Brady Fielder slides on his riding helmet, it is a reminder of one of his long-term goals for 2020.
The black helmet has the Team Australia green and yellow logo from the 2019 WinStar World Casino and Resort Global Cup USA, presented by Monster Energy, plastered on its sides.
"I for sure hope to ride in the Global Cup again," Fielder told PBR.com last week.
Fielder is amidst his first season in the PBR, and with the PBR Australia schedule on a small hiatus this month, the 19-year-old was among a group of Australians that made the 20-hour flight to Canada to compete at various PBR Canada and other open bull ridings.
What was going to be a learning experience for Fielder has turned into an educational process for bull riding fans in North America.
Fielder won his first event on foreign soil by going 2-for-2 at the Kinsella, Alberta, PBR Canada Touring Pro Division event last Wednesday. The Clermont, Australia, native then rode his next two bulls in Lloydminster, Saskatchewan, for third-place finish on Friday night.
In total, Fielder is 9-for-13 (69.23%) with six Top-10 finishes in the seven events he has attended since making his Canadian debut on July 1 in Cluny, Alberta.
"Not too bad," Fielder said of his first taste of Canadian competition. "I just came over for the month while there is no PBRs on in Australia."
It has been an impressive start for the youngest bull rider to ever win the Australian Pro Rodeo Association championship.
Fielder won the APRA title in 2018 as an 18-year-old before making the switch to the PBR this year.
"That was a pretty big achievement for me," Fielder said. "Being the youngest to ever win it."
Fielder is a third generation bull rider and began getting on steers when he was 5 years old on the family ranch with the help of his two brothers.
"I grew up doing it," Fielder said. "My family and brothers were bull riders. I grew up on the property riding ponies and steers and all of that."
Fielder, who also has won a Bull Riders Canada event in his trip to the Great White North, is next slated to compete at the PBR Canada Touring Pro Division event in Czar, Alberta, on Friday night. He is also in the draw for the Manor, Saskatchewan and North Battleford, Saskatchewan, TPD events on July 20 and 25.
Fielder is already sitting at No. 16 in the PBR Canada standings, which has him in the hunt to qualify for the 2019 PBR Canada Finals on Nov. 22-23 in Saskatoon, Saskatchewan.
The No. 3-ranked bull rider in PBR Australia is one of the best in Australia too. Fielder is 19-for-29 (65.5%) in the Land Down Under with three wins and eight Top-5 finishes.
"Hopefully I will do well over there," Fielder said. "Aaron (Kleier) is some tough competition over there. All of the fellas riding, but we will see how it goes."
Fielder's success at home in Australia and now in Canada has him sitting at No. 41 in the PBR world standings. Fielder may end up making his Unleash The Beast debut at next week's PBR Major – Last Cowboy Standing at Cheyenne Frontier Days.
Fielder, however, is still unsure if he will ride in Cheyenne or not.
"I'm not sure yet," Fielder said last week. "I wasn't planning on it."
Fielder did say though in February that he hopes to one day come to the United States and ride full time.
"I would probably come over here and give it a go," he said. "If you get the opportunity, you might as well take it."
Fielder has continued to show that he is a rising star in Australia – and that bodes well for Team Australia at the 2020 WinStar World Casino and Resort Global Cup USA, presented by Monster Energy, if he is selected to the team.
Team Australia coach Troy Dunn added the relatively unknown Fielder to his 2019 roster following UTB veteran Nathan Burtenshaw's broken collarbone.
Dunn had been following Fielder's success in the APRA and knew there was tremendous upside in Fielder.
"It is pretty early to tell with Brady," Dunn said in Arlington this past February. "I knew his father and his grandfather. This trip over here will help make him decide what his future is. He comes over here and sees how good it is. He sees his mates over here. Wins a lot of money. That might motivate him to try and get to the next level. That type of thing.
"On the other hand, they get over here and the spotlight is on them and they cringe a little bit and they think, 'Oh I don't like doing media and being in front of everyone.'"
So far, Fielder has shined with the added attention.
He stepped in for an injured Jason Mara at the 2019 Global Cup USA to ride Whiskey River for 85.25 points, and now he is finding success in Canada.
"Yeah it was a big eye-opener," Fielder said of the Global Cup. "A good experience."