Camaraderie a Lynchpin to Schiffner's Canadian Coaching Plan for 2020 PBR Global Cup USA
By: Kacie Albert Tuesday, July 2, 2019 @ 3:34 PM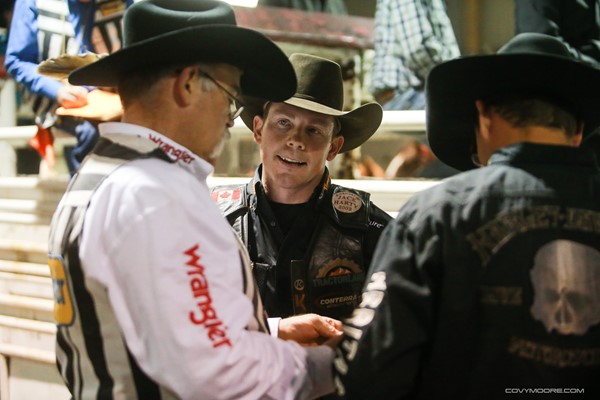 NEW YORK CITY – In Sydney for the second edition of the PBR Global Cup, Team Canada turned heads. The Canadians went 13-for-18 and the nation finished third, a mere 19.75 points behind event winners Team Brazil.
Their success was short-lived and did not follow them back to North America, though.
In fact, their fortunes reversed when they travelled stateside to Arlington, Texas this past February.
On the heels of their upset of Team USA in Australia, Canada finished in last place at the 2019 PBR Global Cup USA inside AT&T Stadium.
That result, and anything less than first for that matter, is unacceptable for newly minted Team Canada coach Scott Schiffner.
RELATED: First-Ever PBR Canada Champion Scott Schiffner to Coach Team Canada at 2020 PBR Global Cup USA
"It's important to me to put together a team that we can go down there and win," Schiffner explained. "It's a bold statement, but I don't plan on going there to win second or third and have everybody pat us on the back and say how we good we did.
"Anything less than first is a failure on me as the head coach. "
And a lynchpin for the recipe to Global Cup glory being masterfully architected by PBR Canada's first-ever national champion is nothing other than team camaraderie.
"I'd say the biggest thing that I see is, and I'm going to sound redundant, but it's trying to assemble the right group of guys that are there because they want to win not only for themselves, but they've got a whole team and country riding on them," Schiffner detailed.  "I've got to assemble a group of guys that truthfully want to go there to win for our country and win as a team.
"I just felt like maybe for the last Global Cup guys got a little bit separated and just didn't feel as they were there riding for a team as much as they should have. So moving forward, I'm going to put together a set of guys that are actually going to be there and have each other's backs no matter what."
RELATED: Team Canada Sixth at 2019 PBR Global Cup USA
Schiffner is not daunted by that task.  He highlighted the overall appreciation in Canada for the team dynamic fueled by the nation's love of hockey, and the innate supportive natures of the nation's top riders.
"Being a Canadian, up here, hockey is everything, and everybody grew up, whether you play it or not, everybody knows the rules of hockey and understands it," Schiffner said. "So it's pretty exciting for us to be part of a team format. That's where Canada can really shine. We definitely understand the part of being a team.
"All of the guys that ride bulls up here, even though you're in an individual event, you definitely, you know we travel as a team, we pull for each other, but then when you put your hand in the rope it's still an individual event.
"But in this scenario it's so much more exciting, because we truthfully do want each and every one of our team members to stay on and do good."
Also fueling Schiffner's emphasis on the importance of the team dynamic are his personal experiences as a rider.
Schiffner represented the Maple Leaf four times at the previous PBR World Cups.
"The biggest thing was Australia," Schiffner said fondly. "When we went there for the very first World Cup, it was amazing how we as Canada went in very much as underdogs I believe. We ended up winning second. We only lost to Brazil by one bull. When we left there, the world then knew who Canada was."
It was a team victory, Schiffner continued.
"The greatest thing about it was how much recognition we got for being a team," he added. "We went everywhere together. That's what really created it. Then when we left there and went to the next World Cup, the other guys were starting to act more like teams and spend more time together because they'd seen what a success we had as a Canadian team."
PBR held the first edition of the World Cup in Queensland, Australia in 2007. Both Schiffner, and assistant coach Tanner Girletz competed for Team Canada, alongside Tyler Thomson, Aaron Roy and Justin Volz.
Accruing 1,268.5 points, Canada finished 193.5 points behind event winners Team Brazil. Schiffner was the top-performing Canadian, going 5-for-6.   
"Then when we went to Brazil too, we had a really good run in Brazil and we really stood out there," Schiffner said of the nation's third-place effort at the third edition of the World Cup in 2009 in Barretos.
"Same thing. We just went, and you're in a, so to speak, a foreign country, and we did everything together. You'd never seen one Canadian somewhere. It was always us as a group, as a team, and coach was with us all the time.
"So those are the biggest memories I have, along with some great bull rides that the team put together. But just the aspect of how we communicate and compete on a world level like that."
The 2020 edition of the PBR Global Cup will mark Schiffner's debut at the five-nation event, taking over as coach for three-time PBR Canada Champion Roy who has filled the role the past three events.
"To be asked to be a coach at the Global Cup was a big honor," Schiffner said. "It's one of them deals, like I was a part of all four of the World Cups when they had them and it was one of the greatest experiences I had as a bull rider."
Newly retired, Schiffner punctuated his prolific career in 2018 with a 17th qualification to the "Greatest Outdoor Show on Earth," – The Calgary Stampede – an event he won twice (2001 and 2012).
RELATED: 2006 PBR Canada Champion Schiffner Announces Retirement
Schiffner, the first-ever PBR Canada Champion, is a 12-time PBR Canada Finals qualifier and won the season-culminating event in 2013.  The four-time PBR World Finals qualifier also competed in the Canadian Pro Rodeo Association. The 39-year-old is a two-time CPRA champion (2001 and 2012) and qualified for the Canadian Finals Rodeo (CFR) 18 times.
Paralleling his vast experience in the team format via the PBR World Cup, Schiffner also competed as a member of Team Canada at the Salt Lake City Winter Olympics, which featured rodeo for the second time in the sport's history. Finishing just off the podium, Schiffner won the event's second round with an awe-inspiring 92-point ride on Just Spoofin'.
Despite his numerous accolades, however, Schiffner is in search of another.
He desires that U.S. horn from the glittering Global Cup trophy.
"Truthfully where the Global Cup is going, it's definitely the pinnacle of bull riding as far as a team aspect goes," Schiffner concluded. 
PBR Canada writer Ted Stovin contributed to this report.