Calgary Stampede Pool A Preview: Frost Looking To Seal The Deal
By: Justin Felisko Friday, July 5, 2019 @ 12:22 PM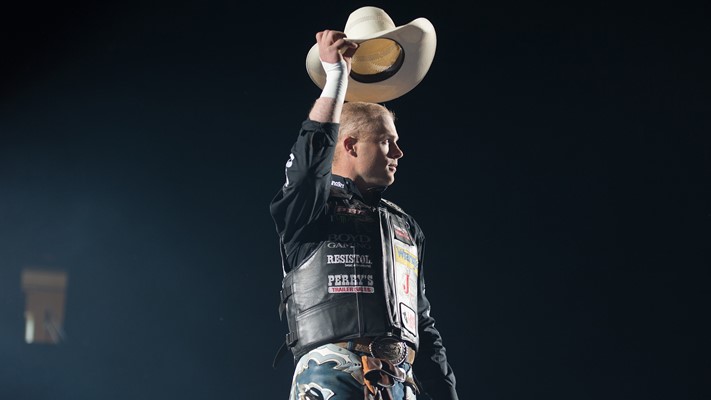 PUEBLO, Colo. – Joe Frost ever so slightly grinded his teeth together as he recalled the ending of the 2018 Calgary Stampede last month in Bismarck, North Dakota.
The wounds of his Calgary shortcomings have obviously healed in the past year, but the scab of coming so close to a prestigious, victory is still fresh.
The five-time Wrangler National Finals Rodeo qualifier had ridden four of his first five bulls at the "Greatest Outdoor Show on Earth" in Canada, winning Pool A of the competition and cruising through the first round of Showdown Sunday with 86.5 points on Tennessee Whiskey.
It was a dominant performance before Frost slid onto the back of Red Pheasant during the four-rider, championship round.
Red Pheasant wound up bucking off Frost in 4.84 seconds, but Marcos Gloria, Fabiano Vieira and Ty Wallace all bucked off as well.
Therefore, all four riders were given a second chance to win the Calgary Stampede.
When Frost saw his draw, he could not have been happier.
A rematch against Heaven's Basement.
Frost had previously won Round 7 of the 2017 Wrangler National Finals Rodeo with 87 points on the bovine athlete.
At the Stampede, though, Frost came up just short.
Heaven's Basement took him down at the 7.42-second mark, which opened the door for Gloria to become the second Brazilian to ever win the Calgary Stampede with an 76-point ride.
"Having two bulls I couldn't have handpicked," Frost said before shaking his head in frustration. "The last one I had in the four-man round is one I won round at the NFR before. One I rode before. I just messed him up.
"They kept trying to hand me that cash and I kept giving it away."
Frost is set to return to the Calgary Stampede on Friday for the beginning of the largest rodeos of the summer.  
It is just the latest event of a huge month of bull riding on tap for Western sports fans. The Unleash The Beast resumes on July 22 with Last Cowboy Standing at Cheyenne Frontier Days and is the kickoff to the stretch run to the 2019 PBR World Finals in Las Vegas (Nov. 6-10).
International fans living outside of Canada can watch the Calgary Stampede on RidePass beginning at 3:15 p.m. ET every day.
The winner of the Calgary Stampede bull riding competition takes home $100,000 and 170 points toward the PBR world standings. The winner of each Pool will also receive 50 world points. 
"Anytime they are giving out $100,000, granted for us (Americans) it is only about $75,000 because of the exchange rate, but it would mean a lot to win it. This is one you want your name in the history books with."
The No. 21 ranked bull rider in the world standings will look to win Pool A for a second consecutive year.
Frost will face stiff competition in Pool A too. Also slated to ride in Pool A is 2017 World Champion Jess Lockwood, No. 4 Chase Outlaw, 10-time PBR World Finals qualifier Cody Nance, two-time PBR Canada champion Zane Lambert, current No. 1 PBR Canada rider Jared Parsonage, reigning Canadian Pro Rodeo Association champion Wacey Finkbeiner, 2016 CPRA champion Jordan Hansen, Garrett Green and Gloria.
RELATED: Calgary Stampede draw
The format for the Stampede, which has a combined $2 million worth of prize money up for grabs for the nine rodeo events, is different from a standard PBR event.
Riders battle it out for four days in highly-contested pool play with the goal of advancing to Showdown Sunday as one of the pool's top-four money earners.  If they don't make it, they can then jockey with the remaining riders on Wild Card Saturday for the final two spots.
"You go up there and get on four bulls (in pool play) and you have a chance to win a good check for four days in a row," Frost said. "That makes it easier for a guy to make a living."
Frost heads into the Stampede fresh off a 2-for-2, third-place performance at the Ranchman's PBR Charity Classic PBR Canada Touring Pro Division event on Wednesday night in Calgary.
2019 is Frost's third appearance at the Calgary Stampede.
He made his debut at the Calgary Stampede Fairgrounds in 2017.
"It was pretty exciting the first year I was able to go up there," Frost said. "I tore my groin the first year and I shouldn't have got on the last two bulls up there."
After almost tasting victory in 2018, Frost is ready to take care of business this time around.
"I split second third and fourth last year," Frost said. "It was a lot better than the first year i went there, but I dang sure am excited to go back and try and seal the deal."
Follow Justin Felisko on Twitter @jfelisko