A Perfect Pair – Girletz Joins Schiffner on Team Canada Coaching Roster for 2020 PBR Global Cup USA
By: Kacie Albert Wednesday, July 31, 2019 @ 10:37 AM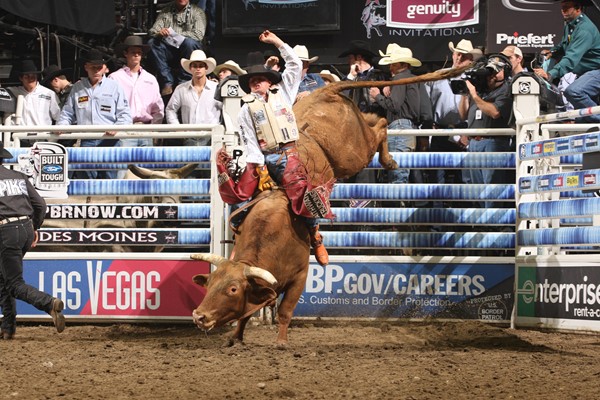 NEW YORK CITY – With coaches set to have complete autonomy over selecting their rosters for the 2020 PBR Global Cup USA, the dynamic between coach and assistant is more important than ever before.
Added onto the role of architecting each rider vs. bull match-up come event day, anything less than a seamless coach-to-coach relationship could spell disaster.
This fact is not lost on Team Canada's newly-anointed leader Scott Schiffner.
Pouring over a list of names of both accomplished riders and regarded leaders, the first-ever PBR Canada Champion was committed to selecting someone who would compliment him in every way.
After many hours of hard thought, Schiffner believes his selection of Tanner Girletz as assistant will yield the duo the nation needs at the helm.
RELATED: First-Ever PBR Canada Champion Scott Schiffner to Coach Team Canada at 2020 PBR Global Cup USA

"The reason I ended up picking Tanner Girletz was two reasons," Schiffner explained. "We're very opposite people. So I didn't want to pick an assistant coach that is exactly like me, you need to have somebody else that can look at things through different glasses so to speak.
"What I basically did is I looked at all my weak points and I tried to find someone that could fill in my weak points with their strong points. And then my strong points I didn't feel like I wanted another guy with the same strong points. So that's why I went ahead and picked Tanner because I really feel we complement each other in very opposite ways."
Girletz will be the first assistant coach in Team Canada history after Aaron Roy elected to solely lead the nation at the 2019 PBR Global Cup USA.
Recently retiring in 2017, Girletz is the 2006 Canadian Champion bull rider and a nine-time CFR competitor. He also qualified for the PBR Canada Finals six times during his career.
"I'm a pure Canadian," Girletz said from the Ranchman's PBR Charity Classic in early July. "It's in my blood, it's in my heart. I see a few guys from other countries here, and we're coming for you."  
Much like Schiffner who rode at all four editions of the PBR World Cup, Girletz is also familiar with the team format, riding at the international event in 2007, 2009 and 2010. Girletz's abilities were evident in 2009 when he stepped in as an alternate and went 2-for-2 to help Team Canada finish third.
Girletz also brings past coaching experience to the table as the roughstock coach for Olds College.
"The big thing is too, I can be a bit of a hard ass and expect a lot out of the guys; Tanner is a very good morale guy," Schiffner said further of his selection. "I really believe he'll be the guy to really lead the team and keep morale high and keep it fun, and motivated. And I can be a little bit harder on the guys and demand more out of them."
Girletz also brings a wealth of bucking bull knowledge to the role, hailing from the legendary rodeo family behind Girletz Rodeo Stock.
The family's stock outfit has produced seven Canadian Bulls of the Year, along with countless bovine athletes that have bucked at the PBR World Finals including the likes of White Lightning, Moto Moto and Stunt Man Ray.
"In the long run, I know lots about bulls," Girletz said. "I've been kind of knowing them the last few years, my whole career, to kind of keep track records on the bulls, and I think I will do a good job of matching the guys up with bulls I think that will suit them."
"Tanner is one of the best guys in Canada at knowing bulls," Schiffner said without hesitation. "He really keeps up on that."
While the next edition of the PBR Global Cup may be nearly 200 days in the future, Schiffner, with the assistance of Girletz, is eager to get to work on building their team.
"We're going to do lots of scouting," Schiffner explained. Obviously we're constantly watching videos and the standings, trying to get to as many bull ridings as we can.
 "I've started to take notes," Schiffner continued. "You know it's funny, there's guys that ride really, really good come spring time, or the beginning of the year, and then taper off in the fall. Then there's other guys that take a while to warm up. So those are all things that we're taking into consideration."
With an intense summer run upon the Canadian riders, Schiffner and Girletz will have countless opportunities to start scouting.
"I think there are a couple guys that are main stage right now that you know are just being consistent and have been for the last couple of years," Schiffner explained of the current landscape.
"But, you know, February is a long ways away and we've got to be able to take the guys with the hot hand."