West Returns to Competition at Season Opener in NYC
By: Ted Stovin Thursday, January 3, 2019 @ 10:34 AM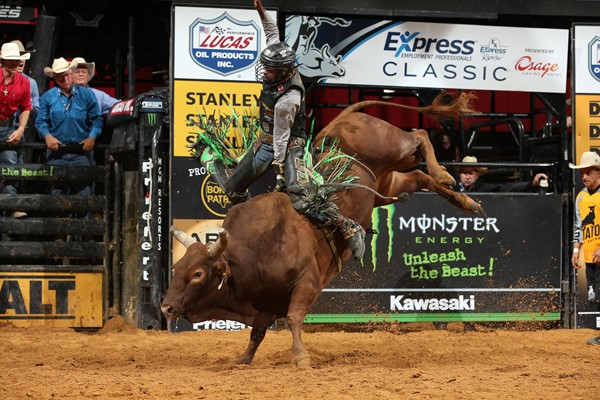 CALGARY, Alberta – Between November of 2017 and August of 2018, Lonnie West was riding to new career heights.
He won what is still a career-high for a single event at $24,686 at the PBR Global Cup qualifier in Edmonton, Alberta's Rogers Place; earned his first Velocity Tour event win in New Town, North Dakota only a week later and his second Monster Energy Tour event win in Canada in Moncton, New Brunswick in June.
West made his debut at the PBR's elite level in Billings, Montana in April, riding to an eighth-place finish. In only his second trip to the league's top tour, in Tulsa, Oklahoma at the start of August, he finished fourth to win over $10,000 USD and move into the No. 24 spot in the PBR World Standings.
RELATED: Radford and West Riding Hot into Tulsa
Error loading Partial View script (file: ~/Views/MacroPartials/RichtextEmbedVideo.cshtml)
Once home from Tulsa, however, things took a turn for the worst for West and travelling partner Brock Radford. Radford was injured trying to get in his rodeo count to qualify for the Canadian Finals Rodeo (CFR), tearing his left MCL and ACL.
RELATED: Radford Tears Left ACL/MCL in Jasper
On August 25, West dislocated his shoulder at a Touring Pro Division event in Eureka, Montana and wouldn't ride again until Round 2 of the 2018 PBR World Finals in Las Vegas. In that round, West was injured again, lacerating his liver after being stepped on by Hostage.
"I haven't been able to go back to work or nothin'," West said before Christmas. "I've been having to take it pretty easy on my liver. I've been home pretty much just pissing around doing nothing."
"Nothing," for an injured bull rider may be different than "nothing," for the normal person, however.
"I've been working out quite a bit and I've been hitting the gym every day," West said. "I feel really good, but I just need to get on some bulls now to get back into it."
He did in fact get back to it, going 1-for-2 at a non-sanctioned event on New Year's Eve in Ponoka, Alberta.
"I figured if I'm gonna go start bull riding in January I might as well enter that Ponoka deal and that could be my practice I guess."
On January 3, West, who finished 2018 No. 37 in the world, got the invite to New York City and Madison Square Garden.
"There's no better feeling than to be getting to ride at the highest level in the PBR and in Madison Square Garden," West said. "I'm healthy and feeling awesome, ready to get back to doing what I love. I've never been to NYC and I'm looking forward to riding some rank bulls there!
"I feel 110% now. I'm stronger than I have been ever so it feels really good. I've got the itch back. I'm just ready to hit the trail and get back to bull riding. I hate sitting around not doing anything.
"It's been a pretty boring fall and winter. I'm dam ready to get back to bull riding."
Sitting out for the fall meant missing the CFR, which he qualified for, and the PBR Canadian Finals, nullifying his chances at the 2018 PBR Canada Championship.
"I pretty much missed everything. It was not ideal for a way to finish out the season," West said. "I had a lot of goals in mind that I wasn't able to hit. I really wanted to go to the Canadian Finals and make a push to get that first title under my belt.
"That'll have to be this year I guess.
"That's kind of what we were riding for all year is to make everything," West said of the CFR, PBR Canadian Finals and PBR World Finals.
"I'll take the good with the bad I guess. It fuels a guy's fire to get back at it and keeps your hunger going, keeps you riding. I'm just looking forward to this year I kinda forgot about last year. I'm just looking forward to the new year now."
After juggling two different schedules in 2018, West looks to focus on the PBR and getting back to the World Finals in 2019.
"That's really all I've been thinking about since leaving Vegas is getting back there," he said. "I honestly don't really care about anything else except getting back to the World Finals. I'm going to do everything it takes to get back there again this year."
The first injury, the shoulder dislocation, is already in the back of his mind.
"My shoulder feels awesome," West said. "It feels better than before I hurt it. Before when I hurt it, I was just bull riding, I wasn't really working out at all and wasn't even the healthiest I could have been. I wasn't eating healthy and didn't have the best habits I guess you could say.
"But since I've been hurt I've been super healthy. I've been trying to keep things as healthy and as strong as they can be. It honestly feels better than it's ever felt."
As for the liver, the time off has helped.
"I wasn't even able to do light duty stuff for the first month. I've just been taking it easy the whole time. Time to get on the bull now and see if I still remember how to do it," he joked before the New Year.
One of the changed habits is the lack of cigarettes for the formerly nick-named "Lon-Dart" West.
"I completely quit. I figured if a guy can do anything in his power to make himself better, why not really?" he said. "I tried getting out of the old habits we were in. I mean who knows, come rodeo season a guy gets a little on the wild side, but for now, shit I'm just going to try and be the best I can. Healing up sucks so anything you can do to shorten than amount of time, you've gotta do it."
After finishing 68th in the 2017 PBR World Standings, the same number of the late Glen Keeley, only competing at 16 events, West took in 47 PBR events this past season. The 47th was his first World Finals but that liver injury didn't make the trip everything he had imagined. 
"It was brutal," West said who got into the finals as the first alternate after Ryan Dirteater was knocked out in Round 1. "I got wrecked out and I went to the hospital that night. I had those bad stomach pains and stuff. It was more hurting right above my bladder where all the blood was leaking out on to. But then I left the hospital, I thought I'd be alright. I figured I was going to get on again the next day so I kinda just wanted to get back to the room, regroup and sleep."
But the sleep never came.
"I went back to the room and the pain got worse. I couldn't sleep at all," West said. "I had aching pains in my guts all night. I didn't even know it was bleeding. So then I went back in in the morning and they run a bunch of tests and cat scans and ultrasounds and I ended up being there for I think it was three nights.
"It sucked, oh my god it sucked. Lucky I was there with the PBR though. The whole time I was in there I was thinking: 'Man this is going to cost me like $50,000, I'm going to be broke after."
Luckily for West, he was covered by the PBR.
"Melissa Henricks from the PBR was with me the whole time," West said. "She drove me there and kept checking on me. She took care of all my paperwork and it ended up costing me like nothing pretty much. It was unreal. I was in there hurting and I was kinda stressed out and just not having a good time. It was definitely not the way I pictured Vegas. All in all, it actually worked out pretty good."
Things shaped up once he was headed home, that was, after he was through the airport.
"It was good to get home. I remember getting on the plane still not feeling good," West said. "I couldn't lift anything. Thank god my girlfriend was there, Jordan, she had to carry my rigging bag through the airport. I probably looked like a terrible person, but I was glad to get home."
Get home, rested up, and ready to get back to it, like he will this weekend in The Big Apple.
"It's always nice when a guy can hit the border and know you're going back bull riding," West said. "I've got something to look forward to now and I'm putting in the work so it should pay off."
The Monster Energy Buck Off at The Garden, presented by Ariat begins on Friday, January 4 at 7:45 p.m. ET, continues on Saturday, January 5 at 6:45 p.m. ET and concludes on Sunday, January 6 at 1:45 p.m. ET.
CBS Sports will air the first 15/15 Bucking Battle of the season at 12:00 p.m. ET on Saturday, January 5. CBS Sports Network will broadcast Round 2 on Saturday, January 5 at 8:00 p.m. ET and all the action from Championship Sunday, with coverage of Round 3 and the championship round, on Sunday, January 6 at 8:00 p.m. ET.
Fans will be able to watch the action in its entirety through live via PBR's new streaming digital platform RidePass. Round 1 will be exclusively seen on the platform, with coverage beginning at 7:30pm ET on Friday, January 4. RidePass' listen LIVE stream of the event will begin on Saturday, January 5 at 6:45pm ET and conclude on Sunday, January 6 at 1:45pm ET.