Vold Previews Bull Pen for 2019 Season
By: Ted Stovin Thursday, January 31, 2019 @ 1:53 PM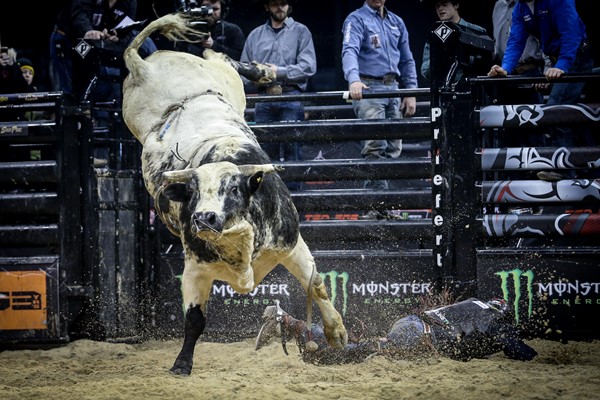 CALGARY, Alberta – After a season where a possible all-time high of Canadian bucking bulls were selected to the PBR World Finals, Vold Rodeo's Nansen Vold is excited for what is ahead for his bull pen in 2019.
With the debut event of the Monster Energy Tour in Winnipeg, Manitoba already in the books and another Bull of the Event title to his company name, Vold has lots to be excited about.
RELATED: Eleven Canadian Bulls Selected to 2018 PBR World Finals
"[VJV] Whiskey Hand was on the top of my list to go out there. He was good all last year and made the NFR. He had a great trip there, he would have been my first or second pick that would have won the bull of the event looking back at the videos and seeing everything now," Vold said. "He was a stand-out for me."
VJV Whiskey Hand was marked 42.5 points while a new bull to the crew put up a 43.
"Oz is the new one coming up that I think everyone is going to be talking about," Vold said. "He came from Blaine Fyson. He's a Vertigo son and he was, I thought, really good in Dawson Creek. And he's just kind of coming on to his own. He's going to be five this summer so he's picking it up now so it's going to be good watching for him."
Neither of these athletes won bull of the event, however, as Ripped at the Seams, scoring 43.5 points, took the title.
"I've been sticking him in the short round," Vold said. "He had a good day in Winnipeg. He had an off day at the Finals in Saskatoon, but I put him back in the draw the next day and he was way better. He's got the tools to do it so I think we'll see what happens. He's young too so hopefully he has a good year as well. He came from Nate Gardner and he's looking promising anyway, that's for sure."
A couple other things were, and weren't promising.
"Winnipeg was good, but the weather was a little bit chilly," Vold said. "It was good to see the crowd was excellent, we were definitely happy to be there."
With the stars of the pen already shining at the first event, a few more are on the horizon.
"I've got a couple young ones," Vold said. "A little Hereford bull by the name of Timber Jam, he's been my son's bull that he picked out. It actually was a heifer that he got given to him from Todd Braithwaite as a calf out of her, when he was a two-year-old. And now we've got this Figjam calf out of her and he's won a few ABBI events the last couple years and made some money that way. He's coming up the ladder pretty quick for a cool little Hereford.
"And then a second one would be 522 Vertigo Spy. He came from Blaine Fyson as well, he's a Vertigo baby and was in Ponoka and kinda fell down, but he tried hard. I'll be bucking him again in Claresholm. I think he's gonna be as solid as we're gonna find out of the pen I'm looking for this year. We've got a few others that are coming up also, there's lots to mention, but I think those are the two, three, coming four-year-olds that are going to be stand-outs."
Vold isn't only looking at his bulls, he gave a nod to fellow contractors, hunting out their best.
"I haven't seen a whole lot of Hoggs pen yet but I know they've got a lot of young ones coming up," Vold said. "I've seen a few videos lately I guess at the last ABBI events, some four-year-olds looked pretty sharp. Stuntman Hank, I think he's going be probably their top one this year.
"Some bulls that were out there, Skori's always got ones hiding in the back that are usually young. They get lots of miles those bulls that come from Skori's and they have to perform, he wouldn't keep them around if they didn't.
"I haven't seen everyone's pen yet. It's gonna be come PBR time in Lethbridge I think we'll see a lot of stuff that's going on, it's going to showcase what the year will bring out."
In Lethbridge, reigning PBR Canada Bull of the Year and Bull of the PBR Canadian Finals, Happy Camper from hometown Two Bit Bucking Bulls, will make his debut for the season at five years old.
"Yeah exactly, there's definitely some bulls out there that are gonna stand out as they are getting older because five is like the prime age, so you're going to see lots of that and some new ones. It's going to be interesting for sure," Vold said.
"Hopefully we get a bunch lined up to head south for Vegas again."
Next up on PBR Canada's Monster Energy Tour is Lethbridge, Alberta and the Enmax Centre for the Bridge City Chrysler/LA Towing PBR Challenge on March 1-2 at 7:00 p.m. MST.