The Morning Line – Winnipeg
By: Ted Stovin Saturday, January 26, 2019 @ 9:02 AM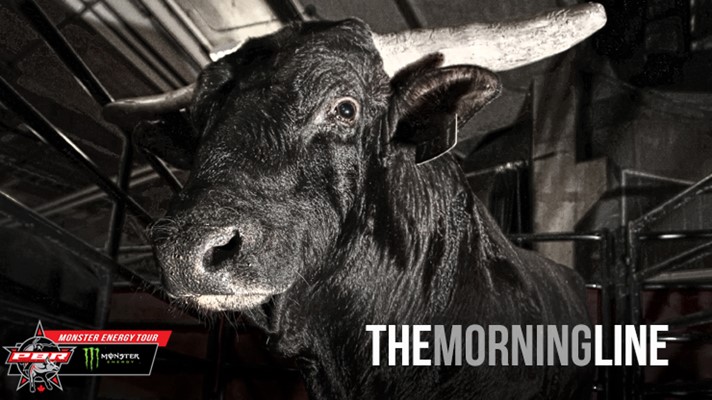 WINNIPEG, Manitoba – We are back! We were gone for two months, but: We. Are. Back.
I'm excited about the return of the Monster Energy Tour for the fourth season on Canadian soil. To be making our debut this year in Winnipeg in front of what is on pace to be the best show we've had here since 2014 is even more thrilling.
What's also exciting is the fact that the points breakdown took a huge jump. The event winner tonight receives 170 world points, up 50 from last year. Second pays 90 points while third awards 55. As of today, 170 points is No. 24 in the PBR World Standings.
Here's a quick breakdown of some of the top Canadian contenders competing here who could make money moves:
Dayton Johnston and Jordan Hansen – Tied for No. 56 with 60 world points each from respective wins in Yorkton, Saskatchewan and Dawson Creek, British Columbia. A win would put either of them in the No. 18 spot in the world standings depending on what goes down in Sacramento on the PBR Unleash the Beast.
Jared Parsonage is No. 66 on the planet with 40 world points and is coming off a 2-for-2 performance at a shootout event in Fort Worth on Thursday night. Two-time PBR Canada Champion Zane Lambert is No. 75.
This early-season event can mean big implications for a guy on the cusp looking to make the step to the big leagues for the spring. It could even mean jumping to No. 24 in the world for a guy with no points on the board yet with only two weeks before the standing go partially off this year.
I don't have them in The Morning Line features below but I'd like to note the return of both Billy West and Shay Marks. Winnipeg marks the debut for them both on the Monster Energy Tour. They will be a pair to watch. Ironically, both have sat out most of the past couple seasons having their shoulders reconstructed.
Here we go though, welcome to 2019 and the Canadian Monster Energy Tour! Who's your pick to win it all this season? Let me know your thoughts and your pick for Winnipeg by tagging @PBRCanada and @TedStovin on Twitter on in the comment section on Facebook or Instagram. 
RELATED: See below for the full draw
Aaron Roy vs. 539 Blue Blood
My partner in podcast crime, Wacey Anderson, got the lowdown on Blue Blood from Craig and Bobby Stevens. These bulls have the closest drive and should be the most acclimated to the weather. I expect them to perform well. This is a young bull out of Blue Money from the Lazy S crew. He hasn't had a ton of trips but Bobby is high on him. Wacey watched some tape and said, "He's a really cool little black bull with horns that will turn back either way. He could be big numbers if A-a-ron sticks him."

With Roy making his way back into the arena to the PBR's highest level in two-week's time at the Global Cup, I expect the big numbers.
Dayton Johnston vs. 4508 Finning Majic Shivers
This is a rematch from Day 1 in Prince Albert at the Clunie-Cooper Memorial PBR in 2018. There, Johnston and Majic Shivers teamed up for an 86.5-point score in the championship round. Johnston had been in Denver, Oakland and Portland already this winter, but has yet to add any points since his win in Yorkton. With a bull that's been taken to the 8-second whistle four times in seven trips on record I'm betting the Milk River athlete gets some more here in the 'Peg. 
Daylon Swearingen vs. 421 Finning Deacon's Hou
Another of the Flying Four Bucking Bulls from Prince Albert, Deacon's Hou has been ridden three times in 10 outs according to ProBullStats.com. One of those outs was a buckoff by Swearingen in Round 1 of 2018 PBR Canadian Finals in Saskatoon. The bull score registered at 41.5 points for the 6.37-second buck off. That 1.63 seconds could have earned this New York bull rider the PBR Canada Rookie of the Year title. I don't expect him to get thrown again.
Zane Lambert vs. 324 Finning Overhaul
I rarely end up writing about three bulls from one contractor in the same Morning Line, but when you've got the talent like these three back-to-back-to-back, it's hard not to. I don't need to say much about Zane. I bet he's feeling awful froggy after two months off and at home. I don't think Finning Overhaul stands a chance after being ridden four times in nine outs and going to the right in both videos I watched back. The building is going to go nuts for their home-province favorite when he's there at the 8.
Jordan Hansen vs. -206 Corona Time
Hansen hasn't met an easy foe in Corona Time. This bull has only been ridden three times in 25 outs according to ProBullStats. Of those scores, they've been as high as 88.5 and the numbers go all the way back to 2015 making 2019 Corona Time's fifth season in PBR Canada competition. Even if he's tougher, Hansen rides so well it won't matter. Look for a score in this matchup that gets him back to the Championship Round.
Jared Parsonage vs. 399 Flash Forward
Another guy to go 2-for-2 on Thursday in Fort Worth, Parsonage is coming into Winnipeg riding hot. Another guy I didn't mention that swept the show in Texas was Team Canada Global Cup alternate Wacey Finkbenier, who brought back over $10,000 USD for the win. Back to Parsonage, he made his debut at the PBR's elite level in Glendale last weekend and was bucked off a pair of bulls he definitely should have rode. I think he would even tell us that. Flash Forward has yet to be ridden, bucking off both Swearingen and Fabiano Vieira in Quebec and Halifax last May.
PBR Canada's Monster Energy Tour begins its 2019 season on Saturday, January 26 in Winnipeg, Manitoba with the Winnipeg Classic at Bell MTS Place. Action begins at 7:00 p.m. CT. Tickets are available at Ticketmaster.ca
Fans will also be able to watch all the action LIVE on RidePass. The stream will begin on January 26th at 7:00 p.m CT.
Stay tuned in to PBRCanada.com and follow the tour on Facebook (PBR Canada), Twitter (@PBRCanada), and Instagram (@PBRCanada) for the latest results, news, stats and more.
Follow @TedStovin on Twitter
Round 1 Draw - Winnipeg, MB - Jan. 26, 2019
| | | | | | |
| --- | --- | --- | --- | --- | --- |
| # | Rider Name | Bull Name | SC | Brand | Del |
| 1 | Shay Marks | Tom Petty | SKRI | 13 | L |
| 2 | Dakota Louis | Homeboy | SKRI | 59 | L |
| 3 | Tim Lipsett | Smash | SKRI | 51 | R |
| 4 | Wacey Finkbeiner | Hanna Motors Full Throttle | SKRI | 593 | R |
| 5 | Garrett Green | Josiah's Fire | RSGA | 35 | L |
| 6 | Aaron Roy | Blue Blood | LASB | 539 | L |
| 7 | Jake Gardner | Spit Shot | LASB | 420 | L |
| 8 | Logan Biever | Finning Lil Shorty | F4BB | 58A | L |
| 9 | Cawl Braithwaite | Tramp Brew | RSGA | 56 | R |
| 10 | Zac Peterson | Finning Twitch | F4BB | 28 | R |
| 11 | Dayton Johnston | Finning Majic Shivers | F4BB | 4508 | L |
| 12 | Daylon Swearingen | Finning Hou's Deacon | F4BB | 421 | R |
| 13 | Zane Lambert | Finning Overhaul | F4BB | 324 | R |
| 14 |   | Playing Chicken | NVD | 410 | R |
| 15 | Maycon Moura | Black Bath | VDB | 415 | R |
| 16 | Wyatt Gleeson | Applause | NVD | 34 | L |
| 17 | Jordan Hansen | Corona Time | NVD | -206 | L |
| 18 | Billy West | Uptown Funk | NVD | Z1 | R |
| 19 | Cody Casper | Ripped at the Seams | NVD | 403 | R |
| 20 | Cole Young | All Gold Everything | VR/P | 295 | L |
| 21 | Micheal Ostashek | The Silence | NVD | 439 | L |
| 22 | Todd Chotowetz | Feed Bill | GRS | C05 | L |
| 23 | Jackson Scott | Black Attack | NVD | 295 | R |
| 24 | David Otey | Diesel | NVD | 522 | R |
| 25 | Riley Gagnon | Dream On  | VDB | 598 | L |
| 26 | Jared Parsonage | Flash Forward | NVD | 399 | L |
| 27 | Italo Aguilar Goncalves | Darkness | VDB | 497 | R |
Championship Round
| | | | | | |
| --- | --- | --- | --- | --- | --- |
| # | Rider Name | Bull Name | SC | Brand | Del |
| 28 |   | Finning Rat Trap | F4BB | 204 | L |
| 29 |   | Mish Mash | NVD | +212 | L |
| 30 |   | Grey Eyes | NVD | 408 | R |
| 31 |   | Cause n' Effect | RSGA | 401 | R |
| 32 |   | Broken Trigger | SKRI | L11 | R |
| 33 |   | Kool Aid | RSGA | 37 | L |
| 34 |   | Kalit Karma | NVD | 451 | L |
| 35 |   | VJV Whiskey Hand | NVD | 398 | R |
| 36 |   | Baja Midnight | NVD | 43 | R |
| 37 |   | All Access | NVD | 366 | R |