Remembering Ty Pozzobon
By: Ted Stovin Wednesday, January 9, 2019 @ 7:20 AM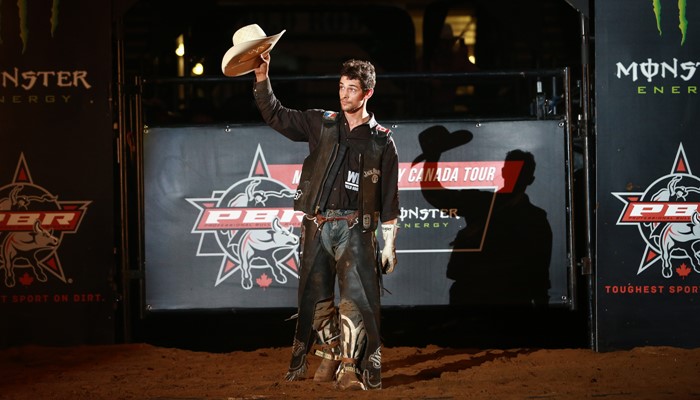 MERRITT, British Columbia – Professional Bull Rider Ty Pozzobon took his own life on January 9, 2017 at his home in Merritt, British Columbia.
At the time of his death, Pozzobon was the No. 23 ranked bull rider on the planet, having finished the World Finals fourth overall, winning over $100,000 USD in Las Vegas.
Pozzobon's brain was donated to research where it was found he was the first confirmed case of CTE in a bull rider.
In the months after Ty's passing, Tanner Byrne, Chad Besplug, Rusty Clunie, Gord Broda, Ryan Giles and myself got together to form the Ty Pozzobon Foundation. Since, over $250,000 has been raised to support the health and well-being of western sport athletes inside and outside the arena.
"The loss of Ty has turned our world upside down. If we only knew then what we know now maybe we wouldn't be a family that is grieving for our precious Ty. We truly believe Ty was put on this earth to teach us all how to be a better person and most importantly to raise concussion awareness. It is important that people know that Ty was born with a perfectly normal brain, as we were lucky enough to have his brain donated after his passing, we know now that he had over 25 brain bleeds, Traumatic Brain Injury and was the first bull rider diagnosed to suffer from CTE. Ty always bounced back, or pretended to, after his concussions - he fooled his family, he fooled his friends. We still wonder to this day was he hiding his pain from his family, so we wouldn't worry so much or in fear that he wouldn't be able to ride anymore.  We want to thank the Ty Pozzobon Foundation for everything they have done and are doing in raising awareness and educating riders. There is a quote, 'People who die from suicide don't want to end their life they want to end their pain.'. Ty is out of pain and watching over all of us. Please remember to listen to your body and mind and listen to the doctors and please remember to #livelikety." - Luke, Leanne, Amy and the Pozzobon Family
"Shit, we were just talking about him in the dressing room today. We were thinking back to how he was always using old ropes because he didn't like breaking in new twine. I remember at Cheyenne PBR one year, Pozzy couldn't make up his mind so we were swapping ropes at the bull riding for two days! Although it wouldn't have mattered what he used, he could ride anything they drew him. We will always miss his fun having shenanigans that he brought to the arena!" - Lonnie West
"I never did get to know him well, but my rookie year is when he came back in 2016 and I just admired getting to be around him cause he was so positive and wanted everyone else to be happy as well."- Jess Lockwood
"I win, you win. That's all really. Dude made me feel a part of this game like no one else. I only got ten months of his life, but he was just one of those guys that you only need a couple months to turn him from bull rider to great friend. And there are hundreds more who attest to that test of character." - Covy Moore
"What I really love about Ty is how he was the foundation to such a huge family. I wouldn't have ever met some of the great people I know and love today without Ty. I'm sure I'm not just speaking for myself too. The past two years have been a roller coaster of emotions for sure, but I'm thankful for the impact he has made through the sport of rodeo with mental health. I wake up every morning thinking of him as well as when I lay my head down at night. He makes me want to be a better man than I was yesterday and to always treat people with kindness. I'm thankful for Tanner B, Tanner G, Chad B, Ted S, and everyone else involved for really stepping up and making the Foundation what is today." - Randy Quartieri
"I've looked up to Pozzy ever since I started riding steers, I remember my first year going pro in the steer riding Pozzy asked me to pull his rope in Rocky Mountain House and to this day it was one of the coolest feelings I've had! Now with the legacy he's left behind I know from personal experience with concussions his foundation has educated me more about the safety we need to take to minimize the risk of concussions as well as knowing that even though we can't see the damage we still do need to take the time off! The only reason I turned out of the Global Cup after I got knocked was all because of what the foundation and Ty's passing has taught me if none of that would of happened I bet I would got on the next day! I think his legacy will leave on for a very, very, very long time!" - Coy Robbins
"Sure do miss him though wish we could be travelling together again." - Jackson Scott
"I hate it took something like Ty's deal to turn heads and really make bull riders take a little better care of themselves especially when it comes to head injuries! Ty was a great guy and friend and always made me laugh, I miss seeing him in the locker room". – J.B. Mauney
"Hard to believe it's been that long. One of the things that's always amazed me was that pretty much any rodeo or bull riding in Canada or the states you go to you'll see someone wearing a shirt or a patch about Pozzy. He seriously treated everyone the same whether you just met or had known each other for years. There won't be another one like him and we sure miss him." - Todd Chotowetz
"Words cannot express how much we miss Ty. He was a remarkable presence and an asset to our sport. His personality will be forever missed but his legacy will live on through the Ty Pozzobon Foundation. I made a promise to Leanne that we would make sure Ty is never forgotten." - Jason Davidson
"He was a great person, we all know that, especially his friends, and miss him dearly. I think it's incredible what his legacy has left through the Foundation and everything else and how it's changed bull riding for the better by bringing all of the concussions and mental health to the forefront for the athletes. It just goes to show what a special person he truly was for the effect he still has on people today." - Jared Parsonage
"I was grateful enough to get to know Pozzy and the opportunity to travel with him a little at the start of my career. I will forever cherish the fun times we had and all the things I learned from him in that short time. He was a great cowboy, a hell of a bull rider and an even better friend. He helped me out so much. Whether it was the mental approach to the sport, or the late-night practice pens we would have at Prescott's, with him breaking down what I was doing wrong and how to get better he could just explain bull riding so good whatever he said made perfect sense. Even paying me a couple hundred bucks if I stayed on one of his young bulls coming up. I not only learned how to act and carry myself outside the arena. He was a class act, we would always be waiting on him cause he simply had time for everyone no matter who they were, and would talk to all the kids and be signing autographs. I owe a lot of my success the past few years to that guy. His legacy lives on through the Ty Pozzobon Foundation, and bull riding has taken a 180 since at the way guys look and treat concussions, and that is all because of him." - Brock Radford
"If it wasn't for Ty and the opportunity he gave me I wouldn't be where I am today. I wouldn't have gotten my chance at the World Finals and got my spot on tour. We miss him every day but there isn't a bull riding that goes by that we don't talk about him or someone doesn't have a story to tell. He looked after his friends when he was around and he still is with the Foundation and making our sport better." – Dakota Buttar
"I think the health and safety of bull riding was always put aside, but from Ty's passing it opened up everyone's eyes and he has done wonders with the way things are going now. Other than my Dad getting me on steers, the place I learned how to actually ride was Ty and Luke's. My first rodeo away from my parents was with Ty and some other bull riders and after that trip I realized that bull riding was what I wanted to do. I lived away from Ty and was going to college and we weren't as close when he passed, but he always kept in touch with me and helped with my riding. Ty had a big part in where I am today. He had a big part in a lot of young riders' lives and I think that he still lives on in a lot of young bull riders that he helped." – Jake Gardner
"There hasn't been a single day that's gone by where I haven't thought or talked about Trent since he's been gone. It sure isn't the same not having him here. Even when I get to missing him really bad I can always think of something stupid he did to make myself chuckle and smile. It definitely hasn't gotten any easier. I still catch myself typing a text or trying to call him after a bull riding or when I feel I need to talk to him. But at the end of the day I know he's up there looking down on all of us and making sure we are alright. I miss the smiley pecker. They say, 'Something great comes out of tragedy. With Trent being gone we now have the Foundation that is making the awareness of mental health a priority in our sport and teaching the younger generation that it is ok to stay home when you're hurt and to talk about what's going on. In the two years I've seen a huge change in our sport when it comes to that. Even with myself I now know that it's OK to talk about things we normally wouldn't." – Greg Loring Jr.
"From tragedy can come greatness. From grief can come hopefulness. Though the hole in our hearts that comes from Ty's leaving us will never go away, we can take solace in knowing his memory will never fade. And we can celebrate the knowledge that from the Foundation that bears his name comes real progress in the fight against brain trauma injuries and the depression that often accompanies them. Our Sport Medicine practitioners are in more places than they've ever been--again because of the Foundation. Ty's legacy lives on." – Dave Poulsen
"After two years without him, it seems like every single day something happens or a story is told and someone sits out from a concussion. He influences people and the rodeo world daily. For me, it's the little things that remind me of him. Seeing someone with a big old hearty smile or looking at some of the cows and bulls that we traded throughout the years. I think of him all the time and miss him every day but knowing what his legacy is doing for others gets me through all of it." - Tanner Girletz
"Guys are starting to make their own decisions not to get on when they take a head shot or they are not feeling right. We used to have to tell them not to get on. This is a huge switch. They are understanding the ramifications of concussions which directly relates to Ty. He is making a difference." - Cody Snyder
"After Ty's passing my eyes really opened up to the seriousness of concussions and the side effects that come with them. I now take concussions a lot more serious not only for myself, but I really watch for other guys that get hit in the head and try my best to make sure to keep an eye on them. I try to help talk to other riders especially younger guys about the importance of taking time off when a concussion happens. Pozzy was always a well-known and really liked bull rider and person. The Ty Pozzobon Foundation has helped so many competitors not only with injuries but even more important the education of head injuries. The rodeo and bull riding world will never be the same without Pozzy with us, but his legacy lives on throughout the Foundation and continues to take bull riding and rodeo to the next step to help prevent what happened to Pozzy from happening again." - Wacey Finkbeiner
"He definitely helped save my life, if I wouldn't have made that promise to him I don't know where I'd be, probably dead. Long story short, he's my hero for sure!" – Ty Prescott
"In the two years since we lost Ty, it's truly amazing how many lives he has saved. How many people have come forward and asked for or reached out for help that is needed that wouldn't have before Ty's passing. The cultural changes that our sport has seen in this short time and the education and understanding we are all starting to take in and take seriously is something I know the Ty Pozzobon Foundation and Ty's Family and loved ones are so proud of. It seems like only yesterday we were running around the world wild and free, but I know he would be proud of everyone stepping up to the plate making a difference and living in his honour. We miss him and love him more and more every day. Striving to always live a little bit more and more like Ty." - Tanner Byrne
For more on the Ty Pozzobon Foundation, visit TyPozzobon.com