PBR Unleash The Beast Preview – Sacramento
By: Kacie Albert Thursday, January 24, 2019 @ 7:50 AM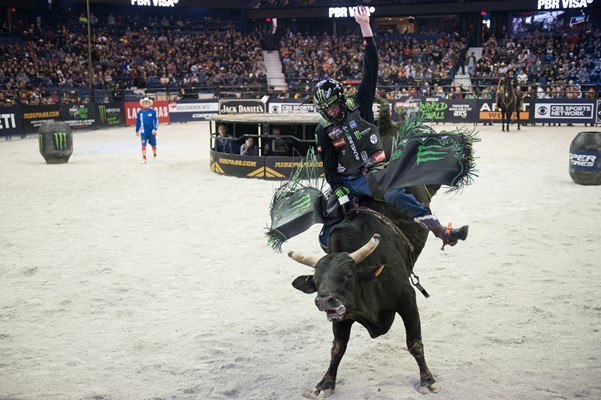 NEW YORK CITY – While The PBR's premier series has visited more than 100 cities since it began, it has made the most stops in California (61).
And this weekend, for the first time this season, the elite PBR Unleash The Beast will travel to The Golden state for the three-day Sacramento Invitational.
For the fourth time this season, the draw will feature a trio of Canadians set to compete, with Dakota Buttar, Tanner Byrne and Lonnie West all heading south in search of crucial world points.
While the trio featured a new face last weekend, with Jared Parsonage making his elite tour debut as Byrne was unable to make the journey due to travel delays, the Sacramento Invitational will mark the third event of 2019, Buttar, Byrne and West, all of whom will be seen riding for Team Canada this February at the Global Cup inside AT&T Stadium, have competed side by side.
Leading the contingent in the world standings, ranked No. 20 and 1577.5 points behind No. 1 Jess Lockwood, Buttar was shutout in the main event last weekend in Glendale.
The Kindersley, Saskatchewan man, however, recorded the best finish of his career in the 15/15 Bucking Battle, finishing third. His bronze effort came courtesy of his 88.25-point ride on Wicked Hou.
In Sacramento, Buttar will be looking to reverse his fortunes from last season when he went 0-for-3. As the second man out of the chutes in Round 1, he'll attempt Bam Bam from Wallgren & Hale Cull Co.
RELATED: Click here for the complete Friday day sheet.
In five attempts across all levels of competition, the Bam Bam has yet to be ridden. Two of the bovine athlete's trips were seen at the season-launch Major event for the PBR Unleash The Beast in New York City. In Round 1, Bam Bam dispatched Chase Robbins in 4.26 seconds, while he sent Sean Willingham to the dirt in 4.42 seconds in Round 3.
Also competing last weekend in Arizona, West finished 14th, his best elite tour result thus far in 2019, picking up 15 world points. He went 1-for-3, with his qualified ride coming aboard Red Bandana for 86 points.
At the Ak-Chin Invitational, West notably advanced to his first championship round of the season, but was unable to convert aboard Struttin Stuff, bucked off in 2.83 seconds.
With the Sacramento Invitational marking his Cali debut, West will attempt Sketchy Bob in Round 1.
Across all levels of competition, the D&H Cattle bull has been ridden 17 times in 52 attempts. The bovine athlete has bucked off the last five riders to attempt him, including his most recent foes, Alex Marcilio in 3.48 seconds (Austin, Texas – Sept. 2018) and Jose Vitor Leme in 1.84 seconds(Glendale, Arizona – Jan. 2019).
The last rider to make the 8 aboard Sketchy Bob was Cody Teel at the Albuquerque event in March 2018 for 85.25 points.
In the world standings, West is currently No. 91, 102.5 points behind No. 35 Teel.
Rounding out the Canadian contingent is Prince Albert's Byrne.
After he was unable to compete last weekend due to travel delays from a snow storm, 2015 PBR Canada Champion Byrne will return to elite tour action this weekend.
Last season in Sacramento, Byrne went 1-for-3 to finish 22nd. His 8-second effort was in Round 2, covering Gangster Can Do for 84.25 points.
Thus far in 2019, Byrne has finished 19th in New York City (1-for-3) and 8th in Chicago (2-for-3). In the world standings, he is No. 52, 52.5 points behind No. 35 Teel.
In Round 1 of this season's Sacramento event, he'll face Road Rash. In nine outs across all level of competition, Road Rash has been ridden just one. In his PBR elite tour debut, Chase Outlaw covered the Wallgren Bull Co. Bovine for 85.5 points in Round 1 of last weekend's stop in Glendale.
The Sacramento Invitational gets underway with Round 1 on Friday, January 25 at 7:45 p.m. PT. Action continues on Saturday, January 26 at 6:45 p.m. PT with Round 2, concluding on Sunday, January 27 at 1:45 p.m. PT with Round 3 and the championship round.
CBS Sports Network will broadcast all the action from Round 2 on Saturday, January 26 at 10:00 p.m. ET. The network's coverage will conclude on Sunday, January 27 at 8:00 p.m. ET with Championship Sunday, including Round 3 and the championship round.
Fans will be able to watch the action in its entirety live via PBR's new streaming digital platform RidePass. Round 1 will be exclusively seen on the platform, with coverage beginning at 10:30pm ET on Friday, January 25. The listen LIVE stream will begin on Saturday, January 26 at 9:45 p.m. ET and Sunday, January 27 at 4:45pm ET.