Marks Looks to Unleash the Beast after Winnipeg Victory
By: Ted Stovin Tuesday, January 29, 2019 @ 1:43 PM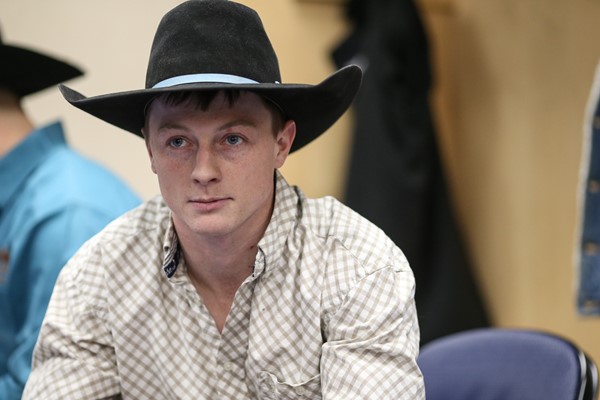 CALGARY, Alberta – Shay Marks began his PBR journey in April of 2014 as an 18-year-old in Marwayne, Alberta.
In what was his third event ever, he won, and earned a berth to the PBR's elite level, competing the next weekend in Billings, Montana. Almost five years later, he's yet to be back.

However, after winning the season-launch PBR Canada Monster Energy Tour event in Winnipeg, the seventh event of his career and first on the Monster Energy Tour, he's ranked No. 27 in the World Standings and has a shot to get back to the top.
While his return to the elite level shouldn't have been this long, For the past two seasons he's been sidelined after undergoing reconstructive shoulder surgery.
"I had trouble getting in to good doctors, I had to wait for a long time," Marks said on Saturday night at Bell MTS Place. "But it feels really good. I've probably been on 25 bulls, 30 or so."
Of those 25 to 30 bulls, all but five now have been practice, which is impressive for a bull rider in 2019, at any level. Especially considering he only got back in the game mid-December. Practice pens happen all off-season in Thorsby, Vermillion, Rimbey and Olds, Alberta.
"I took some extra time, by the time I was coming back, there's no point," Marks said of his nearly two-season break. In fact, the last time he competed at a PBR event was in April of 2017 in Marwayne.
Marks' injured shoulder is his riding arm, which is the better option, if there is one. He began competing again on New Year's Eve in Ponoka where he went 2-for-2 to finish third. Next up was Red Deer.
Then came Winnipeg and the beginning of the fourth season of the Monster Energy Tour in Canada, Marks' third event back.
RELATED: Marks Wins in Winnipeg
In Round 1, he faced Tom Petty and split the win courtesy of an an 84.5-point effort.
"Nice little Skori Bull, felt real good," Marks said. "He usually goes around to the left, but luckily he went left and came back into my hand which was an advantage to me. He felt pretty good, but I almost buggered him up at the end.
"I'm surprised that held off being the first guy out."
In the championship round, the 23-year-old drew Baja Midnight from Vold Rodeo.
"My short round bull felt good," Marks recalled. "I kinda got square at the end; I about messed him up. Wyatt Gleeson rode him at the [PBR] Canada Finals and he told me about him, that he'll be kind of under himself then square off after and that's exactly what he was."
The two danced for 86.5 points, a split of the final round with sophomore Daylon Swearingen, but the event win by a single point.
Winnipeg's Monster Energy Tour win is the biggest of Marks' career so far in only his second time on the league's premier series in Canada, the first being in Abbotsford in 2016.
"I like em, they are good, best bull ridings in the country by far," Marks said.
"It was full," he added of Bell MTS Place, home of the NHL's Winnipeg Jets. "I'm glad I went to Red Deer first, in the grand entry I was a little nerved up, coming back fresh. Here, I felt good and normal."
With the window for a return to the PBR Unleash the Beast a very real opportunity in the next month, Marks has his goals outlined.
"I'd like to hit the PBR pretty hard, hopefully get on tour, but keep strong in PBR Canada," Marks said. "I'll be going to lots of these and then I wanna hit some pro rodeos. I wanna try and hit as few as possible, but still try and make the CFR."
Next up on PBR Canada's Monster Energy Tour is Lethbridge, Alberta and the Enmax Centre for the Bridge City Chrysler/LA Towing PBR Challenge on March 1-2 at 7:00 p.m. MST.