Game Notes - Winnipeg
By: Kacie Albert Saturday, January 26, 2019 @ 10:55 AM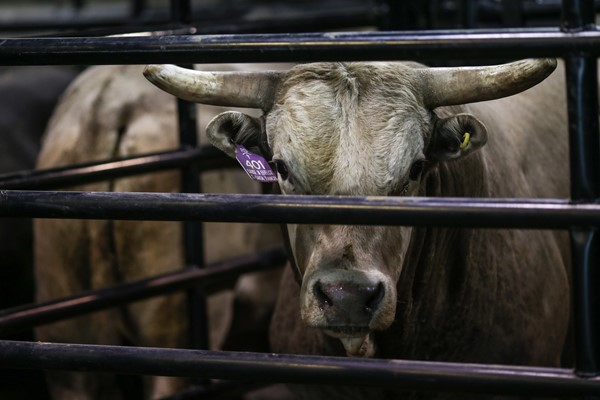 ALL ROADS START IN WINNIPEG – This weekend PBR Canada's Monster Energy Tour will launch it's 2019 season in Winnipeg, Manitoba with the Winnipeg Classic at Bell MTS Place. The event marks the first time in two years the Monster Energy Tour has visited the home of the NHL's Winnipeg Jets, and third time overall in series history. The event begins on Saturday, January 26 at 7:00 p.m. CT.
RELATED: Click here for the complete Winnipeg Game Notes.
NEW YEAR, NEW POINTS – This year the PBR's Executive Competition Committee (ECC) approved a revised PBR world points system pertaining to the Velocity Tour and International Tour events for the 2019 season and beyond. International Cup events in Australia, Brazil, Canada and Mexico will also see an increase in the world points awarded to aggregate winners. The points structure will be the same as the Velocity Tour, except international cup events will not award any round points. Finally, the committee has increased the total number of world points available at the international finals (PBR Australia, PBR Brazil, PBR Canada and PBR Mexico) from 280 world points to 535.The winner of an international finals aggregate will earn 270 world points, an increase of 150 points from 2018. Second place will receive 140 world points and third place will garner 75 points. Fourth through seventh will stay the same – 20, 15, 10, 5.  
MILLION DOLLAR MAN – With his career earnings currently totaling $993,403.56, Aaron Roy could become the first Canadian to eclipse the $1 million mark in career earnings this weekend in Winnipeg. Last year Roy made the second comeback of his career, competing for the first time since fracturing his femur during Round 1 of the 2016 PBR World Finals. In 2018, Roy earned three event wins, including his career-first Monster Energy Tour victory in Edmonton, along with 13 Top-10 efforts, capping the year with a fifth-place effort at the 2018 PBR Canadian Finals.
HOME-PROVINCE FAVORITE – Two-time PBR Canada Champion Zane Lambert, born and raised in Westbourne, Manitoba, is this weekend's lone home province hopeful. As a child, Lambert would attend a Cody Snyder Bullbustin' event in Winnipeg. It was there during autograph signings that riders directed him to attend his first bull riding school. For Lambert the city holds special significance, playing host to both his PBR debut and first PBR victory, both at the same event, on June 2, 2006. Last season, Lambert finished No. 5 in the Canadian national standings. The Winnipeg Classic will mark his first PBR event of the 2019 season.
HANSEN WINS DAWSON CREEK – One rider will enter Winnipeg with a PBR event win already on his resume.  At the first PBR Canada event of the 2019 season, Jordan Hansen went a perfect 2-for-2 to capture the Touring Pro Division (TPD) event win in Dawson Creek inside the Encana Centre. To begin the event, Hansen won Round 1 with an 88-point trip aboard Come on Over. The 25-year-old then brought the crowd to its feet, recording the first 90-point ride of the season, covering Sure Shot Panda Haus for 90 points to win the championship round. In 2018, only three 90-point efforts were recorded at Canadian events, with the first coming in July at the second of three days of TPD action in Calgary. The win mirrors the 2017 season, when Hansen also won the first event of the season in Lethbridge.
TEAM CANADA – With the next date for the inaugural Global Cup set for AT&T Stadium in Arlington, Texas on Feb. 9-10, 2019, the majority of Team Canada, aside for elite tour riders Dakota Buttar, Tanner Byrne and Lonnie West, will be competing at the Winnipeg Classic. Led by Aaron Roy, who is set to make history as the first rider to both coach and compete, he is joined in the draw by two-time Team Canada rider Zane Lambert, Sydney riders Jared Parsonage and Wacey Finkbeiner, and Team Canada rookie Jordan Hansen.   
PAST EVENT WINNERS – When the PBR Canada Monster Energy Tour last travelled to Winnipeg, the event was one by Dakota Louis, one of five riders to go a perfect 2-for-2. The win, Louis' first on the Canadian Monster Energy Tour, was backed by wins in both Round 1 and the Championship Round. He began the event with an 85-point trip on Smash, and followed it with an 87.5-point ride on Minion Stuart. Set to compete in the Winnipeg Classic, Louis is poised to become the first rider to win the event in multiple seasons. The 2017 event also featured flawless performances by Zane Lambert and Cody Casper, who tied for third, and Todd Chotowetz, who finished fifth, all of whom are set to ride Saturday night inside Bell MTS Place.  
2017                    Dakota Louis
2016                    Matt Werries
BULL PEN – The bull power for this weekend's event will be supplied by six stock contractors: Flying Four Bucking Bulls, Girletz Rodeo Stock, Lazy S Bucking Bulls, R Saga Ranch, Skori Bucking Bulls and Vold Rodeo. Of the bulls set to buck in 2019 that were also part of the Monster Energy Tour in 2019, VJV Whiskey Hand of Vold Rodeo leads the contingent. The bovine athlete was the high-marked bull of the event once last season, earned courtesy of his 44-point bull score in Kelowna for his 3.12-second buckoff of Cody Floyd. A family affair, the Byrne Family's pen from Flying Four includes the likes of Finning Majic Shivers, Finning Lil Shorty and Finning Rat Trap.
NEXT UP – PBR Canada's Monster Energy Tour will next travel to Lethbridge, Alberta and the Enmax Centre for the Bridge City Chrylser/LA Towing Challenge PBR. The two-day event begins on Friday, March 1 at 7:00 p.m. MST and concludes on Saturday, March 2 at 7:00 p.m. MST.  
PROVIDING PROTECTION – The bullfighters on hand for this weekend's event in Winnipeg are Bo Byrne, Greg Loring Jr. and Ty Prescott.
RIDEPASS COVERAGE – Fans will be able to watch the action in its entirety live via PBR's new streaming digital platform RidePass. Coverage of the Winnipeg Classic will begin at 7:00 p.m. CT.