Team Canada Hopes To Put Global Cup Opponents On Ice
By: Darci Miller Friday, February 8, 2019 @ 11:33 AM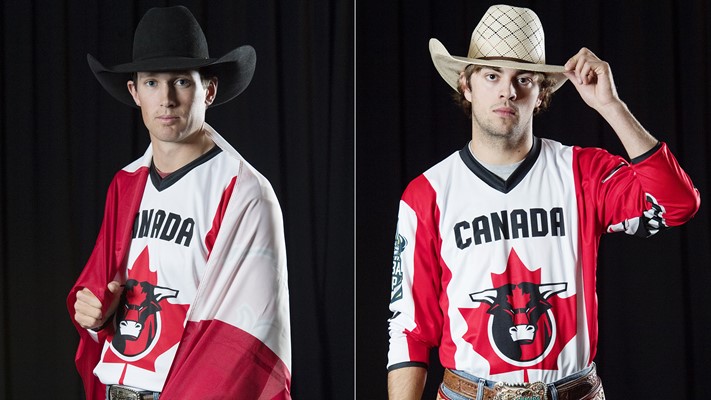 PUEBLO, Colo. – Lonnie West isn't your typical Canadian.
He's not much of a hockey fan.
Growing up in the small town of Cadogan, Alberta, West spent most of his time focusing on rodeo and bull riding rather than the sport considered to be Canada's national pastime. But when he does decide to tune into a hockey game, it's always during the Olympics or World Junior Championships.
"That stuff I really get into, because it's real team-based," West said. "You're really cheering for your country."
When the PBR World Cup was discontinued in 2010, it ended any opportunities for bull riders to compete for their countries. Cowboys couldn't dream of donning their national colors in a team competition.
It wasn't until the PBR Global Cup kicked off in 2017 that national pride was back on the line.
"It's the best thing ever," West said. "That was our first chance, for bull riders our age to represent your country. Hockey players and stuff like that, we have Team Canada representing, so to bring it into this sport was really cool to see. That's a big step for bull riding."
West will return to the international stage this weekend at the WinStar World Casino & Resort PBR Global Cup USA, presented by Monster Energy, at AT&T Stadium in Arlington, Texas.
Joining him on Team Canada are three-time PBR Canada Champion Aaron Roy, No. 28 Tanner Byrne, No. 31 Dakota Buttar, No. 70 Jordan Hansen, No. 80 Jared Parsonage, No. 85 Zane Lambert and No. 143 Wacey Finkbeiner (alternate).
They will take on teams from Australia, Brazil and Mexico, and two from the United States – the Eagles and the Wolves, an all-Native American squad – in the third edition of the Global Cup. The team with the highest combined aggregate score based on their Top 12 rides will be the event winner.
Unlike West, Parsonage has the Canadian hockey pedigree. He played high-end hockey until he was 16 years old before slowing down to start rodeoing and riding bulls, and he still plays occasionally on a beer league team.
"I'm from the middle of nowhere, a ranch cowboy from the middle of nowhere," Parsonage said. "I like being around the cowboys, the rodeo scene, that kind of thing, doing this. And I didn't want to live in the city and be a city kid and be a hockey player. I was a cowboy."
A native of Maple Creek, Saskatchewan, Parsonage traded a rough sport for an even rougher sport.
"Way rougher," he said with a grin. "Odd chipped tooth and whatnot playing hockey is a minor detail compared to most bull riding wrecks."
But that's not to say his background in hockey didn't cross over a little bit to the dirt of a bull riding arena.
"They can say what they want about football and everything, but they don't give you a weapon and let you fight," Parsonage said. "So hockey's a real rough sport and there's that competitiveness, and bull ridings a rough sport and you've got to take that competitiveness with you. So I'd say that's probably the big thing that crosses over between the two, is the competitiveness."
Fans can watch the Global Cup on Saturday (7:30 p.m. ET) and Sunday (1:30 p.m. ET) on RidePass. There will also be a highlight show on CBS national television Sunday at noon ET.
Parsonage – at 6-foot-1 and 170 pounds, a defenseman on the ice – missed the inaugural Global Cup on home soil in Edmonton to compete in the Canadian Finals Rodeo. He made his Global Cup debut in Sydney, going 3-for-3 to finish sixth in the individual aggregate. Team Canada finished third, behind Brazil and Australia, by a mere 20 points.
West went 1-for-2 in Sydney and 2-for-3 in Edmonton, where Team Canada also finished third.
"Riding in Rogers Place, I've never seen anything like it," West said. "The last day I was there, it was me and Zane (Lambert) in the short round, so there's only two people representing your whole country. And it was really cool. I was the last guy out, and I got a standing ovation. The whole Center backed me. I didn't ride my bull, but the support behind me, it really gets your motor running."
While the Canadians will be riding without home field advantage in Arlington, Parsonage appreciates how much closer to home it is than Australia and will have a number of family members, friends and fans in the crowd.
But whether he's riding in front of a home crowd or not, wearing the maple leaf across his chest is something Parsonage cherishes.
"I guess growing up as a Canadian, we're all hockey players and you put on that jersey all the time as a team, and it's pretty cliché but that's the truth," Parsonage said. "Bull riding's really not that way until the Global Cup comes along. And when you pull on your country's jersey with Canada across it and a maple leaf and whatnot, it's a whole different feeling. It puts bull riding in a whole new perspective."
When West thinks back on his Global Cup experiences, it's his time on the back of the chutes, rather than his time on the back of a bull, that stands out.
"The stuff that comes to mind when I think of it is just being on the back of the chutes, not actually when you're riding, but when you're watching your buddies ride," West said. "I'm more nervous watching my team ride because it's something I can't control. When you're getting on you can kind of control the situation. But yeah, just being on the back of the cutes and when that whistle blows and your rider's on there and the hats go flying over the chutes, that's the best part of it I think."
Parsonage echoes the sentiment that riding for a team ups the ante and, appropriately, brings it back to hockey.
"You're riding for yourself but you're not really riding for yourself. It's a whole different kind of pressure because you know if you buck off, you let those guys on the back of the chute down," Parsonage said. "It's no different than getting a penalty with three minutes left in the third period in a 1-1 game. You let your team down. So you don't want to buck off."
Bucking off isn't something Parsonage thinks he and his teammates will be doing much of in Arlington. And with the level of bull power in Texas, that might be exactly what the Canucks need to improve on their pair of third-place finishes.
"We might not have the home run-hitter guys, per se, but we're going to ride lots of bulls, and we always do and always have, so I feel like we'll have a good chance," Parsonage said. "Because the bull power is going to be a little different in Arlington, and the name of the game is going to be riding your bulls, so I think we're going to do good."