Opportunity Vast for Johnston at Hometown Event
By: Ted Stovin Thursday, February 28, 2019 @ 9:27 AM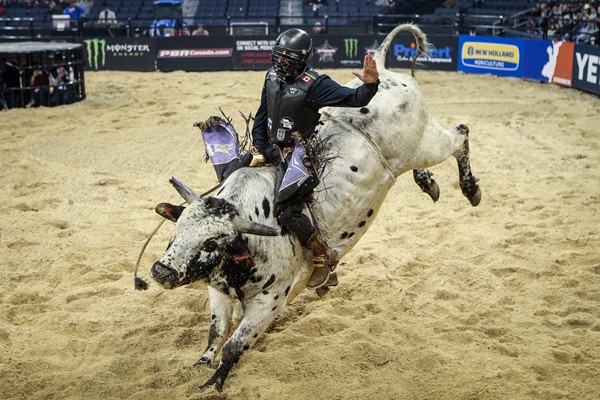 CALGARY, Alberta – The hometown crowd is often the toughest.
But while they are the toughest critics, and the pressure to perform is high, they are also an athlete's biggest supporters.
For Dayton Johnston of nearby Milk River, Alberta, this weekend's Bridge City Chrysler/LA Towing PBR Challenge, part of the Monster Energy Tour, in Lethbridge is extra special.
With an event win worth 170 world points, Johnston could move from his current rank of No. 70 in the PBR World Standings, up to No. 31 and earn potentially make his debut on the PBR's elite Unleash The Beast next weekend in Duluth, Georgia.
"Lethbridge to me, it's my favorite one of the year and now that it's a Monster [Energy Tour Event] the hype is even bigger for it," Johnston said. "Everyone stands behind me, it seems like I'm basically a local guy. All my friends from Milk River are there and even people that I don't know, they are all on my side so it just gets your motor running and you wanna be better."
In 2018 Johnston went 2-for-4 in Lethbridge making the championship round both nights, tying for seventh. On the second night in the Championship Round, Johnston notably faced Happy Camper of Magrath, Alberta's Two Bit Bucking Bulls.
RELATED: Happy Camper Prepares for 2019 Debut in Front of Hometown Crowd
Josh and Tamara Berezay of Two Bit Bucking Bulls are part of Johnston's support crew.
"The Two Bit crew has been behind me ever since I was young getting on steers," Johnston said. "Once I got into getting on bulls, Josh was always letting me get on his calves as well as helping with sponsorship to help me get down the road. It's pretty cool being able to get on all his up and comers, especially Happy Camper, seeing how far that bull has come since getting on him as a calf is pretty cool."
The additional hometown support may be just what Johnston needs this year after a mild winter on the PBR's Pendleton Whisky Velocity Tour where he went 1-for-5.
"I've just been going down to the states, I was putting together a couple long round rides, but just not enough to make any money. It got a little expensive for a bit there," Johnston said.                                      
In Winnipeg to begin the 2019 PBR Canada Monster Energy Tour, the 22-year-old finished in a tie for fifth for 12.5 points going 1-for-2.
"I think I was fourth or something in the long round then I bucked off Whiskey Hand in the short round," Johnston said of the 7.21 second effort aboard the Vold Rodeo bovine. "He just kept getting stronger and I didn't really quit, but I got run off my rope a bit."
Even if Johnston isn't the winner in Lethbridge, many more points are available in PBR Canada competition in March with 60 available for the winner in Teepee Creek on March 9 and another 170 to win the Monster Energy Tour's return to Calgary's Nutrien Western Events Centre at month's end.
"It's getting busy again and I'm definitely looking forward to putting in a good run here for the Canadian part of it anyway," Johnston said. "I've been just working out every day and I have a drop barrel as well that I've been riding, just doing little things like that to try to keep in shape anyhow."
With two event wins to his name and currently holding down the No. 10 spot in the PBR Canada National Standings, goals are set high for 2019.
"Make the Canadian Finals. I've been doing that the last couple years, but rather than just making the finals I would honestly like to win that $50,000 they've got up now for the Canadian Champion," Johnston said. "That's on my list of goals for sure is to be a Canadian Champ."
The third-year pro went on to explain further what he thinks it's going to take to win the 2019 PBR Canada Championship.
"Just consistency and staying on, getting your bulls rode is the main thing I think," Johnston said. "You can't just be stringing together a ride a month or you know, placing, a couple grand every month, you've just gotta stay consistent and keep getting the short round and getting on those better and higher calibre bulls and it just becomes natural to you getting on those kind of bulls every week."
The Bridge City Chrysler/LA Towing PBR Challenge, part of the PBR Canada Monster Energy Tour, takes place at the ENMAX Centre in Lethbridge, Alberta on March 1-2, starting at 7:00pm MST nightly. Fans can watch live on RidePass and follow along with live scoring on the PBR Canada Daysheet. Tickets are available on the Enmax Centre website.
Follow Ted Stovin on Twitter @TedStovin