Hansen Leaves It All Hanging For Canada
By: Justin Felisko Sunday, February 10, 2019 @ 8:24 PM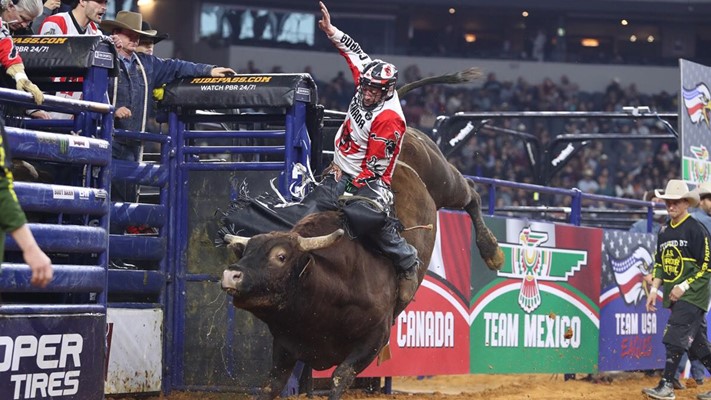 ARLINGTON, Texas – Jordan Hansen tossed his riding bag a few feet in front of him outside the Team Canada locker room at AT&T Stadium Sunday to a loud thud.
Hansen then hobbled his way over to his teammates for a group picture with their friends and family following the conclusion of the WinStar World Casino & Resort Global Cup USA, presented by Monster Energy.
The 25-year-old had aggravated a prior right MCL injury when Legit turned back, hooked him and sent him soaring following a 3.49-second buckoff in the Bonus Round during the final day of competition at the Global Cup.
"I bummed up my knee here a few weeks ago, and that bull hit me there right in the sore spot," Hansen said. "Definitely aggravated everything that's already going on. It's not tore or anything but it's just one of those deals."
Legit was marked only 44.75 points, but he continued to establish his reputation as one of the meaner bulls in the PBR.
"Oh yeah, it didn't faze me," Hansen said. "I know it's part of the sport."
Hansen first injured the knee in Fort Worth, Texas, at the PRCA event being held during the Fort Worth Stock Show & Rodeo.
"It didn't really bug me until the next day, and it just kind of got worse and worse," Hansen said. "I took I guess it was a couple of weeks off. I got it starting to feel a little bit better, and then four bulls here this weekend, it was enough."
Hansen was the lone bright spot for Team Canada as the Canadians finished the third Global Cup in last place.
The Okotoks, Alberta, bull rider capped the Bonus Round Saturday night with 87 points on Bottoms Up and then began Sunday afternoon's performance with a solid 85 points on Check It Out.
"I was kind of getting played out here for the first couple with the re-rides and stuff, and I had no idea what (Check It Out) was," Hansen said. "They said he should be good though, and apparently they said he was kind of hitting his head and his hips on the chute. It didn't feel really smooth, but luckily things worked out for me though."
Hansen (2-for-4) accounted for two of Canada's three rides in Arlington.
Dakota Buttar was the only other Maple Leaf rider to reach 8 seconds when he converted on Accelerator for 86 points on Sunday.
"I let a couple slip by me that I shouldn't have, especially that first day (with Jaywalker)," Hansen said. "I feel like I should've rode that bull all day. Even today. (Legit) is an awesome bull, but that's still one I feel like I can ride.
"I rode half of them. I'm not terribly disappointed, but I'm definitely not happy either."
Hansen is ranked 71st in the PBR world standings and is going to be competing at PBR events and rodeos throughout 2019.
He is supposed to be competing at the San Antonio Stock Show & Rodeo for three days beginning on Tuesday, but he is not sure if he will be healthy enough to give it a go.
"Well, I'm going to see how this knee's going to be," Hansen said. "I'm supposed to be in San Antonio, but I'm going to have to go day by day, see how this knee's holding up. I was actually supposed to stay down here for a little while."
"Nothing's tore so it's just kind of a rest thing. They said they can tape it up under my knee brace and it might help out, but I just kind of will go day-by-day and go from there."
Follow Justin Felisko on Twitter @jfelisko