Hansen helps Canada end on good note following rough start
By: Justin Felisko Sunday, February 10, 2019 @ 9:45 AM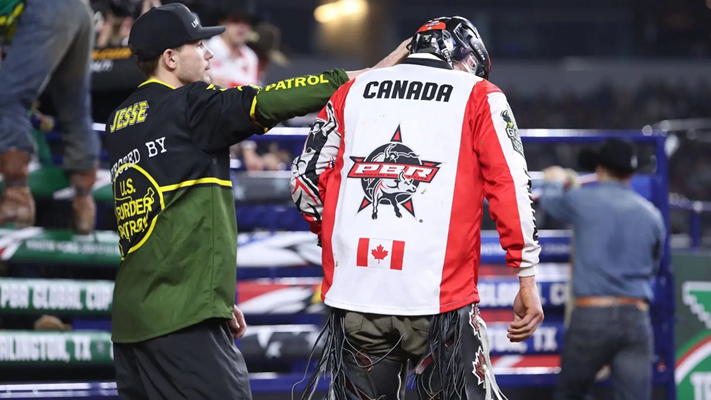 ARLINGTON, Texas – The main sound you could hear from the back of the bucking chutes for Team Canada late on Saturday night inside AT&T Stadium was a big sigh of relief.
"Well, we finally broke the ice boys," Byrne said with a laugh as he waited to congratulate Jordan Hansen just beyond the rider walkoff gate.
Hansen had just ridden Bottoms Up for 87 points in the Bonus Round of the 2019 WinStar World Casino & Resort Global Cup USA, presented by Monster Energy, to help Team Canada avoid being blanked on the first night of competition.
No one could have expected Team Canada to struggle like they did on Saturday night. The Canadians bucked off their first eight bulls before Hansen was able to dominate Bottoms Up into his left hand.
"It took us a little longer than we wanted, but we got it done at the end," Hansen said. "That is one of the few bulls I knew a little bit about. I was lucky enough (coach) Aaron (Roy) and the team had enough faith in me to put me on him. He had the first pick in that second round and I was happy to pull through for the team."
Team Canada heads into Championship Sunday at the Global Cup in last place with only Hansen's 87 points. They are 508.5 points behind event leader Brazil.
However, coach Aaron Roy does not expect his team, nor himself, to throw in the towel.
"Definitely not the start we wanted," Roy said. "That had us down, but that ride right there will get us rolling for tomorrow. Everybody is jacked up again and not kind of down. We will come back rolling tomorrow."
Hansen added, "It sucks, but it is just one of them sports. You have to take it a day at a time. This is just what we needed."
Roy, who was bucked off by Show Train in 4.33 seconds in Round 1, knew Hansen was the guy he wanted to send out in the Bonus Round with the first pick of the second half of Bonus Round draft.
The 31-year-old coach decided to put Zane Lambert on Smooth Operator with the final selection of the first Bonus Round draft.
Lambert appeared on his way to qualified ride too before getting tossed at the 4.93-second mark by Smooth Operator (44.75 points).
"I thought in the Bonus Round we had two of the best guys going on our team right now as of tonight get on," Roy said. "Just a minor mistake with Zane. He had that bull rode. Jordan was a shoe in for us. We all knew he was going to stay on that bull. That is what we needed to get the ball rolling for tomorrow."
Roy noticed his team's spirit was rattled on Saturday night with each ensuing buckoff.
Canada began the night with strong expectations following its third-place finish at the Sydney Global Cup last year.
Hansen says that the Canadians will come out determined Sunday to dig themselves out of the massive hole they created. 
"We have some confidence going into tomorrow, and best case we will ride everything they throw underneath us," he concluded.
INJURY UPDATES
There is a good chance that Team Canada alternate Wacey Finkbeiner will get called into action on Sunday.
Three Team Canada members ended the night on Dr. Tandy Freeman's injury report.
Lonnie West is doubtful for Sunday after injuring his left ankle in Round 1. West was bucked off and stepped on by Scarface (4.69 seconds). He will need X-rays to rule out a fracture.
Byrne, meanwhile, is questionable for Sunday with a concussion. Byrne was bucked off by Smooth Over in 4.76 seconds.
Dakota Buttar is expected to compete with a right groin strain Sunday following his 7.21-second buckoff against Rising Sun.
Finkbeiner – the 2018 Canadian Pro Rodeo Association champion – is no stranger to the Global Cup and went 0-for-1 in Sydney for Team Canada.