Finkbeiner Ready for Supporting Role at Global Cup
By: Ted Stovin Tuesday, February 5, 2019 @ 12:46 PM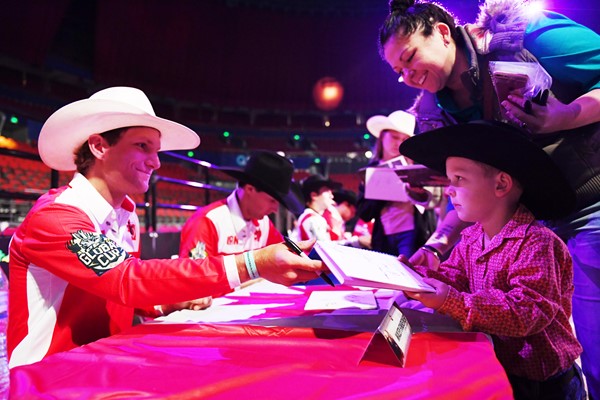 CALGARY, Alberta – Six of the eight members of Team Canada for the third-leg of the PBR Global Cup are PBR Canada or Canadian Pro Rodeo Champions.
Ten titles have been won between the six.
They are:
Aaron Roy – 2008, 2010 and 2012 PBR Canada Champion
Zane Lambert – 2013 and 2017 PBR Canada Champion
Tanner Byrne – 2015 PBR Canada Champion
Dakota Buttar – 2014 and 2015 Canadian Pro Rodeo Champion
Jordan Hansen – 2016 Canadian Pro Rodeo Champion
Wacey Finkbeiner – 2018 Canadian Pro Rodeo Champion
The last member of the list, and most recent titleist, is Canada's alternate Finkbeiner who is proud to be serving in the roll.
"It's definitely an honor, being the alternate, but being part of that team with that group of elite guys," Finkbeiner said. "The best guys we've got in Canada competing against the rest of the world, so yeah, it's pretty awesome.
"With Aaron being a coach, and a rider, I'd imagine I'll get kind of a coaching role placed upon myself which I'm totally fine with. Anybody that knows me very well knows that I study bulls probably as much as anybody in Canada. I'll be watching the bulls and writing down what they did, if they went right, if they went left, moved ahead, backed up kind of deal and I'll dam sure be pulling everybody's bull rope and being there moral support."
Justin Lloyd, Canada's alternate in Sydney, Australia, replaced Finkbeiner there. 
"I got hurt the first day so he got in the second day," he said of the second leg of the Global Cup, which was won by Team Brazil.
"I'm damn sure gonna be there for moral support and helping everybody out, but if something bad happens and somebody gets hurt and I get called upon, I'm damn sure ready to get on too," Finkbeiner said.
Bull riding isn't a team sport normally, but the feeling is more so rider vs. bull rather than rider vs. rider.
"I always cheer for my buddies and stuff at a normal event, but it's a little different now," Finkbeiner said. "It's Team Canada and the Maple Leaf on your back. It makes it pretty cool as more of a team event and it's pretty much like an Olympic format more or less so it's pretty exciting."
Representing Team Canada makes sense for Finkbeiner since he now wears a maple leaf every day on his CPRA Champion buckle.
"To be wearing the Canadian Championship buckle and being part of Team Canada, it doesn't get more patriotic than that I guess in a way," he said.
Team USA-Eagles has two PBR World Championships and six PRCA titles between Cooper Davis, Jess Lockwood, Cody Teel and alternate Sage Kimzey.
"I'd say we're pretty stacked up, like the best guys we've got to offer in Canada minus Brock [Radford] just cause he's been hurt," Finkbeiner said. "I was watching the [UTB] events the last couple weekends and for the most part I'd say we're the healthiest team going into it. I'm not too sure about the Mexican Team but the Team Wolves and Team USA, I know they are a bit banged up. They have already used one alternate. And then Team Brazil I'm not 100% sure with them new guys coming straight from Brazil but I know they are a bit of a hurting team as well.
"I like our chances to win the whole thing." 
Follow Ted Stovin on Twitter @tedstovin