Buttar's Top 10 Finish at Iron Cowboy Met by Cheers from Stallone
By: Justin Felisko Monday, February 25, 2019 @ 12:26 PM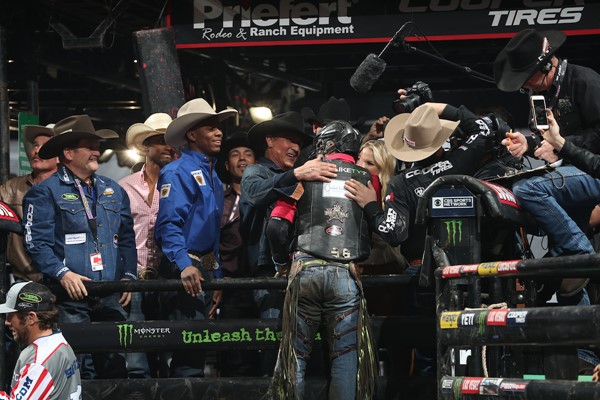 NEW YORK CITY – After he was sidelined in St. Louis as he battle pneumonia, Dakota Buttar returned to action this weekend in Los Angeles for the 2019 PBR Iron Cowboy, presented by Ariat, marking the first-ever Unleash The Beast event inside the STAPLES Center.
After feeling like he was 85 percent healthy at the start of the second Major event of the season, his outlook quickly changed once he was inside the bucking chute in Los Angeles.
Buttar could feel his chest tightening up with William rocking him back and forth and was left gasping for air by the time his body hit the ground inside the arena.
Regardless, Buttar got the job done despite trying to overcome a case of pneumonia Friday night. His 80.25-point ride advanced him to Round 2 on Saturday night.
Buttar was the first to record a qualified ride at the first PBR event at STAPLES Center.
"I just feel weak and tired," Buttar said. "When I was in the chute I felt like it was a little harder to breathe. After, I really noticed it and felt like throwing up."
Buttar missed last weekend's Mason Lowe Memorial after falling ill on the final night of the Global Cup in Arlington, Texas.
The 26-year-old believes he got sick because of how cold it has been at home in Saskatchewan and then flying to warm weather climates in the United States for some bull ridings.
"I honestly think going from the hot weather back to the freezing cold weather every week is catching up to me," Buttar said. "It's almost a 60-degree Celsius difference every week. And I don't think it helped at Global Cup spending all those nights in an airport with no sleep. I was run-down when I got to Texas and I just kept getting run down more and more."
Buttar admitted things would be tough for him the remainder of the weekend.
If Iron Cowboy goes all five Rounds, Buttar faced the potential to attempt four bulls within a roughly three-hour window.
"Get lots of sleep. Not really much you can do other than that," Buttar said. "I've got one more pill for my antibiotics. Hopefully that kicks it."
 "It's kind of cool to have these once in a while," Buttar said of the Iron Cowboy's unique format. "Changes it up a bit from just the same old thing every weekend. If you don't do your job, you're done. That's what it comes down to. There are good bulls here. Every bull here is good. But if you don't do your job, you're done for the weekend, so you've dang sure got to be doing it to get any money or points here."
After getting some much needed rest Friday night, Buttar returned in Round 2, with yet another special moment awaiting him. Drawing Yo Adrian! as his second bull, he was joined by the bovine athlete's namesake on the back of the chutes, Sylvester Stallone, as he prepared for the out.
As Buttar prepared, Stallone stood on the back of the bucking chutes amazed at the brute strength and power of a PBR bucking bull Saturday night inside STAPLES Center.
"And you think acting is hard?" Stallone said in astonishment after taking a behind-the-scenes tour earlier in the evening.
The legendary actor is known for his Hollywood action roles, especially as Rocky Balboa.
Stallone then peered down at the bull that reigning Stock Contractor of the Year Chad Berger and PBR CEO Sean Gleason named in Stallone's honor this week.
Just before Buttar was ready to challenge the bovine athlete, Stallone borrowed the microphone from PBR exclusive entertainer Flint Rasmussen and let out a "Yo Adrian! Go for it!" over the arena loudspeakers.
The line – "Yo Adrian! I did it!" – is one of the most famous sports movie quotes of all time, and Stallone got a raucous ovation from the sellout crowd taking in the first-ever PBR event in downtown Los Angeles.
Stallone first echoed the iconic phrase in Rocky II when Rocky defeats Apollo Creed for the World Heavyweight Boxing Championship.
"These've got to be the ultimate, seriously," Stallone told CBS Sports' Kate Harrison as Buttar prepared to ride. "It's tough to make peace with this guy (the bull). There's a little language barrier."
Buttar, became the first bull rider to ever cover Yo Adrian!, formerly called Max Bet, and picked up 85.5 points to advance to Round 3.
"That's unbelievable," Stallone said. "It's like a movie. He went the whole 8, right? How incredible is that? Wow. Wait until we get Apollo Creed out here."
Max Bet was 4-0 before being taken down by Buttar.
When Buttar jumped up on the bucking chutes, he was met by a celebratory Stallone.
 "I could hear him yelling and that was pretty cool," Buttar said. "I watched Rocky growing up. Last night I had no idea what (the bull) was until I seen Sean (Gleason) this morning and he was telling me. It's pretty cool."
Gleason called Berger with the idea earlier in the week when the PBR learned that Stallone, who wrote and stars in the most recent installment of the Rocky series, Creed II, was looking to come to the PBR Major being held in Los Angeles.
Berger immediately embraced the idea.
The Mandan, North Dakota, stock contractor boxed in high school and fought in Golden Gloves competitions until the end of high school.
The first Rocky (1976) came out when Berger was still in school.
"I graduated (from high school) in 1979, so I watched every Rocky movie ever," Berger said. "And I boxed Golden Gloves in high school. So it was a huge movie. The first Rocky movie, I probably went to (see) four or five times in the first couple months. So yeah, huge Rocky fan, Rambo fan."
Berger added that having the opportunity to meet Stallone, pose for photos and shake his hand was a dream come true.
"It was a highlight of almost my bull riding career," Berger said. "One of my big heroes from when I was a kid. If I die tomorrow, I will be a happy man. I told him I have a young bull at home called Rambo and he got excited."
While Buttar's event came to an end just one out later, bucked off by Spotted Demon in 6.72 seconds in Round 3, he finished 10th overall and picked up 40 world points.
RELATED: Dakota Buttar Leads Canadian Contingent art PBR's Iron Cowboy Finishing 10th
He rose from No. 38 to No. 33 in the world standings.
Next on the Unleash The Beast schedule is the Bad Boy Mowdown in North Little Rock, Arkansas on March 9-10.