Buttar and Canada Look to Steal US Soil at Global Cup
By: Ted Stovin Friday, February 8, 2019 @ 10:53 AM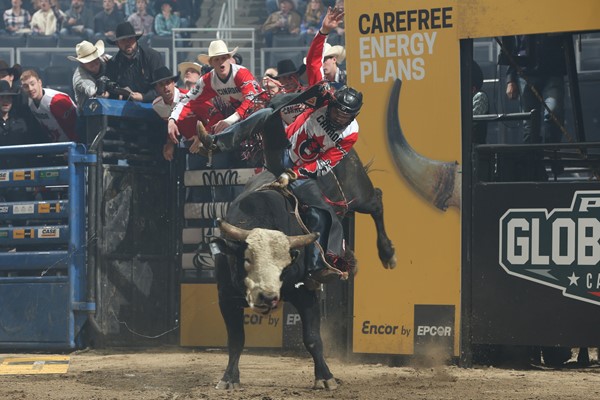 CALGARY, Alberta – For Team Canada's Dakota Buttar, last year's Iron Cowboy at AT&T Stadium wasn't so fun.
After a Round 1, 84.5-point effort on Foghat, Buttar's helmet, riding glove and custom mouthguard were stolen from inside the arena. They were sitting on the back of the chutes as he awaited his second-round foe, Spotted Demon.  
"They have the guy on videotape taking it," Buttar told PBR.com's Justin Felisko at the time. "They think he knew the building because he pulled his hat down on his face and walked right out of the building.
"I talked to a police officer there, but there is no point. They aren't going to find him in Dallas, it pissed me off," Buttar said. "I had that helmet and mask for 12 years. I rode with it for a long time and within minutes of me having to get on a bull I had to find new stuff to use."
A two-time Glen Keeley Memorial Award winner as the top Canadian in the PBR's World Standings at the end of the year, Buttar is looking to help Team Canada steal a win and the US soil at this weekend's WinStar World Casino and Resort PBR Global Cup USA, presented by Monster Energy.
"We need to get that dirt back from the Americans," Buttar said. "That's what we need to do.
"I think we've got a pretty strong group of guys. It sucks Brock [Radford]'s not gonna be there, we're definitely going to miss him. It seems like every year we've had somebody gone."
One of them who was missing on Day 2 in Edmonton was Buttar himself after breaking his ankle on Day 1. Since, he's 2-for-4 in PBR Global Cup competition. Missing in both Edmonton and Sydney was Canadian Pro Rodeo Champion and Wrangler NFR Qualifier Jordan Hansen, who will make his Global Cup debut in Arlington. This is also Team Canada Coach Aaron Roy's first Global Cup, however Roy has experience riding in past PBR World Cups.
RELATED: Hansen Excited for Global Cup Debut in Arlington
Despite the stolen gear last year, Buttar is looking forward to heading back to Texas.
"I think it's gonna be pretty badass having the Global Cup in that big building," Buttar said. "I'm excited to see how they are gonna set it all up, it should look pretty sweet in there."
The three-time PBR World Finals qualifier is excited for the team aspect once again.  
"I'm looking forward to it because we all had a pretty good time in Australia," Buttar said. "It seemed like everyone else was all serious and Canada just went in, we were all having fun and stuck together the whole time so I'm thinking it's gonna be a lot like that again this year."
Team Canada finished third in Sydney, Australia, 19.75 points back of Brazil for the win.
"We only bucked off a couple bulls," Buttar said.
Not much room for error exists against some of the top bulls in the nation, which will be in Texas.
"It'll probably be the rankest of the Global Cups," Buttar said of the bovine athletes to be faced and adding what he thinks Canada needs to do to win. "Just pretty much do what we've been doing, ride as many bulls as we can and that's pretty much gonna declare a winner I think.
"Whoever rides the most bulls is what it's gonna come down to. Every bull there should be good and be able to give you a good score. So just get 'em down and get the scores on the board."