Bryne's grit valuable for Team Canada
By: Justin Felisko Monday, February 4, 2019 @ 11:18 AM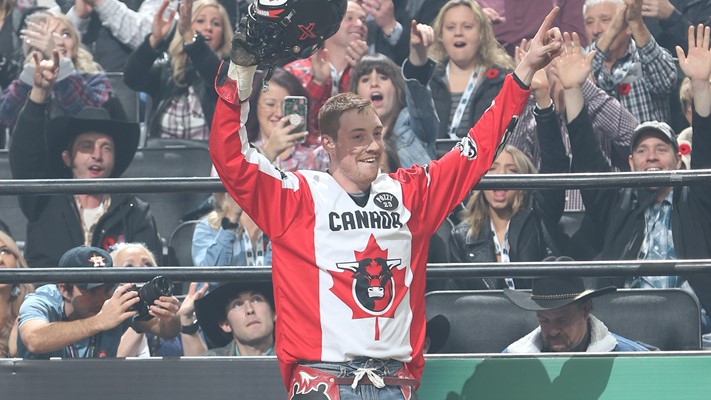 PUEBLO, Colo. – Tanner Byrne put his right hand on his lower back and grimaced as he limped down the back hallway of the Chesapeake Energy Center on Saturday night.
The leader of Team Canada had just been run against the bucking chutes at the end of his 77.75-point ride aboard Locke & Loaded during Round 2 of the Express Ranches Invitational in Oklahoma City.
Byrne reached the 8-second mark on Locke & Loaded just as he was beginning to slide off to the right side. Locke & Loaded then decided to slam Byrne against the U.S. Border Patrol signage on the bucking chutes before Byrne was able to dislodge himself from his bull rope.
It was far from a beautiful ride, but it was the kind of ride that Byrne needed to make.
Byrne showed the grit and determination that he himself admittedly says has not been there this season, but with his back against the wall, figuratively and literally, he did not quit.
The 27-year-old was able to not only get a score in Round 2, but he then went on to ride Chain Smoker for 85.75 points in the championship round to finish the weekend a season-best fifth overall.
"It's big, man," Byrne said. "I have been not doing very good in my opinion. It is good to get my head out of my butt and get feeling good there again. It wasn't the prettiest. My try and effort hasn't really been there the last little couple of weeks. I showed it today, if you keep your hand shut and don't let go, it will pay off."
Byrne entered the weekend ranked 62nd in the world standings and had bucked off five consecutive bulls before covering Locke & Loaded.
The 145 world points Byrne earned in Oklahoma City pushes him to No. 28 in the world standings, a jump of 34 positions.
Byrne only has five UTB events before losing his guaranteed draw spot on the premier series based on his No. 31 finish in the 2018 world standings.
Even though he is 28th in the world standings, there are 14 riders currently not seeded on the UTB ahead of him.
The Top 30 riders from 2018 are guaranteed eight events before being cut.
There are likely to be somewhere between 7-10 openings for the Mason Lowe Memorial in St. Louis because of retirements and injuries.
Byrne says he is not worried about the looming cut, and that he is focusing on leading Team Canada to victory at this coming weekend's WinStar World Casino & Resort Global Cup USA, presented by Monster Energy, at AT&T Stadium in Arlington, Texas.
Riders do not earn any world points at the Global Cup, which could mean that Byrne drops further in the world standings with the Pendleton Whisky Velocity Tour set to take place on Saturday in Edinburg, Texas.
Fans can watch both the Global Cup and Edinburg Velocity event on RidePass.
"Roll on," Byrne said. "I can't control anything other than me staying on my bulls. I did it twice today, so I am just going to keep rolling into Global Cup. Go Canada. Then we will roll on from there and see where the chips fall. I am not worried about it. I know I am one of the best, and I know I am here for a reason.
"I am going to keep on keeping on."
Byrne is 5-for-12 (41.67 percent) in four UTB events. The sample size is small, but it is Byrne's best riding average since 2015 when he finished a career-best eighth in the world.
He nearly carried Team Canada to an unprecedented Global Cup victory in Sydney this past summer. The six-year premier series pro went toe-to-toe with 2018 World Champion Kaique Pacheco as the only two riders to ride all four of their bulls Down Under.
The Prince Albert, Saskatchewan, bull rider also went 1-for-2 for Team Canada at the inaugural Global Cup in Edmonton, Alberta, where Canada failed to defend its home soil. However, Byrne was far from 100 percent healthy for that event.
Byrne is 5-for-7 (55.56 percent) at the Global Cup. His five rides is tied with 2016 World Champion and Team USA Eagles captain Cooper Davis for the most in Global Cup history.
"Country pride is one of the biggest prides that there is in the world," Byrne said. "No matter where you are from, you always want to represent your country well and you want the people representing your country to do well."