PBR Unleash The Beast Preview – Nashville
By: Kacie Albert Friday, August 23, 2019 @ 6:55 PM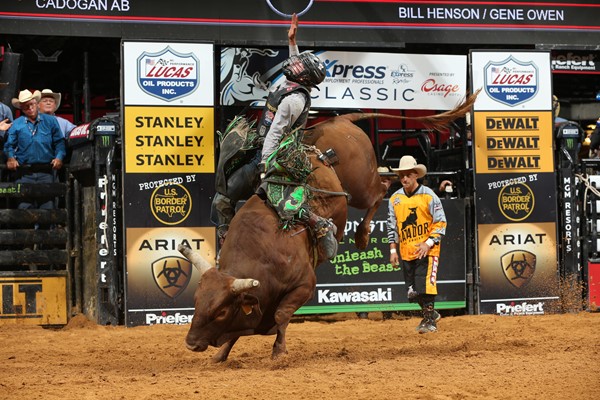 NASHVILLE, Tennessee – For the last two weeks, the Unleash The Beast draw did not include a Canadian rider.
However, all that changes this weekend, for the fourth, and final, Major event of the season, when four Canucks will make the journey to Tennessee for the Jack Daniel's Music City Knockout, presented by Cooper Tires.
The quartet is led by No. 30 Dakota Buttar who is set to return to action after a hip injury sidelined him in both Tulsa and Houston.
However, while Nashville will mark Buttar's first Unleash The Beast event since sustaining the injury, it is not his first PBR outing.
On Wednesday, the Kindersley native rode on the Canadian Touring Pro Division in Coronation, Alberta, going a perfect 2-for-2 to finish second. The Top-5 effort is his 10th of the year on Canadian soil, dominating competition in his home nation since making his debut in early June.
Having ridden at 14 events, Buttar has claimed four event titles, propelling him to No. 2 in the Canadian national standings where he now trails No. 1 Jared Parsonage by a mere 199.99 points.
His success has been backed large in part by the 26-year-old's consistency. He has gone 22-for-31 thus far in Canada for an impressive 70.97% riding average.
Buttar, however, has yet to duplicate his Canadian success on the Unleash The Beast in 2019. Through 13 events and two 15/15 Bucking Battles Buttar has gone 13-for-35 (37.14%). His best finish, aside from a third place result in Glendale during the 15/15 Bucking Battle, was in Little Rock where he was fifth, backed by a Round 1 win.
Last riding on the premier series in late July for Last Cowboy Standing at Cheyenne Frontier Days, Buttar's event came to a quick end when he was dispatched by Udder Lover in 2.27 seconds.
In addition to improving his finish from Last Cowboy Standing, Buttar will also be looking to reverse his fate from the Nashville event in 2018. Last season he was bested by Uncle Gangster in 5.81 seconds, and Kid Fletcher in 1.15 seconds.
Buttar will face a familiar foe in Round 1 this Saturday in Nashville. Buttar rode Newsom for 85 points earlier this season during Round 2 of the Billings, Montana event. The trip is the last out on record according to Pro Bull Stats for the D&H Cattle Co. bovine athlete.
Following Buttar closely in the world standings is No. 43 Shay Marks who will be making his Unleash The Beast debut in Nashville.
After undergoing reconstructive shoulder surgery in 2017, the Albertan made his return to PBR in a big way, winning the season-launch Canadian Monster Energy Tour event in Winnipeg.
RELATED: Marks Looks to Unleash The Beast After Winnipeg Victory
Riding in both Canada and the United States, Marks has earned 16 Top-10 efforts, including a 7th and 9th place result on the Velocity Tour in Worcester, Massachusetts, and Casper, Wyoming, respectively.
Specific to Canada, the 23-year-old is currently No. 3 in the national title race, within 389.99 points of No. 1 Parsonage.
In Round 1, Marks will attempt Red Snapper.
From Chad Berger's deep pen, in 13 outs on record, the bull has been ridden just once. Guthrie Long reached the 8 for 80 points in January 2018 at the Touring Pro Division event in Fort Worth, Texas.
The bull has made one appearance on the elite tour, dispatching Nathan Burtenshaw in 4.38 seconds to earn a 41.25-point bull score.
Red Snapper's last trip came in July in Big Sky, Montana, bucking off Grady Jasperson in 2.99 seconds for a 42-point bull score.
The final two Canadians set to compete, Lonnie West and Brock Radford, will both be competing via injury exemptions.
West will enter the Music City event on a high note, victorious for the first time in 2019 on Wednesday night in Coronation, Alberta on the Touring Pro Division. Sweeping both rounds, including an event-high 88.5-point ride on OMB Legal Issues in the championship round, West rose to No. 107 in the world as he continues to look to return to his 2018 form which led him to riding at his first-ever World Finals as an alternate.
RELATED: Lonnie West Wins Coronation Royal Rumbull
After riding at the first five regular-season Unleash The Beast events of the year, West sustained a broken leg while competing for Team Canada at the PBR Global Cup USA in mid-February.
He returned to competition in April, finding initial success with a ninth-place result in Marwayne, and fifth-place finish at the International Major, part of the Monster Energy Tour, in Quebec City, but then began to struggle.
Prior to his win in Coronation, he had gone just 10-for-49 (20.48%).
However, with momentum at his back, West will hope to translate his recent Canadian success into a career-moment in Nashville.
The 23-year-old will be competing for the second time in Nashville. In 2018, his appearance at the Major was short lived, bucked off by Shark Bait in 1.76 seconds.
In Round 1 of this season's Music City Knockout West will attempt D&H Cattle Company's Cha Ching.
In 11 outs on record, the bovine athlete as yet to be ridden. While his last out was on the Touring Pro Division in Salt Lake City, Utah, bucking off Cole Fischer in 2.47 seconds, for a 43-point bull score, in July, he has 10 appearances on the elite Unleash The Beast in 2019.
Most recently he had two trips in May in Albuquerque, bucking off Edgar Durazo in 3.2 seconds for a 42.75 points, and Eduardo Aparecido in 2.97 seconds for a 40.75-point score.
Rounding out the Canadian contingent is De Winton, Alberta's Radford.
After making his premier series debut in 2017, competing at three events, Radford was poised for a record year in 2018, focused on both a PBR Canada Championship and World Finals qualification.
However, while Radford finished just short of his first national title, concluding the year No. 2 in the Canadian standings for the second consecutive year, and rode at the 2018 PBR World Finals as an alternate, his season did not culminate how he had envisioned.
Also actively seeking a CPRA Championship and CFR qualification in 2018, Radford tore his left ACL and MCL at a the Jasper Heritage CPRA event in mid-August, sidelining him for the majority of the second half, and preventing him from competing on the Unleash The Beast until early October in Milwaukee.  
RELATED: Radford Tears His Left ACL, MCL in Jasper
Radford underwent surgery following the PBR Canada Finals in late November, and was out until July 4 when he returned for the iconic three-day Touring Pro Division stop in Calgary.
However, despite the late start to the season, it has been a fast one for the Albertan.
After a 15th place finish at the 2019 Calgary Stampede, Radford has recorded six Top-10 efforts on Canadian soil, including a third and fourth place finish at the recent event in Elnora, where he went 3-for-4 across his double entry.
Radford is currently No. 18 in Canada and No. 110 in the world ahead of the Nashville event.
RELATED: Radford Readies for Unleash The Beast Return in Nashville
In Round 1, he'll attempt Jay Slinger. From Rickey West Bucking Bulls. Having just bucked once on the PBR, he was ridden by Cooper Davis for 86.5 points during Round 1 of last weekend's event in Houston.
Awaiting the Canadians in Nashville is a new format, exchanging previous years' bracket style event, for a progressive-elimination, five round format.
Each of the Top 40 bull riders from the world standings as of August 19, will attempt one bull each in Round 1.
On the second day of competition, the Top 25 from the first round will advance to compete in Round 2.
If at any point in the event fewer riders have recorded a score than required to advance, the remaining positions will be filled based on the world standings as of August 19. Should a rider be unable to advance due to injury, those positions will be filled by the rider with the highest score in the aggregate not already advancing.
Following Round 2, the Top 8 in the aggregate will advance to Round 3, followed by the Top 4 moving on to Round 4.
All riders who cover their bull in Round 4 will automatically advance to Round 5. If only one rider reaches the 8-second whistle, one rider will be drawn back based on aggregate. Through the first four rounds of competition if there are two or more riders tied in the aggregate competing for the final spot in the subsequent round, the highest ranked rider from the world standings as of August 19 will advance. If the riders are also tied in the world standings, all of the riders will advance.
Round 5 will feature a sudden death style of competition. The overall winner will be the rider with the highest score in the final round. In the event that all riders record the same score, the winner will be the rider with the highest aggregate score. If there is a tie in both the ride score and aggregate score, the event will end in a tie. If all riders buck off in Round 5, the winner will be the rider with the highest aggregate score from all five rounds of competition. Should those riders also be tied in the aggregate, the event will also end in a tie.
The Music City Knockout Champion will earn a minimum of $100,000 and 625 points toward the world standings. The rider who records the highest marked ride will also receive a $26,000 bonus. 
All of this weekend's action in Nashville will be brought to fans LIVE via CBS Sports Network and CBS Sports. On Saturday, CBS Sports will televise Round 1 LIVE, starting at 8:00 p.m. EDT. The telecast will be preceded by the 30-minute B&W Trailer Hitches Inside The PBR Majors, presented by YETI, pre-show starting at 7:30 p.m. EDT. On Sunday, PBR will be LIVE on CBS Sports starting at 4:00 p.m. EDT.
Fans will be able to watch the action in its entirety live via PBR's new streaming digital platform RidePass. The listen live stream will begin at 7:30 p.m. EDT on Saturday, August 24 and at 3:45 p.m. EDT on Sunday, August 25.