Buttar, Burtenshaw And Shephard Looking To Make PBR Major History For Their Respective Countries
By: Justin Felisko Sunday, August 25, 2019 @ 12:03 PM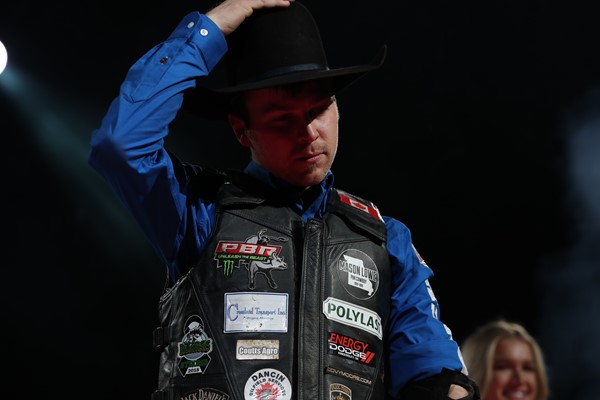 NASHVILLE, Tenn. – Could history happen Sunday afternoon at Bridgestone Arena?
Three international riders are hoping that is the case during the conclusion of the Jack Daniel's Music City Knockout, presented by Cooper Tires.
Australians Kurt Shephard and Nathan Burtenshaw and Canadian Dakota Buttar are on the doorstep of becoming the first rider from their respective nations to win a PBR Major.
"Shoot, it'd be a big deal," Buttar said. "It's something. Aaron (Roy) and Tanner (Byrne) did a lot in their careers, but it's something we haven't done yet and something we need to add."
So far in the previous 18 PBR Majors, no Australian or Canadian rider has left victorious. Brazil has won 11 PBR Majors and the United States has claimed seven.
"Between me and Burto, who knows?" Shephard, the No. 39-ranked bull rider in the world, said. "We'll try our hardest anyhow. It'd mean the world, but I'm just taking it one bull at a time. Just really enjoying my bull riding, and that's all I can do.
"Just see what happens."
Fans can watch the conclusion of the Music City Knockout live on CBS national television Sunday at 4 p.m. ET. RidePass will also provide coverage.
Shephard, Burtenshaw and Buttar all rode their Round 1 bulls for 85.5 points to advance to Round 2 of the progressive elimination event and remain in contention for a record-setting win.
The Australians covered Sugar Boom Boom and Mickey Mouse respectively, while Canada's Buttar rode Newsom.
"I got on that bull in Billings this year, and he just bucked the exact same tracks," Buttar said. "I was happy when I drew him, I just got him into my hand."
Buttar – the No. 29-ranked bull rider – is competing in his first UTB event after missing the last two with a hip/shoulder injury.
"Yeah, it was tough, but my hip was hurting and my shoulder started acting up on me again, and that's what took me out for so long," Buttar said. "It hadn't bothered me up until then, and it went from nothing to not being able to move it. I wanted to take my time with it so I could finish the year. I didn't want to push too hard and possibly be out for the rest of the year."
Thirteen riders advanced to Round 2 via a qualified ride: Dalton Kasel (89.25 points on Kamabugu), Marco Eguchi (87.75 points on Milky Chance), Michael Lane (87.75 points on Heartless), Ezekiel Mitchell (87.25 points on Coy Dog), Luciano de Castro (87 points on Check It Out), Jose Vitor Leme (86.5 points on Crazy Doc), Silvano Alves (86.5 points on The Joker), Matt Triplett (86 points on Paint The Town), Buttar (85.5 points on Newsom), Shephard (85.5 points on Sugar Boom Boom), Burtenshaw (85.5 points on Mickey Mouse), Cody Teel (83.75 points on Whiskey) and Dener Barbosa (83.75 points on Poncho Villa). Twelve riders advanced to Round 2 courtesy of their current world ranking: Jess Lockwood, Chase Outlaw, Joao Ricardo Vieira, Cooper Davis, Derek Kolbaba, Daylon Swearingen, Lucas Divino, Cody Jesus, Stetson Lawrence, Claudio Montanha Jr., Mason Taylor, and Cody Nance.
RELATED: Check out the draw for Round 2
The Top 8 riders via aggregate score following the second round will advance to Round 3 on Tuesday night. Round 4 will then consist of the top four riders in the aggregate based upon the previous three rounds.
Round 5 will feature every rider who posted a qualified ride in Round 4. A minimum of two riders will compete in Round 5. If only one rider covers in Round 4, then the PBR will draw back one rider based on aggregate scores following the completion of Round 4.
The rider with the highest score in Round 5 will win the title of Last Cowboy Standing. If all riders buck off in Round 5, then the Last Cowboy Standing crown will go to the rider with the highest aggregate score among those who attempted a bull in Round 5.
The winner of the Music City Knockout can earn up to 1,250 points toward the world standings and a minimum payday of $100,000.
After being out for three months because of a broken right collarbone suffered on Jan. 25, Burtenshaw – the No. 95-ranked bull rider in the world – would sure like to inflate his bank account and soar back into the Top 35 of the standings.
"One hundred grand," Burtenshaw said. "I am pretty broke at the moment, so it would be pretty freaking good. That (ride) is all I needed. That is all it was. Now I am ready to go, and I will see you at Championship Sunday."
Follow Justin Felisko on Twitter @jfelisko