Shere Khan: King Bull in Calgary
By: Ted Stovin Thursday, April 11, 2019 @ 9:18 AM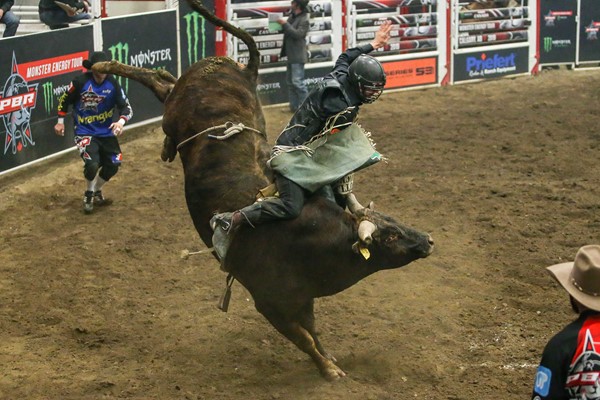 CALGARY, Alberta – In a number of languages influenced by the Mongols, Khan translates to King. Shere, in those languages, translates to tiger, or lion.
"It's from the Jungle Book story," Lindsay Carlier of the X6 Ranch said. "The kids named him, I've never watched the movie."
The name however is fitting. Both for looks of the brindle, striped bull and how at this point, Shere Khan has yet to be ridden in three outs on the Monster Energy Tour. Most recently, Shere Khan's outs at the Calgary Classic earned him the ABBI Canada Classic title.
To compete in ABBI Canada Classic competition a bull must be three or four years old. Shere Khan turned four on April 3.
"On the father's side he's a [RMEF] Gunpowder and Lead full brother. His dad is HF 161, he's a flush calf out of Gunpowder and Lead's mom and dad," Carlier said of three-time PBR World Finals bucking bull Gunpowder and Lead, a Canadian-raised bull from Todd Braithwaite of Braithwaite Ranches. "On the mother's side it was a little ranch raised cow we had, old 323. We bred her to Jackson James and that's how we got his mother."
Jackson James, also from Braithwaite, was the 2012 PBR Canada Bull of the Year.
Just one out on his resume prior to the event, marked 41 points for his 5.36-second buckoff of Kache Moosman in Lethbridge, Shere Khan bucked in front of a record-setting, electric crowd in Calgary.
"It was a really good event," Carlier said. "There were some really good bulls there.
Shere Khan won the Classic with a combined score over two nights of 173.83 points. Second went to Firebeatz (Foley Bucking Bulls) with 171 points, and in third was Shockwave (Wild Hoggs/Chmelnyk) with 170.5 points.
"The Hoggs had a little trouble with their bull, but he's a really good bull." Carlier said. "And then Foley had a really good one there. There were a lot of good young bulls there, and two days in a row, I thought there's some pretty good promise here in Canada, some pretty good bulls coming up."
As an ABBI Canada Classic event, Carlier paid a $500 entry fee for his bull, but took home more than $4,000 for the victory.
"It was a real pleasure to win it, there were some good bulls there," Carlier said. "It wasn't like it was a runaway."
In a short PBR career thus far as contractor, the X6 Ranch has produced elite series stand-outs now making their home in the states with the likes of Midnight Rain, Pennywise, Jesus & Bocephus and Pit Bull. 
"Vinee and I both come from ranching backgrounds," Carlier said of him and his wife. "We moved to Medicine Hat in 2002 we bought this place out here and Jordan and Tristan decided that they wanted to be steer riders, and it worked out."
While they now produce some of the nation's top bucking bulls, the Carlier's were first steer riding contractors providing brahma cows for pro rodeo events such as the Calgary Stampede and Canadian Finals Rodeo.
"I had talked to Dusty Walker and he had bought a bunch of cows, or I shouldn't say him, his dad was real good friends with Bob Larson, Trevor Walker's uncle," Carlier explained. "Old Bob, he was the original breeder of all the good stuff they had. But he got cancer and passed away, but just before that he sold a bunch of cows or gave a bunch of cows to Bob Walker, who was Dusty Walker's dad, and they had them for I don't know how many years. I was talking to Dusty and he said he and his dad had all these cows, so we went over and looked at them.
"We bought everything he had, probably about 30 head of yearling bulls, heifers, cows, calves. We brought them home and we just started raising them from there."
In 2017, Jesus & Bocephus went to the PBR World Finals for Broken Arrow Bucking Bulls.  
"That was our start, the kids started steer riding," Carlier said of his sons. "We started bucking a few, and Brad Mead hired me one year, I got some cows from him to go to Calgary and different places and we grew into that, and then eventually we had enough that we were approached by Calgary to do that and we just went from there.
"We did a lot of pro rodeos, and the Calgary Stampede, and the Finals and all that kind of stuff, and amateur finals and the whole bit, but that was kind of the growth of it was there with the cows.
"And of course we were always breeding bulls at the time, but we weren't breeding with quality bulls off the start. And then we got hooked up with Todd Braithwaite and started getting some better bulls, and breeding with his bulls, and stuff and it worked out pretty good, we started raising some decent ones." 
This weekend, Carlier will travel stateside with both Shere Khan and Muddy Water set to buck at the PBR Unleash The Beast's Billings Invitational, presented by Cooper Tires. Rimrock Auto Arena in Billings will host the PBR for three nights of action on Friday, April 12 at 7:45 p.m. MDT, Saturday, April 13 at 5:45 p.m. MDT, and Sunday, April 14 at 1:45 p.m. MDT.
CBS Sports Network will broadcast all the action from Championship Sunday LIVE, including Round 3 and the championship round, starting at 4:00 p.m. EDT on Sunday, April 14.
Fans will be able to watch the action in its entirety live via PBR's new streaming digital platform RidePass. Round 1 and Round 2 will be exclusively seen on the platform, with coverage beginning at 9:30pm EDT on Friday, April 12, and at 7:30 p.m. EDT on Saturday, April 13. The listen LIVE stream for Championship Sunday will begin at 3:45 p.m. EDT on Sunday, April 14.