PBR Unleash The Beast Preview – Billings
By: Kacie Albert Friday, April 12, 2019 @ 9:24 AM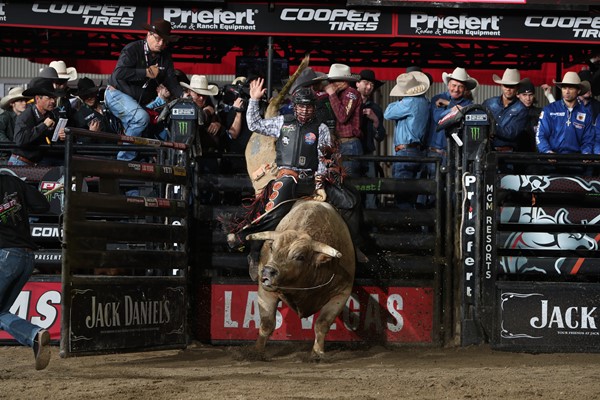 NEW YORK CITY – For the second time this season on the elite PBR Unleash The Beast, the draw will not only feature Canadian riders, but also Canadian bull power.
After seven bovine athletes from the nation bucked in Tacoma, Washington, this weekend's draw for the Billings Invitational, presented by Cooper Tires will feature 14 Canadian bulls from five different Alberta-based stock contractors.
RELATED: Colt .45 Leads Canadian Bull Contingent in Tacoma
While Eno Bucking Bulls of Coronation and Wild Hoggs of Nanton and Marwayne will both be making their second trip of the year to the United States, providing bulls to the Tacoma stop, Magrath's Two Bit Bucking Bulls, Ponoka's Vold Rodeo and Medicine Hat's X6 Ranch Bucking Cattle will all be making their 2019 debut.
Homegrown will be the lone bull competing from the Eno Bucking Bulls' pen. In 12 outs across all levels of competition, he has been ridden just three times. One of those rides was recorded by Cody Jesus in October 2018 at the Nampa Unleash The Beast event for 88 points when the bull made his premier series debut.
Collectively, Homegrown has bucked three times on the premier series, earning 43.25 and 42.25-point bull scores for his two outs last season in Nampa, and a 43.5-point score for his 3.78-second trip with Ruger Piva when he last bucked in Tacoma.
Current world No. 4 Joao Ricardo Vieira will face off against the bull in Round 1.
While Wild Hoggs Bucking Bulls will be bringing a smaller, three-bull contingent stateside this weekend, their roster will again include Morning Wish and Colt .45.
In Tacoma, Colt .45 was the company's top-marked bull, scoring 43.5 points for his 2.18-second buckoff of Taylor Toves in Round 1. The bull remains unridden going into his Round 1 match-up with Derek Kolbaba in 11 outs on record.
Also bucking in the Evergreen State, Morning Wish dispatched 2018 PBR World Champion Kaique Pacheco, earning a 42-point bull score for the 5.39-second trip. He will square off against 19-year-old Dalton Krantz who will be making his premier series debut atop the bull.
Fergus rounds out the Wild Hoggs' pen, set to make his first Unleash The Beast out when he faces Claudio Montanha Jr. in the event's first round.  
Of the five stock companies set to travel stateside, reigning PBR Canada Stock Contractor of the Year Nansen Vold of Vold Rodeo will supply the most bull power, set to haul six bovine athletes to the Magic City.
RELATED: Vold Previews Bull Pen for 2019 Season
His bullpen is highlighted by All Access who in 19 attempts across all levels of competition has been ridden just once. The qualified ride was recorded by Todd Chotowetz, marked 85.5 points aboard the bull at the 2018 Calgary Stampede. Notably, the out prior to Chotowetz's qualified ride, All Access had mathematically the best out of his career, marked 47 points at the Greatest Outdoor Show on Earth for his buckoff of Kolbaba.
All Access has bucked twice on the premier series, with both outs witnessed last season in Billings.
After first sending Stetson Lawrence to the dirt in 3.22 seconds to earn a 41.25-point bull score, All Access was marked 42.5 points in a subsequent round when he dispatched Ramon de Lima in 4.21 seconds.
The bovine athlete's last trip was at the sold-out, record-setting Monster Energy Tour event in Calgary. All Access bucked off Marcos Gloria in a swift 1.6 seconds to earn a 41-point score from the judges.
2016 PBR World Champion Cooper Davis is slated to attempt All Access in Round 1.
The remainder of Vold's pen will all be making their elite tour debuts.
Those Round 1 matchups in Billings are:
Oz vs. Alisson de Souza
Grey Tower III vs. Marco Eguchi
Big City vs. Taylor Toves
Timber Jam vs. Bryan Titman
Uptown Funk vs. Cody Teel
From the Two Bit Nation, reigning PBR Canada Bull of the Year Happy Camper will make his regular-season elite tour debut, competing alongside pen mate Catch My Drift.
RELATED: Happy Camper Prepares for 2019 Debut in Front of Hometown Crowd
Happy Camper made his elite tour debut in 2017, bucking in Round 3 of the PBR World Finals. Unridden in five trips prior, Dener Barbosa became the first rider to reach the 8-second mark aboard the bull, recording an 87-point score.
In his 20 outs on record since, Happy Camper has been ridden four times. After Jared Parsonage took him to the whistle for 88 points in May 2018, Zane Lambert recorded just one of three 90-point rides on Canadian soil in 2018 aboard the bull, riding him for 90.5 points at the Stavely Touring Pro Division event in September.
In what was a déjà vu moment for many, Barbosa again rode Happy Camper for a score in Round 3 of the most recent PBR World Finals, this time scoring 84.75 points.
The remaining rider the reach the 8 on Happy Camper was rookie rider Riley Gagnon during the bull's latest trip. Bucking in the championship round of the Calgary Monster Energy Tour event, Gagnon reached the whistle for a career-high 89 points.
RELATED: Happy Camper Caps Dominant Season with Canadian Title
Thus far in 2018, Happy Camper has made two outs, not including his two appearances in the Monster Energy Tour's Challenge of Champions, earning bull of the event honors for both. In Lethbridge he was marked 44.5 points for besting Jake Lockwood in 3.22 seconds, while earning a 44-point score for his trip with Gagnon.
Junio Quaresima will attempt Happy Camper in Round 1, while Luciano de Castro will attempt the outfit's Catch My Drift who will be making his premier series debut.
X6 Ranch Bucking Cattle will complete the Canadian bull pen with Shere Khan and Muddy Water.
Shere Khan turned heads in his most recent outs, earning the ABBI Canada Classic title at the Monster Energy Tour event in Calgary for his 1.43-second buckoff of Wyatt Laughlin and 2.44-second trip with Chotowetz. Unridden in three outs on record, the bull will make his elite tour debut against 2014 Canadian Champion Lawrence.
RELATED: Shere Khan – King Bull in Calgary
Much the opposite, Muddy Water earned two trips at last year's Billings event. His performance was led by a 2.24-second buckoff of Cody Heffernan to earn a 41.75-point bull score. The bovine athlete's last out was in Calgary at the Monster Energy Tour stop. There he dispatched Laughlin in 2.54 seconds to earn a 42.5-point bull score.
Muddy Water will be attempted by Australian rider Lawson Nobbs in Round 1.
Competing alongside the bulls will be Dakota Buttar, the lone Canadian rider in the draw.   
As the No. 37-ranked rider in the world, the Kindersley-native will be on the hunt for crucial world points, currently 5 points outside of the Top 35.
Last weekend in Sioux Falls, Buttar earned 15 world points for his 14th place effort.
RELATED: Buttar Ties for 14th at PBR Unleash The Beast Event in Sioux Falls
In Round 1 of the three-day event, the 26-year-old got off to a hot start, riding Buck Wild for 82.75 points. Following the first night of action, Buttar sat tied for seventh in the overall event aggregate.
The next night, Buttar again made the 8 in front of the electric South Dakota crowd, covering Blonde Blizzard for 85 points. The score was once again tied for the seventh best marks of the round.
His momentum, however, came to an end on the final day of competition in the Mount Rushmore State, bucked off by Audacious in 3.9 seconds in Round 3, and by Budakon in 5.46 seconds in the championship round.
In Billings, Buttar will look to recapture the momentum he had in the city last season when he finished seventh.
Buttar will attempt Must Be Nice in Round 1.
From Bird Bucking Bulls, the bovine athlete has been ridden three times in seven outs across all levels of competition. In his las out at the Nampa elite tour event in October 2018, Keyshawn Whitehorse earned a re-ride due to an infraction.
Action for the PBR Unleash The Beast's Billings Invitational, presented by Cooper Tires inside Rimrock Auto Arena will get underway with Round 1 on Friday, April 12 at 7:45 p.m. MDT. The action will continue with Round 2 on Saturday, April 13 at 5:45 p.m. MDT, and conclude with Round 3 and the championship round on Sunday, April 14 at 1:45 p.m. MDT.
CBS Sports Network will broadcast all the action from Championship Sunday LIVE, including Round 3 and the championship round, starting at 4:00 p.m. EDT on Sunday, April 14.
Fans will be able to watch the action in its entirety live via PBR's new streaming digital platform RidePass. Round 1 and Round 2 will be exclusively seen on the platform, with coverage beginning at 9:30pm EDT on Friday, April 12, and at 7:30 p.m. EDT on Saturday, April 13. The listen LIVE stream for Championship Sunday will begin at 3:45 p.m. EDT on Sunday, April 14.
Stay tuned in to PBRCanada.com and follow the tour on Facebook (PBR Canada), Twitter (@PBRCanada), and Instagram (@PBRCanada) for the latest results, news, stats and more.