PBR Canada Is Humboldt Strong
By: Andrew Giangola Tuesday, April 9, 2019 @ 3:36 PM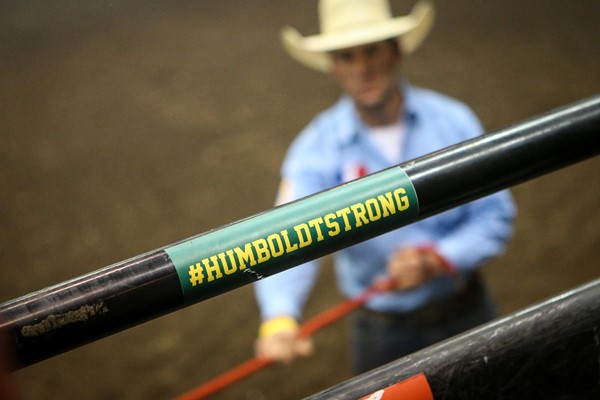 NEW YORK CITY – This past weekend, the entire country of Canada remembered a terrible tragedy that has also provided its share of miracles. 
April 6 marked the one-year anniversary of the gut-wrenching Humboldt Broncos bus crash that killed 16 people, including 10 junior hockey league players from Saskatchewan.  
The tragedy hit one member of the PBR community especially hard.
Jason Davidson, director of operations for PBR Canada, is also an NHL player agent. He represents Layne Matechuk, one of the survivors of the crash that occurred when the charter bus carrying the Broncos hockey team was struck by a semi-trailer truck in rural Saskatchewan on the way to a playoff game.
"If you're Canadian, you'll remember exactly where you were on April 6, 2018. That day will never go away; it's part of you forever," said Davidson, who oversees a national tour now visiting nine Canadian cities while producing a few dozen PBR Touring Pro events each year.  
After plowing face first into the seat in front of him, Matechuk, a defenseman who turned 19 in February, suffered a serious brain injury and was in a coma for a month. 
By August, he was starting therapy, learning to walk and talk again, and slowly improving. 
Still, Layne wasn't able to participate in public events with other surviving team members, like appearing at the NHL Awards gala in Las Vegas or celebrating when the Stanley Cup toured Humboldt.
"Layne's dad was saying, 'That's OK, when he's better, we're going to watch his favorite player, Sydney Crosby'," Davidson recalled.
Davidson, an expert at connecting people with places and making things happen, heard that and knew he could help. 
First, he orchestrated a very special moment at the PBR Canadian Finals in November in Saskatoon to honor the Humboldt Broncos, including and Matechuk and his family. 
Layne was introduced in the event's opening and honored as PBR Fan of the Night.  In his first public appearance since the accident, he received a rousing standing ovation.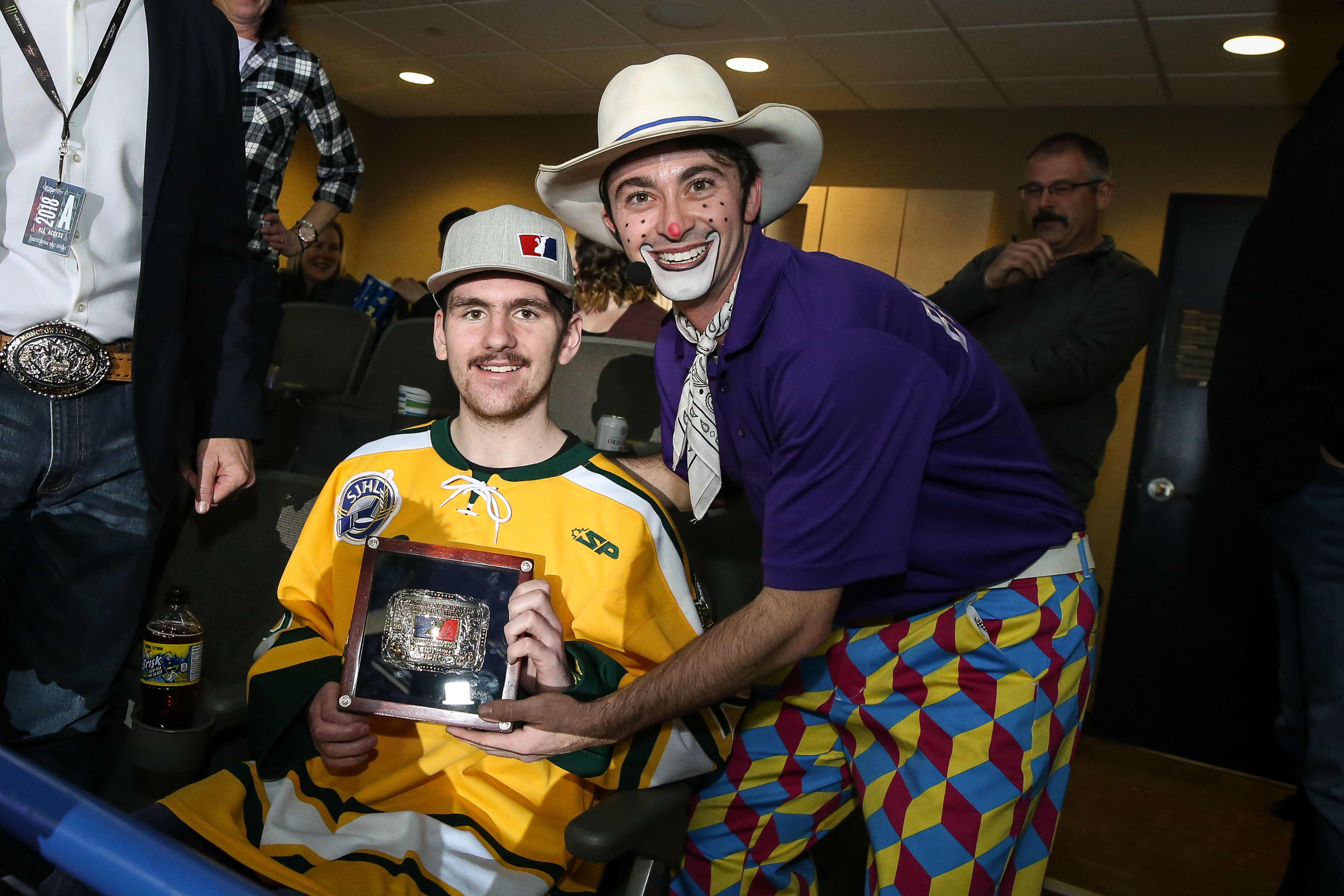 In a brilliant twist of fate, Davidson lives next to Brayden Schenn, a good friend of Layne's hockey idol. When Schenn asked Sydney Crosby about meeting Layne, the future Hall of Famer said yes without hesitation. 
That night at the Canadian Finals, Layne was also presented a trip to meet Crosby, which happened in mid-March, seen here.
The Penguins superstar spent more than 40 minutes with Layne on game day in Pittsburgh before taking on the nemesis Washington Capitals. Of course, Sid the Kid lit the lamp twice in propelling the Pens to a 5-3 win. 
"I see a lot of similarities with hockey players and bull riders," Davidson said. "This really shows what kind of guys they are – tough on the outside and extremely kind and caring on the inside."
The determined young hockey player's recovery has been nothing short of miraculous, according to attending doctors and nurses who say he was extremely lucky to have even lived through the wreck. 
He's beginning to talk again. He's now lifting weights, and back on the ice, skating and shooting pucks.
"The progress we've seen is amazing," Davidson said. "His mind is there; he's sharp, he just can't communicate verbally as fast as he'd like to, but he does continue to improve."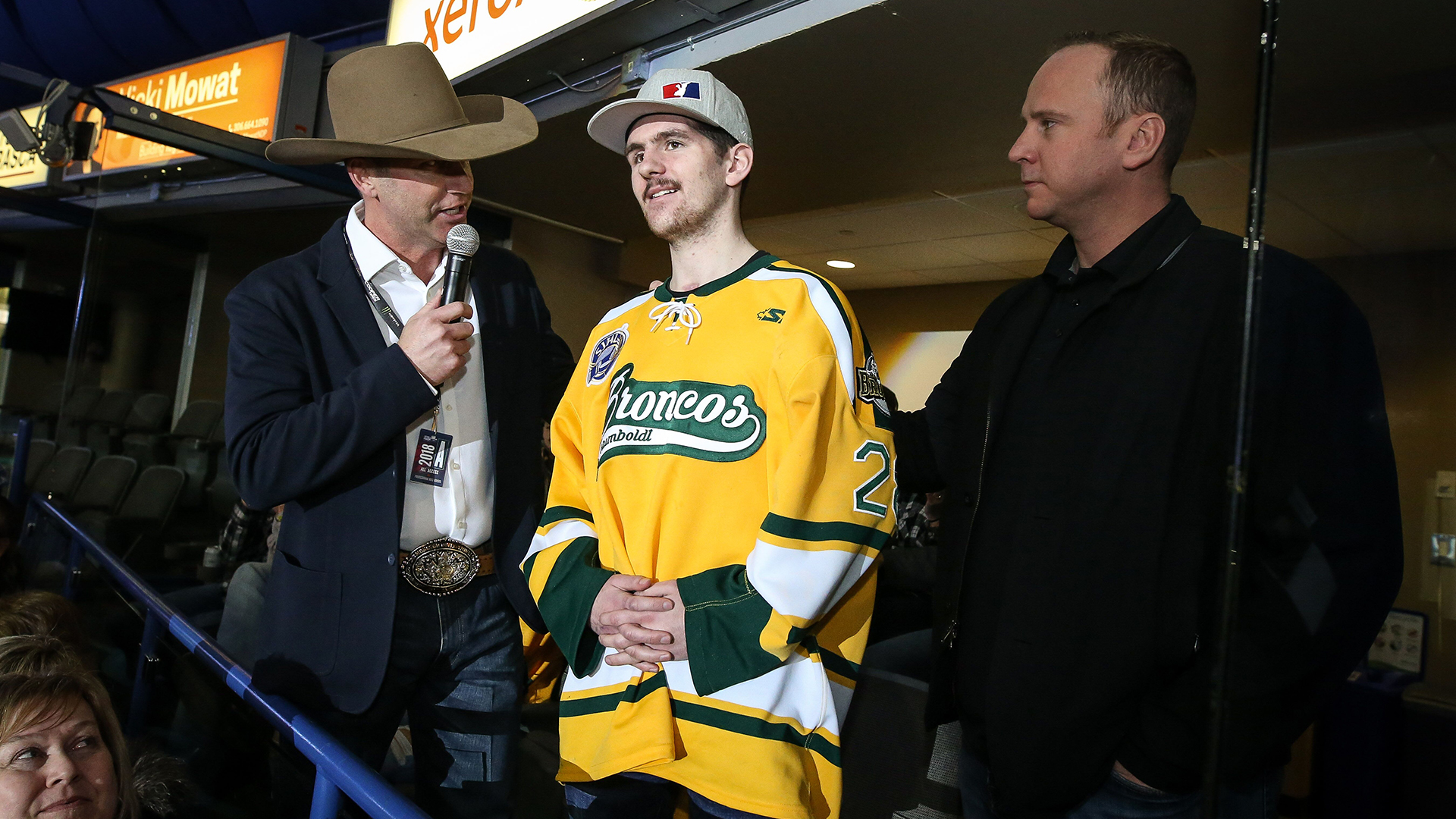 Last November, Matechuk walked into the SaskTel Centre, very slowly.  Davidson is planning for a return visit to the PBR Canadian Finals.  
He envisions a moment even more triumphant that in 2018. 
"Next time we bring him back, Layne is going to march right in," Davidson said.