Bull Riding Contestants Named For Calgary Stampede
By: Justin Felisko Friday, April 12, 2019 @ 11:46 AM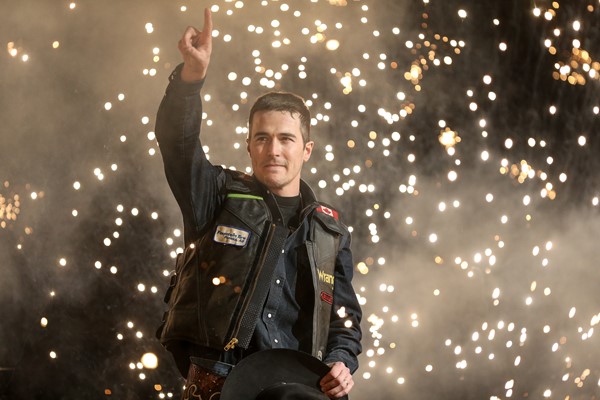 PUEBLO, Colo. – The Calgary Stampede announced this week the official list of the 120 rodeo contestants, including 20 bull riders, for the annual "Greatest Outdoor Show on Earth" on July 5-14.
The field includes six Canadian riders, Wacey Finkbeiner, Garrett Green, Jordan Hansen, Zane Lambert, Jared Parsonage and Brock Radford, along with Edmonton-resident, and 2018 Calgary Stampede event winner Marcos Gloria.
Fans can watch all of the action from the Calgary Stampede on RidePass.
Among the contingent, there are three PBR Canada or CPRA champions set to compete at the Stampede – two-time PBR Canada Champion Lambert (2013 and 2017), 2018 CPRA champion Finkbeiner and 2016 CPRA Champion Hansen. 
Lambert leads the field as the most veteran competitor, competing at the Calgary Stampede in four previous seasons (2010, 2014, 2016 and 2018), while for both Finkbeiner and Green the 2019 event will mark their debut.
Hansen (2017 and 2018) and Parsonage (2016 and 2018) will both be making their third appearance at the iconic event, while Radford (2017) will be riding for the second time.
Current world leader Jose Vitor Leme highlights nine PBR bull riders ranked inside the PBR's Top 35 who have been invited to ride at the Calgary Stampede.
2019 CALGARY STAMPEDE BULL RIDING INVITES
Parker Breding (Edgar, Mont.)
Ramon de Lima (Sao Paulo, Brazil)
Ryan Dirteater (Hulbert, Okla.)
Chase Dougherty (Portland, Ore.)
Marco Eguchi (Poa, Brazil)
Wacey Finkbeiner (Ponoka, AB)
Joe Frost (Randlett, Utah)
Marcos Gloria (Edmonton, AB)
Garrett Green (Meeting Creek, AB)
Jordan Hansen (Calgary, AB)
Sage Kimzey (Strong City, OK)
Zane Lambert (Ponoka, AB)
Jose Vitor Leme (Ribas Do Rio Pardo, Brazil)
Jess Lockwood Volborg, Mont.)
Claudio Montanha Jr. (Pacaembu, Brazil)
Cody Nance (Paris, Tenn.)
Chase Outlaw (Hamburg, Ark.)
Jared Parsonage (Maple Creek, SK)
Brock Radford (DeWinton, AB)
Cody Teel (Kountze, Texas)
The 2019 edition of the event will mark Leme's debut at the Calgary Stampede.
The 22-year-old is staying in North America this summer instead of returning home to Brazil so he can rack up as many points as possible in the 2019 World Championship race.
There are three PBR or PRCA champions riding at the Stampede – 2017 PBR World Champion Jess Lockwood, five-time PRCA champion Sage Kimzey and 2012 PRCA champion Cody Teel.
Lockwood said last year that winning the Stampede would be a dream come true.
"It is the greatest and most fun thing I've ever competed in," Lockwood said last year. "It's a rodeo and it's about one of the biggest ones in the world. That's right up there with another world title, I like to think."
Kimzey is a two-time Calgary Stampede champion, while Teel took home the prestigious Calgary Stampede bronze bull riding trophy and $100,000 in 2016.
Gloria is the only other previous bull riding champion in the draw. He is one of six defending champions (all rodeo disciplines) set to compete at the Calgary Stampede.
The 28-year-old became the second Brazilian in 24 years to win the bull riding last year when he covered Rattler for 76 points on Showdown Sunday
The format for the Stampede, which has a combined $2 million worth of prize money up for grabs for the nine rodeo events, is different than a PBR event.
Riders battle it out for four days in highly-contested pool play with the goal of advancing to Showdown Sunday as one of the pool's top-four money earners. Riders who don't make it can then jockey on Wild Card Saturday for the final two spots.
However, once Sunday arrives, the slates are wiped clean and the Calgary Stampede champion will be the rider who posts the single highest-marked ride in the championship round, featuring the top four riders following Sunday's long round.
Gloria's 76-point ride came after all four riders – Gloria, Joe Frost, Ty Wallace and Fabiano Vieira – who advanced to the final round last year bucked off their first bulls.
Frost, who was called for a slap at 7.42 seconds on Heaven's Basement, is a 2019 PBR Rookie of the Year contender and will be looking for redemption when he returns to Calgary again this year.
The bull riders are selected to compete by the Calgary Stampede from the PBR, PRCA and CPRA.
The PBR has historically awarded world points at the Calgary Stampede, but official point allocations have yet to be finalized for the 2019 Calgary Stampede.
Here is the list of the other rodeo contestants invited.
Saddle Bronc Riding
CoBurn Bradshaw (Milford, Utah)
Chase Brooks (Belgrade, Mont.)
Jacobs Crawley (Boerne, Texas)
Sterling Crawley (Stephenville, Texas)
Brody Cress (Hillsdale, Wyo.)
Isaac Diaz (Desdemona, Texas)
Clay Elliot (Nanton, AB)
Layton Green (Meeting Creek, AB)
Dawson Hay (Wildwood, AB)
Lefty Holman (Visalia, Calif)
Court Scheer (Elsmere, Neb.)
Joey Sonnier III (New Iberia, La.)
Wade Sundell (Coleman, Okla.)
Zeke Thurston (Big Valley, AB)
Kolby Wanchuck (Sherwood Park, AB)
Jake Watson (Hudson's Hope, BC)
Jake Wright (Milford, Utah)
Ryder Wright (Milford, Utah)
Rusty Wright (Milford, Utah)
Jesse Wright  (Milford, Utah)
Bareback Riding
Caleb Bennett (Tremonton, Utah)
Clayton Biglow (Clements, Calif.)
Ty Breuer (Mandan, N.D.)
Richmond Champion (Dublin, Texas)
Mason Clements (Santaquin, Utah)
Steven Dent (Mullen, Neb.)
Kaycee Field (Elk Ridge, Utah)
Connor Hamilton (Calgary, AB)
Seth Hardwick (Miles City, Mont.)
Tilden Hooper (Weatherford, Texas)
Pascal Isabelle (Quebec, QC)
Orin Larsen (Inglis, MB)
Clint Laye (Cadogan, AB)
Ky Marshall (Bowden, AB)
Shane O'Connell (Rapid City, S.D.)
Tim O'Connell (Zwingle, Iowa)
Jacob Stemo (Bashaw, AB)
Ty Taypotat (Regina, SK)
Bill Tutor (Hunstville, Texas)
Jake Vold (Airdrie, AB)
Steer Wrestling
Curtis Cassidy (Donalda, AB)
Cody Cassidy (Donalda, AB)
Bridger Chambers (Stevensville, Mont.)
Stephen Culling (Fort St John, BC)
Hunter Cure (Holliday, Texas)
Kody Dollery (Caldwell, Texas)
Ty Erickson (Helena, Mont.)
Scott Guenthner (Consort, AB)
Nick Guy (Sparta, Wis.)
Kyle Irwin (Robertsdale, Ala.)
Blake Knowles (Heppner, Ore.)
Trevor Knowles (Prairie City, Ore.)
Will Lummus (West Point, Miss.)
Tanner Milan  (Cochrane, AB)
Clayton Moore (Pouce Coupe, BC)
Tyler Pearson (Independence, La.)
Matt Reeves (Cross Plains, Texas)
Jacob Talley (Keatchie, La.)
Tyler Waguespack (Gonzales, La.)
Craig Weisgerber (Ponoka, AB)
Tie Down Roping
Logan Bird (Nanton, AB)
Trevor Brazile (Decatur, Texas)
Tuf Cooper (Weatherford, Texas)
Morgan Grant (Didsbury, AB)
Shane Hanchey (Sulpher, Okla.)
Ryan Jarrett (Comanche, Okla.)
Kyle Lucas (Carstairs, AB)
Cooper Martin (Alma, Kansas)
Timber Moore (Aubrey, Texas)
Michael Otero (Weatherford, Texas)
Jesse Popescul (Wood Mountain, SK)
Jake Pratt (Stephenville, Texas)
Rhen Richard (Roosevelt, Utah)
Reese Riemer (Stinnett, Texas)
Matt Shiozawa (Chubbuck, Idaho)
Caleb Smidt (Bellville, Texas)
Ryle Smith (Oakdale, Calif.)
Cory Solomon (Prarieview, Texas)
Riley Warren (Stettler, AB)
Marty Yates (Stephenville, Texas)
Ladies Barrel Racing
Brittney Barnett (Bakerfield, Calif.)
Taci Bettis (Round Top, Texas)
Ivy Conrado (Hudson, Colo.)
Callahan Crossley (Hermiston, Ore.)
Kaylee Gallino (Wasta, S.D.)
Hailey Kinsel (Cotulla, Texas)
Lisa Lockhart (Oelrichs, S.D.)
Emily Miller (Weatherford, Okla.)
Nellie Miller (Cottonwood, Calif.)
Amberleigh Moore (Salem, Ore.)
Brittany Pozzi Tonozzi (Victoria, Texas)
Carman Pozzobon (Savona, BC)
Jessica Routier (Buffalo, S.D.)
Jennifer Sharp (Richards, Texas)
Diane Skodcdopole (Big Valley, AB)
Jimmie Smith (McDade, Texas)
Shelby Spielman (Dalhart, Texas)
Jessie Telford (Caldwell, Idaho)
Sarah Rose (Waguespack–Brunswick, Ga.)
Kylie Whiteside (Longview, AB)