West Staking His Claim at the Top
By: Ted Stovin Friday, April 27, 2018 @ 7:42 AM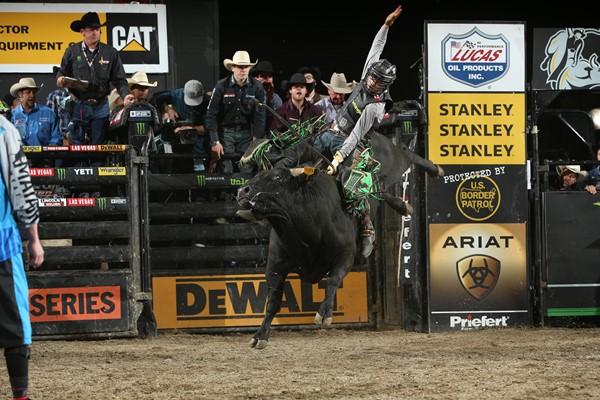 CALGARY, Alberta – For a bull rider, there's no higher level than the 25th PBR: Unleash the Beast. It's where the best bulls and the best riders compete each week, on TV, in front of record setting crowds, for more money than any other level in the sport.
This past weekend, Cadogan, Alberta's Lonnie West made his debut at the sport's highest level.
If he wasn't convinced before that this is where he belongs, he is now.
"It was the sweetest event I've ever been to," West said. "Just driving to your first Unleash the Beast event and riding there with your best buddies made it that much better. The whole way down I was super excited, I didn't really know what to expect. And then when I did get there and seen the atmosphere, that was probably the best part of it."
West made the nine-hour trip to Billings, Montana with fellow 22-year-old Canadian, and one of his best pals, Brock Radford.
While it's known that some guys need some time to adjust to the atmosphere of the top tour, for West, the transition wasn't as tough as he expected.
"I hadn't met any of those guys, multiple World Champions are there hanging out," West said. "And to meet all them, and they take you in and treat you like you're just another one of them. They're all really nice, polite guys and so it makes it a real comfortable zone to be in, you don't feel pressured up and what not, so that was a really sweet part about it."
In the closest elite tour event to his home, West went 1-for-3, qualifying for the Championship Round, and finish eighth overall taking home 80 world points and $4,172.73.
"My first bull was Udder Lover, before I got a re-ride," West said. "Getting on him, I was nervous, just because I was really far down, I think I was fourth section, and I watched a lot of guys go, and before me there were three rides.
"I was like, 'Holy shit, these bulls are bucking,' you can't stub your toe one bit. I was nervous, and maybe a little tensed up, then that bull, it was kind of like a practice pen, you get on one, and you're pretty loosened up."
As his Round 1 re-ride, West faced Big Slick.
"I was lucky to get on another one after that bull hipped himself," West recalled. "I remember saying to Brock, or whoever was standing behind me on the chutes on my second one, 'Shit I'm ready to go now, I'm warmed up.' And then I just climbed in there, didn't piss around, and I was loose and cool, and it worked out really good, and I was beyond excited after. As soon as I rode him, I stepped off, I was like holy shit, what just happened, because I knew I was only the fourth ride of the night at that point. I was stoked."
As of today, after the 85.5-point effort to finish fourth in Round 1, West ranks in the No. 54 in the PBR World Standings.
"I was pretty happy, like obviously it could have been better, I could have won the deal," West said. "I felt like I tried with every bull I had. I was giving it everything I had, it was just, sometimes you don't ride them all and that's the name of the game, the bulls are supposed to buck you off."
With the bull pen not only sporting 10 Canadian bulls, the likes of two-time and reigning YETI World Champion Bull Sweet Pro's Bruiser was also in Billings.
RELATED: Midnight Rain Wows in Elite Tour Debut
"Seeing all the bulls buck that all of us watch on TV, wishing we were getting on them, seeing them up close and personal and seeing how rank they are. Like it's one thing to watch them all on TV, but when you actually see them in person, I was telling [my brother] Bryce [West] this today, they're 10-times ranker in person," West said. "It kind of makes you realize you've made it to that level and then seeing how rank stuff is, it gives a guy a really big confidence boost to be around that atmosphere."
Despite not qualifying to return to the PBR's elite level this weekend in Columbus, Ohio, West is only 135.83 points back from the No. 35 spot in the standings and looks to return for the second half.
"After seeing all that, and being around them guys, and just seeing that high voltage atmosphere, it kind of made me decide that that's what I want to do," West said. "I'm going to set all my goals for the World Finals. I really want to win that, there's never been a Canadian win the World Finals, and dang sure not the World Champion, so I'd like to be the Canadian to do it for sure. I'm going to push and do everything I can to get there, it would be pretty bad ass to get a shot at that stuff."
After finishing No. 68 in the world last season, and fourth in Canada, West has a new boosted attitude moving forward.
RELATED: Lonnie West Looks Back on Stellar 2017, With Sights Set High in 2018
"It totally gives a guy a confidence boost too because you're there [and] you've made it. So you've proven that you can ride with the best, it's just a matter of putting it all together," West said. "It doesn't put you far out of the picture, a guy has to work at it, but it makes you really realize you can do it. That's why Billings was a game changer for me, because I go to rodeos on the weekend and this and that, and bull ridings on the weekend, but once you realize you can actually do it, and you have a shot to win the world or World Finals, or qualify for them even at that, it changes things a lot."
With the new outlook and confidence, the third-year pro changed his short-term plans as well after speaking with his family once back home on Monday.
"I had a long, long talk with my mom and dad and I decided to quit my job, I'm going to go hard, so Billings might end up changing my whole life," West said. "I'm going to go stay with Aaron Semas over the next month or two, I don't know if I'm going to move down there for a while or what not, but it's really changing everything."
With the changes, the event plans also have been altered.
"I'm not really focusing on rodeo, I'm focusing just on PBR," West said. "I need to get to the World Finals, so I can win the World Finals. I have huge backing from my parents. Dad just said he wants to see me go, he knows I can do it, so I want to make a lot of noise in the PBR over the next few years."
West, the middle of three bull riding brothers, is the first to qualify for the PBR's elite level. Their father, Kevin, won the Calgary Stampede in 1989.
RELATED: Lonnie Leads West Brothers Into 2018
Despite earning $43,612.48 so far in PBR competition in the 2018 season, highlighted by a $24,000 USD hit in Edmonton at the PBR's Global Cup Qualifier, Lonnie continued his work as a mechanic during the week until now.
"I came home Monday night, and Tuesday morning I went in and told Trevor and Karina, that's my boss and his wife and secretary, and I told him everything, my plans, and they were actually super cool about it," West said. "I've got to give huge shout out to my boss and secretary at Ratchet Mechanical because they've really worked with me over the years."
And the support keeps on coming.
"For them to totally understand that I want to pursue my dream, you know, I give the world to them," West added. "They've supported me for a long time to rodeo, and this and that, every time I talk to you I'm usually working, it's just a no stress work environment, I love my job. And they helped me get my schooling and all that, so I'm super thankful for everything they've done. And they were super understanding that I'm moving on to pursue my goal."
After winning on the Real Time Pain Relief Velocity Tour in New Town, North Dakota, West earned world points again in Kearney, Nebraska on December 16. Since, he hadn't earned any points and currently ranks No. 23 in the Canadian standings having gone 0-for-4 thus far in competition.
RELATED: West Wins First Real Time Pain Relief Velocity Tour Event in New Town
"I'm apprenticing for Heavy Equipment Technician. Even though I'm done work now, [Karina] signed me up in the fall or the winter this year, they're going to enroll me and then I'll get my journeymen ticket," West said. "Works always going to be there and the nice thing about them is they support me with whatever I'm doing, so I'm not too worried about that at all. It's nice now that I can hit every single event, I don't have any worries about anything really besides riding bulls."
The elite 25th PBR: Unleash The Beast next travels to Columbus, Ohio on April 28-29 for the Columbus Invitational, presented by Cooper Tires.
PBR Canada competition resumes on May 4-5 in Prince Albert, Saskatchewan with the Touring Pro Division's Clunie-Cooper Memorial PBR.
Be sure to stay tuned to PBRCanada.com and follow the tour on Facebook (PBR Canada), Twitter (@PBRCanada), and Instagram (@PBRCanada) for the latest results.