West Reaches New Career-High After Win in Moncton
By: Ted Stovin Tuesday, June 5, 2018 @ 5:34 PM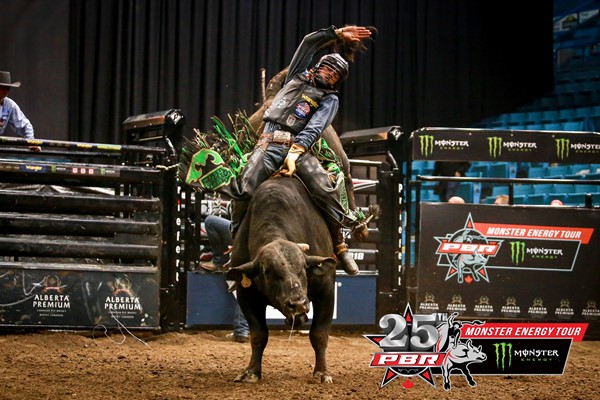 CALGARY, Alberta – In the sport of bull riding, even when attempting to ride unpredictable bovine athletes, some draws are better than others.
Lonnie West didn't draw how he might have liked to for Moncton, but that didn't matter.
"I asked Dayton [Johnston] when the draw finally came out, because he read his draws first, and he said, 'Oh, I got two good ones.' Then he read them off, and I said 'Well, what do I got? Tell me, do I got two good ones?'" West explained, after a win in front of the sellout crowd at the Moncton Coliseum. "And he kinda went, 'You've got two hard ones,' and then he said, 'Applause.'
"I knew he was going to be hard. He's a little jack hammer. He's just a small bull, not a lot of power, but he's got a hop skip to him that gets guys to the outside. So I had him figured out, I stayed down, and kept to the basics, and it worked out."
West wasn't too excited about the rematch with Applause after a previous meeting the week before.
"I had got on him at Halifax and he bucked me off," West said. "So, I kinda knew his deal, and I was I think 86 on him, finally got him figured out."
In the Championship Round, West faced another familiar foe.
"Double Major," West said. "I've been on him three times now. And he's a cheating bugger, every time. I wasn't pissed off that I had him, but I had a lot better mindset going into it today because the guys are riding, it was a real badass bull riding.
"I've been on him before," West added. "I knew his deal, I knew he cheats out of there, and he throws his head at the gate and tries to kind of roll you to the outside, but it all worked out. I had him figured out, so things went my way."
Things did go his way, for 87 points on the Wild Hoggs bull, and the event win after a buckoff from Brock Radford against the Two Bit Nation's Happy Camper.
West spoke further on the fourth meeting with Double Major in the Championship Round.
"I can't think when I'm riding." West explained. "It has to be instinct, usually when I think, I sit on my ass, and it doesn't go my way. It's a split second, but by the time you're done thinking, you've already missed your move that you're supposed to be making."
The only downfall on the night was a no score in Round 2 against Southern Heat from Vold Rodeo.
"Yeah, he was tough, too," West said. "I knew I had three tough draws, [but] it worked out. I mean, I wish I could ride all the bulls, but that's bull riding, you're not going to ride every single bull. But I know now if I get that Southern Heat again, he ain't going to buck me off. I know his deal."
Before the Monster Energy Tour's Eastern leg of the tour, West wasn't ranked in the PBR Canada Standings but was inside the Top 70 in the World Standings.
The middle West brother started the month with a seventh-place finish in Prince Albert, Saskatchewan on the Touring Pro Division. In Ottawa, for the second Monster Energy Tour event of the season, he moved from No. 27 in Canada to No. 9, and claimed the No. 47 spot in the world standings for an outright second-place conclusion.
A Round 1 exit in Québec didn't add to his cause, but a split of second in Halifax bumped him to No. 41 in the world and No. 4 in Canada.
The latest win, his second of the season across all levels of PBR competition, pushed him to No. 33 in the world standings and No. 3 in Canada. Collectively, during the 30 days between the Prince Albert event on May 4 and the most recent tour stop in Moncton on June 2, West earned $14,484.58 and 245 world points.
"I hope we can keep coming out to these events because you get a lot of people at bull ridings, but to see a sold-out event, that's unreal. It does us good too," West said. "For me anyways, if before you even nod your head, the crowds on their feet, and it's sold out and they're just screaming, it makes everyone ride so much better, and you've seen it today.
"I appreciate the crowd we get out here, and I'd like to come back for sure."
West and travelling partner Johnston spent the week between Halifax and Moncton in Nova Scotia and New Brunswick.
"It's been sweet out here," West said. "We've been having fun. We've been seeing some country, went touring around Halifax and whatnot. There's no stress out here. You're stuck out here, so you've got to find fun, make fun. Yeah, it's been good. We've been enjoying ourselves."
No stress seems to help West, with Halifax and Moncton banking almost $9,000 of his cumulative earnings.
"I probably spent 10," West joked. "No, I'm pretty pumped. It's been going good, that's what a guy needs, smash a win out right before the Global Cup."
West and the entirety of Team Canada met up in Vancouver, British Columbia on Monday night to make the trek to Sydney for the second leg of the PBR Global Cup.
"I'm healthy and looking forward to it," West finished.
Be sure to stay tuned to PBRCanada.com and follow the tour on Facebook (PBR Canada), Twitter (@PBRCanada), and Instagram (@PBRCanada) for the latest results.