West Can Further His Identity at Sydney Global Cup
By: Justin Felisko Wednesday, May 30, 2018 @ 9:24 AM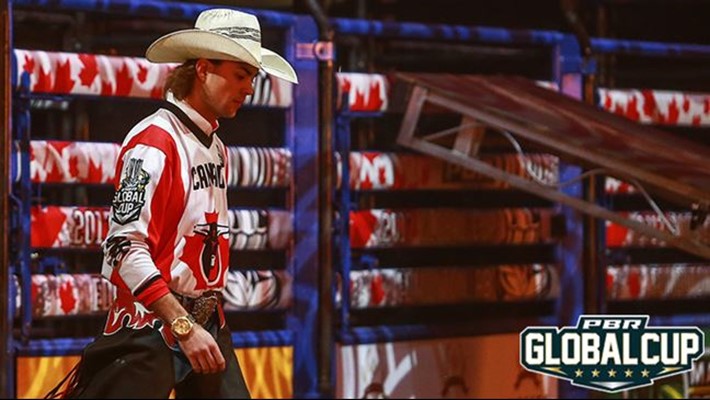 Highlights
Lonnie West will be competing in his second Global Cup on June 9-10.
West won the Team Canada qualifying event at last year's Edmonton Global Cup.
The 22-year-old finished in second place last week in Halifax, Nova Scotia.
Tanner Byrne still remembers being at amateur bull ridings in his teenage years and seeing the West boys – Billy, Lonnie and Bryce – running around like bats out of hell.
The fearless steer riders wanted to try and ride anything with four legs and a bucking prowess, and if they weren't throwing down with each other they certainly weren't scared to rough it up with anyone or anything that got in their way.
"I remember the three brothers," Byrne said last month in Billings, Montana, with a big grin and a shaking of the head. "They were always running around and getting in fights and being freaking hellions.
"They were 3-feet tall thinking they were 10-feet tall."
Confidence was never an issue for the West brothers, and Byrne is thrilled to have Lonnie West on his side for the upcoming Sydney Global Cup event on June 9-10.
Byrne knows West will head down under guns a blazin' like he did seven months ago at the inaugural PBR Global Cup in Edmonton.
"Their dad instilled in them that they are the baddest cats going," Byrne said. "Lonnie knows this is where he belongs."
Lonnie's father, Kevin, won the Calgary Stampede in 1989.
"He gave us our start from the beginning with steer riding," said Lonnie, who attempted his first steer when he was 8 years old. "He had pretty good success when he was bull riding. We grew up looking at his tapes and have been hooked ever since."
The Cadogan, Alberta, native appreciates all that his father has taught him, even the simple texts he receives on the weekends reminding him to take things one jump up a time and to keep his shoulders square.
Kevin and Byrne's father, Ryan, used to rodeo together, and it is how Tanner became introduced to the West boys.
Lonnie and Tanner are three years apart in age.
Tanner also received a good amount of coaching from Kevin when he was growing up.  
"Their dad really helped me with my bull riding when I was younger," Tanner added. "Going from steer riding to bull riding, he taught me a bunch of stuff. I really, really respect their family and it is wicked to see them doing good now."
The Global Cup will be another opportunity for Lonnie to continue to further his own identity outside of being from a successful rodeo family.
Fans can watch the Sydney Global Cup exclusively on RidePass beginning at 5 a.m. ET on June 9.
West won the Canadian qualifier event in Edmonton last year by going 2-for-2 to earn a spot on the 2017 Team Canada roster.
Team Canada finished in third place last November as the 14-team rider contingent went 10-for-32.
West went 2-for-3 in the Global Cup competition.
"There is always a question of it," West said if he was concerned if he would make the cut for this year's team. "I try not to worry about too much. All you can do is ride your bulls. If you are doing good, you will get there again."
West and Byrne will be joined in Sydney by Team Canada's No. 13 Dakota Buttar, No. 31 Brock Radford, 2017 PBR Canada champion ZaneLambert, No. 70 Jared Pasonage, No. 90 Wacey Finkbeiner and No. 112 Justin Lloyd.
The Canadians no longer have home field advantage and will certainly need to improve upon their 31.25-percent riding average if they hope to be victorious in Australia.
West could be even better in his second Global Cup appearance, though.
He built off his Global Cup performance in Edmonton by winning the New Town, North Dakota, Real Time Pain Relief Velocity Tour event the following week.
Team Canada coach Aaron Roy then selected West for his seven-man 2018 Global Cup roster on March 31, and the 22-year-old continues to show he has the potential to be another asset to the Canadian squad.
West is coming off a second-place finish at the PBR Canada Monster Energy Tour event in Halifax, Nova Scotia, last weekend, and he is next slated to compete in Moncton, New Brunswick, on Saturday night.
The No. 41 ranked bull rider in the world is 17-for-43 this season with one victory and eight Top-10 finishes.
West made his premier series debut four weeks after being named to Team Canada earlier this season.
He went 1-for-3 in Billings, Montana, to finish his first 25th PBR: Unleash The Beast in eighth place at the Stanley Performance In Action Invitational.
West rode Big Slick for 85.5 points for the first ride of his career.
"I don't like to think about stuff to much, but I was pressured up pretty good," West said. "I try not to let anything get to me. But obviously this atmosphere is addictive. This is such a loud crowd. Everything you are getting on here, you are up against the best bull riders in the world, so you have to do the best you can at 110 percent every time.
"To smash one out, (was) a huge weight off my shoulders."
Byrne once again noticed West's no-fear attitude, except this time it was inside Rimrock Auto Arena and West wasn't a little 3-foot steer rider.
"I was looking at him behind the chutes in those few minutes before he climbed over the chute and he was just eye of the tiger," Byrne said. "Nothing was fazing him. He was focused on his task at hand. The sky is the limit for him. He will go as far as he wants to go."
West admitted that competing on the premier series was a different animal compared to his inaugural appearance at the Global Cup.
In Edmonton, West resided in the Team Canada locker room alongside familiar faces, while in Billings he was getting his rope ready directly across from 2017 World Champion Jess Lockwood. Then just to the left of him was 2008 World Champion Guilherme Marchi and three-time World ChampionSilvano Alves was right around the corner.
The stars were within arms' length.
"It is pretty surreal with the guys you watch on TV as a kid here," West said. "Now I am in the same dressing room as them getting ready."
Coincidentally, West found out he had qualified for his first 25th PBR: Unleash The Beast event from his childhood friend and Team Canada teammate Radford.
"I was like holy shit. Things are about to get real here," West recalled.
Radford said it was "the best thing ever" for the two riders to compete at the PBR's highest level together.
The two Alberta products have known each other since first meeting at a steer-riding school when they were 9 or 10 years old. Both of their dads also rodeoed together.
Now they are hoping to be difference makers as Team Canada tries to avenge losing their home soil in Edmonton last year.
"We have been dreaming of this forever," Radford said. "I love it that he is here because he helps me. When he is before me and he rides, I feel like I can't buck off. He gets my motor going and we have always been that way. We stick together. We feed off each other. When he rides, I ride."
It will be a far journey and a harder one for Team Canada, but West doesn't plan on letting the global stage rattle him.
"I try not to get too overwhelmed with it," he concluded. "I will just show up here and try to do what I always do whether it is a $1,500 rodeo or an Unleash The Beast. I don't like to take things to serious. Don't think about it too much.
"Thinking doesn't do me any good."
Be sure to stay tuned to PBRCanada.com and follow the tour on Facebook (PBR Canada), Twitter (@PBRCanada), and Instagram (@PBRCanada) for the latest results.