The Morning Line – Saskatoon – Day 2
By: Ted Stovin Saturday, November 24, 2018 @ 12:02 AM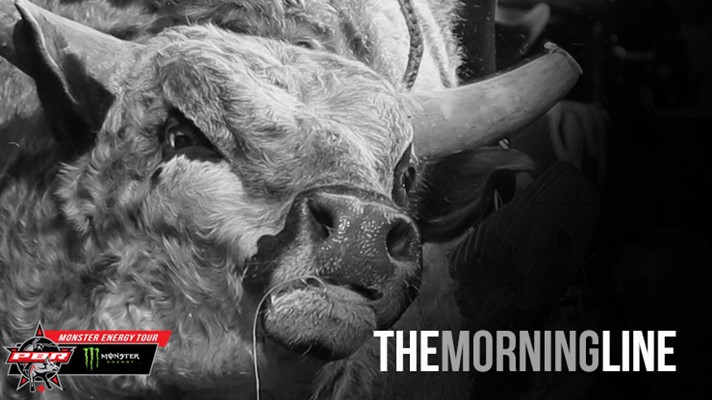 SASKATOON, Saskatchewan – I really did not expect only one guy to have two bulls rode after Day 1.
The bull power was ramped up in Round 2 where only six qualified rides were made compared to the 12 in Round 1.
On Saturday, Edgar Durazo could become only the second man to win multiple PBR Canadian Finals titles, however he's now all but out of the National Championship race. 
In Round 3 we see a few new bulls and a couple that were out on Friday, while the championship round features the best of the best in the country.
The 12 bulls in the Championship Round are: 2018 PBR Canada Bull of the Year Happy Camper, Buck Nasty, All Access, Blow Me Away, VJV Whiskey Hand, Homegrown, Stuntman Hank, Blue Money, Cause and Effect and Finning Young Trent.
Happy Camper and VJV Whiskey Hand will make their first appearances on Canadian soil since their trips to the 2018 PBR World Finals in Las Vegas.
Today is the most exciting day in PBR Canada competition every year. I'm excited to see who steps up to claim the coveted buckle in the tightest race in PBR Canada History.
RELATED: Click here for the full Saturday daysheet
Aaron Roy vs. 410 Catch My Drift
Our three-time PBR Canada Champion earned a split of third in Round 1 on Friday to move 112.5 points closer to the No. 1 spot. He's now No. 7 nationally, up one spot. He couldn't have asked for a better bull in Round 3 either in Catch My Drift from the Two Bit Nation. The black, white-faced muley has been ridden six times in 13 outs for scores as high as 88. He even goes to the right which is right up A-a-ron's alley. This could turn the table to put the odds in Roy's favour.
Jared Parsonage vs. 303 Papa's Rockstar
Parsonage went 1-for-2 on Friday, winning Round 1 with 86.5 points on Hookasaurus from the Wild Hoggs. He's now only 212.5 points back of the No. 1 spot in the country. The Maple Creek man didn't just ride that bull though, he made him look easy. In Round 2 the buckoff against Big John looked rough. That one wasn't easy. Jared didn't seem too thrilled about having this Wild Hoggs bull in Round 3, but I think he should fit him well. With six qualified rides in 16 outs, Papa's Rockstar has been ridden to scores as high as 88.5 points. That was by Wacey Finkbeiener back in Stavely at the Glen Keeley Memorial. This bull will go left as well. If Parsonage is going to win, he's going to have to ride this one. I think he can do it.
Cody Coverchuk vs. 545 Timber Jam
Cody's chances are still good after Rounds 1 and 2 on Friday. He was one of 17 riders going 1-for-2, picking up 18.33 points but slipped to No. 3 in the Canadian Standings, 67.5 points behind No. 1 Lachlan Richardson which is actually still closer than when he came in. Timber Jam isn't going to be an easy foe, however. This bull could have probably been in the championship round. He's a smaller, stalky Hereford looking red and white. Coverchuk can ride, but, like Parsonage, he's got to capitalize on this ride to make the championship round to contend for the buckle.
Zane Lambert vs. 37 Kool Aid
There was no one as excited as Zane on Friday after Rounds 1 and 2. He couldn't have picked a better bull in Round 3. Once I told him he had Kool Aid from Andy Robertson and the R-Saga Ranch he was pumped. The two met up in Yorkton two short weeks ago for an 85-point score. Ridden five times in 10 outs, there have been lots of great rides on this bull in the past year. Zane didn't call his shot tonight like he did last year, but I still think he's quietly going to be a huge threat for the title on Saturday night. He slipped a couple spots after Day 1 but he's still within reach, 945.83 points back of No. 1.
Brock Radford vs. 314 Twist of Barbwire
Radford was fifth in Round 1 on Friday night to earn 75 points and move to a mere 22.49 points behind No. 1. This is arguably the closest race in PBR Canada history. Previously there have been races that have been close, some have been decided before the finals. We still have 19 riders that are mathematically in the race. Twist of Barbwire has only been ridden once in 14 recorded outs. Radford was bucked off a rank Finning Young Trent as a re-ride in Round 2, but two remaining rounds leave the title on the line.
Lachlan Richardson vs. 215 Spot On
Like Lambert, Richardson drew well in Round 3. Lachlan went 1-for-2 on Friday as well. Riding that bull, however, left him in the driver's seat. What could make the difference would be a buck-off here. If Richardson rides this bull, he will almost guarantee a spot in the championship round. If not, he's out and leaves the door wide open. It's going to come down to whoever rides the most over the weekend and he's drawn a great bull to get another score. Spot On from Wilson Rodeo has been ridden six times in 22 outs meaning he's not a day off. Scores range in the mid-80's on the white spotted bucker. I'm excited to watch the evening unfold as I'm one of the biggest fans of bull riding in this country as well.
The 2018 PBR Monster Energy Canadian Finals, presented by Mac's/Circle K and Dakota Dunes Casino will conclude on Saturday, November 24 at 7:30 p.m. CST with Round 3 and the Championship Round. Tickets are still available and can be purchased at the SaskTel Centre Box Office, online at PBRCanada.com or Ticketmaster.ca, and by phone at 1-800-970-SEAT (7328). Fans purchasing a weekend package with tickets to both shows will receive a 15% discount.
Fans will also be able to watch all the action LIVE on RidePass. The stream will begin on Saturday, November 24 at 7:30 p.m. CST.
Stay tuned in to PBRCanada.com and follow the tour on Facebook (PBR Canada), Twitter (@PBRCanada), and Instagram (@PBRCanada) for the latest results, news, stats and more.