The Morning Line – Saskatoon – Day 1
By: Ted Stovin Friday, November 23, 2018 @ 6:00 AM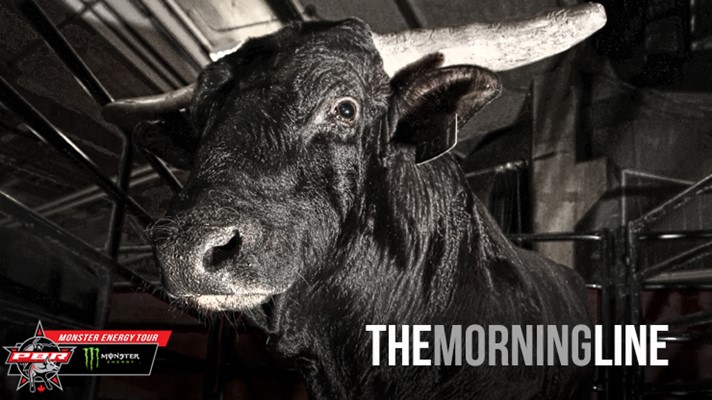 SASKATOON, Saskatchewan – The event has yet to start, and I'm already a fan of the new format for the PBR Canadian Finals.
It's 20 bull riders that qualified via the national standings, and Dakota Buttar, invited as the Top Canadian in the PBR's world standings.
Of the 21, 15 are Canadian, six of whom are home-province hopefuls. Three hail from the US while the rest is made up of internationals Edgar Durazo of Mexico, Marcos Gloria of Brazil and No. 1 man Lachlan Richardson from Australia.
There are four rounds of competition over two nights with Rounds 1 and 2 taking place on Friday. On Saturday the night begins with all 21 riders competing in Round 3 for their spot in the 12-man championship round.
A total of $30,000 is prize money is on the line and a massive 2,250 national points are potentially available if a rider were to win every round and the aggregate. First place in each round is worth 250 points and first in the aggregate is 1,250 points.
Technically, every rider competing this weekend has a chance at the finals, however, in my opinion, only the Top 10 are really in the conversation, but anything is possible. As for world points, the 2018 points system is still in place meaning the event champion here will earn 120 world points towards the 2019 standings.
In my years with the PBR, never have I seen such a close race, regardless of the amount of points available at the finals. Richardson's lead over No. 2 Cody Coverchuk is only 83.33 points. Coverchuk has been within this range since September, but he has yet to close the gap. No. 3 Brock Radford was No. 1 before succumbing to injury and heads to Saskatoon 94.99 points back.
The winner of five events across all levels of PBR competition thus far in 2018, Jared Parsonage is No. 4 only 460 points back. No. 5 Lonnie West is out after his wreck at the World Finals. Further down the standings, I don't count out No. 6 Marcos Gloria, No. 7 Zane Lambert or No. 8 Aaron Roy either when they are less than 1,000 points back. Lambert could match Roy's three Canadian titles and Roy could move even further ahead with four. Also on the line is Roy's potential to become the first Canadian ever in the PBR to surpass the $1 million mark in career earnings. Today he sits at $994,078 USD.

Once we get to No. 9 in the national standings we arrive at our current Rookie of the Year leader Nick Tetz. Tetz leads New York state's Daylon Swearingen, No. 11 in the standings, by 397.41 points. No. 24 Austin Richardson of Wilmer, Texas is 877.5 behind Tetz.
I'm thrilled to be a part of the PBR in Canada this year and looking forward to the best finals yet. I can't wait for this thing to get started.
RELATED: Click here for the full Friday daysheet
Round 1
Jared Parsonage vs. C69 Good Bye Earl
I was talking to Justin Felisko earlier this week after he asked me who my picks were for the Canadian title. Based on the four rounds of competition and how consistent Parsonage is, he's going to be tough to bet against. He was my frontrunner to win both the CPRA and PBR Canada title in the same season, but ended up having a rough CFR finishing fourth there. I bet he's a bit mad about his showing there and full of fire to win this weekend at the SaskTel Centre. Good Bye Earl isn't a song I really want to play at a bull riding usually but it may be funny on Friday night. This Flying High Rodeo Co. bull has yet to be ridden in two outs on record.
Brock Radford vs. 40 Snap Shot
Last year Radford was passed by Lambert for the title. This year, the De Winton man was having the best season of his career when he was injured trying to get his rodeo count in for the CFR. I have thoughts on that, but Radford still ended up turning out of the CFR to pursue a trip to the PBR World Finals. Snapshot has been ridden three times in four outs for scores of 82, 82 and 84. He's a cool looking brown and red, horned bull from the Skori's that went left with Lonnie West back at the Czar Lake Bullarama in July and looked really smooth.
Cody Coverchuk vs. 410 Playing Chicken
As I mentioned earlier, Coverchuk has had a ton of opportunities the past couple months to capitalize and take over the No. 1 spot in the nation. Throughout the past three seasons he's had chances to capitalize, but hasn't. He's got ever so close but not made the critical rides at the important times. Still, he's only 24-years-old. But hey, Jess Lockwood was a World Champ last year at 19 and Kaique Pacheco won it this year at 24. There are no excuses if you want to be the best.
Playing Chicken is a Vold bull that I saw last in Yorkton. He's has one qualified ride in 11 outs, and three of those outs were marked 44 points or more. He's a black horned bull that went left with Dayton Johnston there in Yorkton. He's a snappy bull with lots of action, he looks small. He bucked off Richardson, Parsonage and Radford all the Top 4 contenders for the title this year. Will Coverchuk be the one to ride this bull and claim the title?
Lachlan Richardson vs. 51 Smash
Of the Top 4 in the race for the Canadian title, I think Richardson has drawn the best in Round 1. Smash, also from the Skori's, has been ridden 14 times in 26 outs, and scores have been as high as 86 points on the big white-faced brindle horned bull. This is a rematch from North Battleford this summer where the two danced there for 84 points. My money is on Richardson to increase his lead after this round and keep the rest of the pack chasing.
Aaron Roy vs. 454 All Business
My sleeper pick in Round 1 is A-a-ron on All Business from Two Bit and Hy-Kik. These two matched up at the Two Bit Ranch back in September where Roy was bucked off in 2.3 seconds. Either Wacey Anderson or I picked Aaron there for sure and he let us down. We might not be the coaches of Team Canada, but we are betting on a ride from Captain here. All Business will spin 'er up either way and looks great, but has only been tamed three times in 12 outs.
Round 2
Cody Coverchuk vs. 295 Black Attack
Coverchuk has drawn on the not-so-rider-friendly side of things on Day 1. I don't know this bull very well yet, but he looks like a strong black horned bull that goes to the left. Two weeks back in Yorkton he made short work of Riley Gangon. So far this Vold bull is 2-and-0 on the stats.
Jared Parsonage vs. 792 Big John
Big John from Two Bit Bucking Bulls has been ridden only once in 20 outs so far on record. He's bucked off the likes of J.B. Mauney, Ramon de Lima and Matt Triplett in the past two seasons. He might not be one you'll get a good score on if you do ride him either as was the case with the one qualified ride in June 2017 when Cody Casper was marked 80.5 points. Big John travelled all the way across Canada this year and they still didn't ride him. Parsonage will need to keep extra control of his body, but he could prove me completely wrong here and smash out a 90. There's nothing I'd like to see more than that.
Zane Lambert vs. 957 Hand Burner
This year already marks the sixth season for Hand Burner from Battle River Rodeo which is impressive. He should easily be the veteran of the bull pen. Ridden eight times in 15 attempts, he's a solid old bull they've been marked as high as 87 points aboard. He's going to probably go right and be a dandy right into Lambert's wheelhouse. Lambert also has a bull that's been ridden 50% of the time in Round 1 on Friday night. I bet he quietly gets two ridden and gets himself within the 600-point margin for Saturday, about the same deficit he overcame to win the title last year. They say history repeats itself…
Lachlan Richardson vs. 0-577 After Hours
There's only one out on record for this X6 Ranch bull. That was in Abbotsford where Logan Biever was bucked off and the bull scored 42.5 points. Richardson has the opportunity to make history this weekend by becoming the first Australian to win the PBR Canada Championship. He's even skipping the PBR Australia Finals to do so. It's his to lose this weekend in Saskatoon and Canada won't go down without a fight.
Brock Radford vs. 403 Ripped at the Seams
The Vold Rodeo bull has been ridden twice in eight outs. He went right with Chase Outlaw in Cluny back in July, when the two teamed up for 84.5 points. That day the bull went right, but in Abbotsford Parsonage rode him to the right for 87.5 points and the event win. As Felisko mentioned in the story on Wednesdsay, Radford is 1-for-13 since returning from his August knee injury which he will have surgery on after the finals this weekend. Pacheco won the World this year with a similar injury.
The final question is, who is going to step up this weekend and take the title?
The 2018 PBR Monster Energy Canadian Finals, presented by Mac's/Circle K and Dakota Dunes Casino begin on Friday, November 23 at 7:30 p.m. CST with Round 1 and Round 2. Tickets are still available and can be purchased at the SaskTel Centre Box Office, online at PBRCanada.com or Ticketmaster.ca, and by phone at 1-800-970-SEAT (7328). Fans purchasing a weekend package with tickets to both shows will receive a 15% discount.
Fans will also be able to watch all the action LIVE on RidePass. The stream will begin on both Friday, November 23 and Saturday, November 24 at 7:30 p.m CT.
Stay tuned in to PBRCanada.com and follow the tour on Facebook (PBR Canada), Twitter (@PBRCanada), and Instagram (@PBRCanada) for the latest results, news, stats and more.