The Bad Touch
By: Ted Stovin Wednesday, March 14, 2018 @ 1:46 PM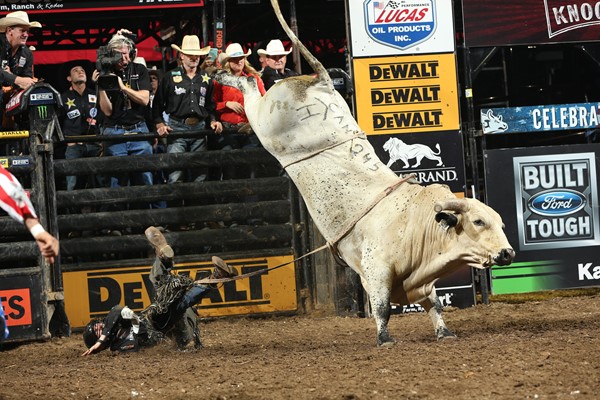 CALGARY – 36-and-0. 
That's one heck of a streak for a bucking bull at any level, and is currently the recorded touted by Bad Touch, from Elnora, Alberta's Flying High Rodeo Co. who now bucks under the K-C Bucking Bulls banner.
"This is a really, really hard bull," said two-time PBR World Champion Justin McBride of the bovine athlete during the CBS broadcast from Kansas City this spring. "All timing, he's going to have hop and skip to him, none of the guys like this one, but he should be to the left.
"That's a tough bull"
With his lineage tracing back to a Page bull by the name of Oklahoma Wishes and a cow by sire Yippie High Yea, in five years of competition not one bull rider has made the 8 aboard Bad Touch.
In fact, only one rider has ever taken the bull past seven seconds. The lone rider to accomplish the feat was Cody Nance who lasted 7.13 seconds atop the bull in Nashville, Tennessee in August of 2015.
The next closest -- 2016 PBR World Champion Cooper Davis who took the bull to 6.06 seconds in January 2017 in Chicago, Illinois during the 15/15 Bucking Battle.
Aside from Nance and Davis, only one other rider has eclipsed the 5-second mark -- Brazil's Dener Barbosa in Jacksonville, Florida, in March 2017.  
The rest -- buck off, after buck off.
As of today, Bad Touch holds down the longest active buck off streak in the entirety of the PBR. Overall, according to ProBullStats.com, the streak stands at 36-and-0. Of those, 21 have been at the elite level, also the longest active streak among bucking bulls.
"That bull is unridden and he's had the top hands in the country on him the entire time," owner Ken McElroy said. 
But why is it the bull remains unridden at such a high level?
"Well, I think he's probably the most under-rated bull on tour right now," McElroy said. "I think he's just now hitting his prime."
"But the thing is he throws those guys off so fast and he's really a strong. He's got a lot of power. He's a bull that just takes every bit of strength that they got, and he just takes it away from them.
"He's just so strong and powerful, and he's not a little bull. He probably weighs 1,800, 1,900 pounds right now. He bucks the same trip every time. There's nothing ever different about him. He just throws raw power at 'em. And he reminds me of a lot of my bull Mississippi Hippie where he was just so big and strong that it's hard for them to just get a hold of him." 
Despite the buck off streak, record and scores, Bad Touch flies under the radar and is not in the race for the PBR's YETI World Champion Bull race.  
"I think he's not a flashy bull, like (two-time World Champion) Bruiser and them," McElroy said. "They get off the ground and they're flashy and he's a bull that just bucks. He just turns back and just really bucks.
"He just doesn't have that flash value in my opinion and I think that hurts him judging wise too. I think he throws those guys off so fast that they just look at him and go, 'Ah, he could just be pretty common,' but he's really not. 
"I wish they'd put their rope on him and get on him one time. Then they'd know that he is actually a 44.5 or better point bull." 
With an average bull score of 20.95 points across all 36 outs, the bull scores aren't adding up for Bad Touch to be considered.
"He's not going to be that glamor bull that everybody looks for," McElroy said. "He just does his job."
"I think that hurts him for that reason. And I can be honest with you, there's not a lot of guys that want to pick that bull. He's usually one of the last bulls left because they know how much power he has. 
"But, I don't know what else a bull needs to do to get his name in there for that deal, but he's dang sure proved himself as one of the top bulls in the industry in my opinion. He's not a big flashy bull, but he's one I can put on the truck anytime, anywhere and he's going to buck that same hard trip every time."
According to the longest active buckoff streak tracker on ProBullStats.com, the bull with the next longest streak is JARS/Gene Owen/Rafter D's Midnight Train with 17 consecutive buckoffs at the elite level, and 20 total in PBR competition. 
D&H Cattle Co.'s Frequent Flyer currently has 16 total, with 11 at the elite level, while fellow Canadian bull, now with TNT Bucking Bulls/Hart Cattle Co., Canadian Mist is one of the next closest with eight consecutive at the elite level.
The legendary Bushwacker holds the longest-ever streak with 42 in a row at the elite level and 56 across all levels of competition. 
Bushwacker also has a streak of 20 at the sports pinnacle, and 24 total, after J.B. Mauney's 95.25-point effort in Tulsa, Oklahoma in 2013, up until his retirement in October of 2014.
Coincidentally, it was during those same PBR World Finals in 2014 that Bad Touch would be discovered. 
"I saw that bull buck there and I had really never, ever met Lorne [High], other than when we got to talking about these bulls," McElroy said of the ABBI World Finals and the man who raised Bad Touch, Lorne High of Elnora, Alberta. "I actually bought two bulls off of Lorne that same time."
"When I first bought that bull, he just caught my eye," McElroy said of Bad Touch. "That bull was on the right-hand delivery when I first saw him buck and he was just really strong and kicked like he normally does. 
"I thought, 'Why is nobody even talking about this bull or wanting him?'"
That's when the deal started to take shape.
"I got with BJ Tolman, who was actually holding the bull for Lorne here in the states," McElroy said. "BJ told me then, 'I'm telling you that that bull is going to be something. I'd love to see you have him on your truck versus anybody else, because I know the care you put into your animals. That bull is just going to get better and bigger.'" 
And better and bigger is right.
"He's just really come into his own," McElroy said. "He's good to handle. He's an easy keeper. I mean I wish I had 20 more just like him that were that good to handle, and haul, and count on bucking every time you put him in there." 
A possible contributing factor to the bull scores is how fast Bad Touch works.
"I think that's another streak that they need to look at is look how fast he throws these guys off," McElroy said. "And when you're throwing guys off in less than two seconds you're not going to see enough of him to be flashy, and mark a 45, 46 points. You know?"
Having been selected to the PBR's World Finals in both 2015 and 2016, Bad Touch was snubbed in 2017.
Now an 8-year-old in 2018, what does the future hold for this bucking athlete? 
Even at this point his name is being mentioned in elite company as he looks for his third World Finals appearance and a chance at the PBR's YETI World Champion Bull race.
Despite the lower bull scores, this bull does his job every time yet remains the biggest underdog, with the best record, of any bull on tour.
Be sure to stay tuned to PBRCanada.com and follow the tour on Facebook (PBR Canada), Twitter (@PBRCanada), and Instagram (@PBRCanada) for the latest results.