Tetz Eyes Canadian Rookie of the Year Title
By: Ted Stovin Thursday, August 2, 2018 @ 10:26 AM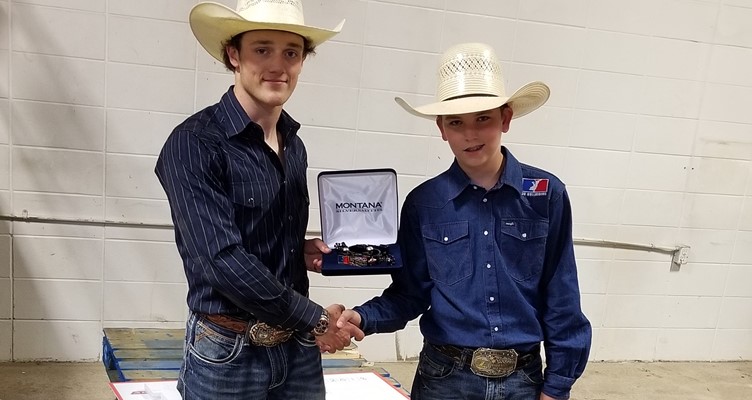 CALGARY, Alberta – Last season, Camrose, Alberta's Coy Robbins became the first PBR Canada Rookie of the Year.
Fast forward to present and an intense three-way race for the title and commemorative Montana Silversmiths Trophy Spurs set to be awarded at the Canadian Finals this November in Saskatoon, Saskatchewan is brewing.
The trio of 18-year-old contenders is led by Daylon Swearingen, followed closely by Austin Richardson, who made a name for himself in Canada this May when he won the Monster Energy Tour's event in Ottawa.
Hot on the heels of the American teens, however, is yet another Alberta-native who hopes to keep the title in his home nation – Calgary's Nick Tetz.
"After the win in Lloyd I'm pushing for Rookie of the Year in the PBR," Tetz said.
"I'm starting school here pretty soon, I'm going to SAIT for a business degree, so I can't really miss too much of that. I'm going to keep going to the PBR's and I'm going to be pushing for that Rookie [of the Year title]."
Tetz began to capture the attention of many in mid-July when he double entered the Kinsella Gravel Dome Bull-A-Rama, finishing fourth and tied for sixth after recording an 83-point ride on Morning Wish and 82-point trip aboard White Owl.
Two short days later, Tetz solidified himself as a rider to watch, capturing the first victory of his career in Lloydminster at the Touring Pro Division's Canadian Extreme Bulls & Bikes.
RELATED: Rookie Tetz Captures First Win of Career in Lloydminster
"I'd say that's probably right up there with any of my accomplishments I've done so far in rodeo or riding bulls; It was pretty special," Tetz said of the win. "I was at that event last year too, but I couldn't get on because I wasn't 18. It was an ABBI deal so I knew they had the dirt bikes there jumping over you and stuff. It's the one event where you're working on calming yourself down, not getting yourself jacked up."
Both Tetz and Richardson have wins on Canadian soil thus far this season, however the man they are both chasing, Swearingen, earned his title south of the border in Brighton, Florida. Tetz currently trails Swearingen by 549.99 points.
"There's that Daylon Swearingen who's doing good, but I think he's only going to those Monster Energy events," Tetz said of the current race standings. "If I can get some more points here and there and catch up to him I think I should be alright."
But for Tetz, the PBR Canada Rookie of the Year title isn't the only goal on the first-year pro's mind.
"I'm going to be pushing to get to the CFR," he explained. "It hasn't been going as good as I thought it would be, there's been a lot of bulls where I messed up or I should have rode them. "There's been a few places where I'm star-struck, so I'm working on getting back to just riding bulls. We're going to get to the CFR, we're not just happy with getting to the CFR, it's going to be getting a win at the CFR now too."
Tetz, who turned 18 in December 2017, is planning to make bull riding his full-time gig at first opportunity.
"When I can get to the gym, I go to the gym, and when I'm not working, I'm just riding bulls," Tetz detailed. "I figured that if I was going to go pro this year that I might as well be all in and not have to miss any because I have to go to work or something like that.
"I figured I would just make bull riding my main source of income for this year anyways. But we've got a cabin out in [British Columbia] too so I've been out there a few times during the week."
The path Tetz has set forth for to accomplish his goals, however, hasn't come without its bumps and bruises.
"I've been a little banged up," Tetz said. "My wrist is starting to finally feel a little better and in Morris I got stepped on and I couldn't really walk too well. Ever since then my wrist has been bothering me since Ponoka, so kinda tough to get into the gym and do anything really."
Like any sport, there are good days and bad days.
"It's been hit and miss really," Tetz said. "Usually if I ride I end up winning the rodeo, but I usually put one ride together every couple weeks so I've been trying to work on getting my consistency down."
Along for the journey with Tetz are fellow rookies Cameron and Kyle Brown.
"My traveling partners now are Cameron and Kyle [Brown], they've got practice bulls and everyone is kind of finally healthy enough to where we can be getting on bulls during the week. We are going to be Thursday nights, planning on bucking bulls every week now for the rest of the year, just to kind of keep us getting on. They've got a good set of practice bulls there and it boosts your confidence and keeps you kinda sharp. When things aren't going good, you've got that to fall back on at least."
Be sure to stay tuned to PBRCanada.com and follow the tour on Facebook (PBR Canada), Twitter (@PBRCanada), and Instagram (@PBRCanada) for the latest results.