Tanner Byrne – Redemption Time
By: Ted Stovin Friday, June 8, 2018 @ 8:00 AM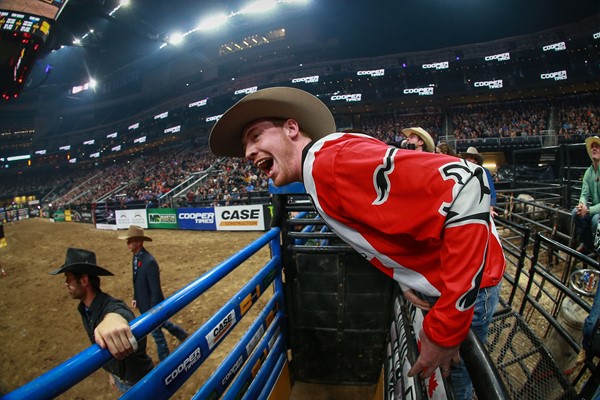 CALGARY, Alberta – At the end of the inaugural PBR Global Cup in Edmonton, the wrong anthem was being sung according to Tanner Byrne.
The sting of defeat was heavy in the Saskatchewan man's heart and the fire is still there to claim the Global title this weekend.
"It's redemption time," Byrne said. "We lost our home dirt in Edmonton and I know for a fact there's nobody on our team that's coming here for second place. We're coming to show the world what we got. Don't expect anything other than first."
However, while Byrne feels this fervor, much of the bull riding world is seemingly discounting Canada's chances at the global showdown.
"I think that we're always the underdogs," Byrne explained. "I think your main teams are the U.S. and Brazil. Those two dominate the bull riding world. I think in the last however many years, we've always had solid guys from Canada and from Australia and from Mexico, but not the big numbers like you have out of the U.S. and Brazil. They [have] got a lot of guys that are all on the main tour and have lots of guys to pick from. So, obviously coming into it, they're usually the favorites and I think that just fuels our fire even more."
But, it's a position Byrne isn't disappointed about.
"We love being the underdogs, being the guys that everybody was talking about had no chance. And look what we did," Byrne said. "We came in had a really good first day and then let it slip on us the second day. I think that was just a little bit of inexperience on our part and just letting a couple get by us."
Although Edmonton was a team effort, the current No. 21 man in the world standings puts part of the defeat on his own shoulders after a 1-for-5 performance including getting blanked at the qualifier.
"Myself personally on Herf there," Byrne spoke of a second day matchup with Two Bit Bucking Bulls' Herf. "That was a big ride that if I would've rode that bull, would have probably took us back into the lead and then gave the guys a little bit more hope to keep rolling."
As the third oldest on the team next to Zane Lambert, 31, and alternate Justin Lloyd, 30, at 26 as of his birthday Monday, Tanner Byrne knows his role.  
"My job is to get our team going and keep our team rolling," Byrne said. "I think we have a really, really solid team and you can see the last couple weeks how good our guys have been riding at those events out there. The guys that are on our team have been winning at all the events."
With the rest of Team Canada rolling, Byrne took the past two weeks to rest his body after the gruelling first half of the 25th PBR: Unleash the Beast.
"I got sored up a little bit in Québec City and I just kind of figured that I've been going pretty hard," Byrne recalled. "I haven't had a break in a long time and it's kind of summer break but we rolled right into those Canada events. I really, really, really wanted to go out to the last two, but I figured with the Global Cup on the line and kind of the way I go about things, I ride the best when I'm feeling really good and not feeling sore and beat up and a little bit fatigued. I figured that was the best decision I could make, not only for myself, but for Team Canada. I feel 100% ready to rock-and-roll here coming into the Global Cup."
With the team format, Byrne is thankful to see a full roster of the top Canadians available.
"You can't pick a better team in my opinion right now for guys in Canada," Byrne said. "That's kind of something that we didn't have last time at the Global Cup. I think that our team is firing on all cylinders and not just showing up to compete, but showing up to win."
Bull riding is an individual sport and having this team aspect throws a curve ball into the mix.
"It's wicked, I love this team concept," Byrne said. "I kind of wish they were all like this. It's a very lonely sport and everybody's your buddies and they turn into your family and stuff when you're on the road, but it's kind of one of them deals that you are still competing against the bull.
"You're on your own at all times in the sport of bull riding. This just adds that team pride where when you nod your head, the other seven guys on your team are going to be wanting you to stay on just as much as you're wanting to stay on. So when somebody does good on the team, the whole team does good. It's a cool concept and I like it and I hope that I can do my part to help our Canadian guys win a championship and win a bunch of money."
With the individuality involved in bull riding, there's not much a fellow rider can really do for another besides being there to help him on and cheer.
"I feel like, the best way to do that is by going there and smashing out 90-point bull rides," Byrne said.
"Show the team that we're not just here to compete. We can win against the world champions from the other teams and all those top-ranked guys in the world standings. That we can hang right there with them and beat them."
One rider missing from the past two Global Cup rosters but still in the minds of the members of Team Canada is the late Ty Pozzobon.
"That's kind of a crazy thing, last year with the Global Cup when it was in Edmonton, it was actually on Ty's birthday," Byrne said of the qualifier on November 9. "Since we were 18 years old, I always remember they used to have the World Cups and when we turned 18, they stopped having it. I remember me and him always talking about, every year pretty much, of how cool of a team we could have.
"How awesome it would be if we could compete and kick ass with us on Team Canada. It was always something that was brought up whenever we talked about bull riding or the PBR. He always really wanted to be a part of that Team Canada.
"It's unfortunate that he's gone too soon and didn't get to experience it and be a part of Team Canada because in my opinion, [he's] the best bull rider that came out of Canada. He just had so many injuries and extra added things that held him back a lot in his career. He never really had a full healthy year. But if he could have been on Team Canada, our team would have been just that much better."
Pozzobon may not wear the Team Canada jersey, but he's still a part of every one.
"I know all of us will be wearing his patch on our jerseys and just because he's not here physically and riding, as his own person on our team, he's going to be the backbone of our team and the spirit of our team," Byrne said. "He'd be shaking his hands, rubbing his hands together, up there riding with us all I'm sure and be proud of us going over there and competing."
Global Cup action gets underway at 7:00 p.m. ACST on Saturday, June 9 and will conclude on Sunday, June 10 at 7:00 p.m. ACST.
RidePass coverage will begin at 5:30am ET on both Saturday, June 9 and Sunday, June 10.
Fans will also be able to watch all the action on TSN2 when the network airs a one-hour highlights program from the event on Tuesday, July 3 at 7:00 p.m. ET.
Be sure to stay tuned to PBRCanada.com for the latest event information, and follow the team's journey on Facebook (PBR Canada), Twitter (@PBRCanada), and Instagram (@PBRCanada).