Success Down Under Propels Radford to New Career Highs
By: Ted Stovin Monday, July 2, 2018 @ 8:35 AM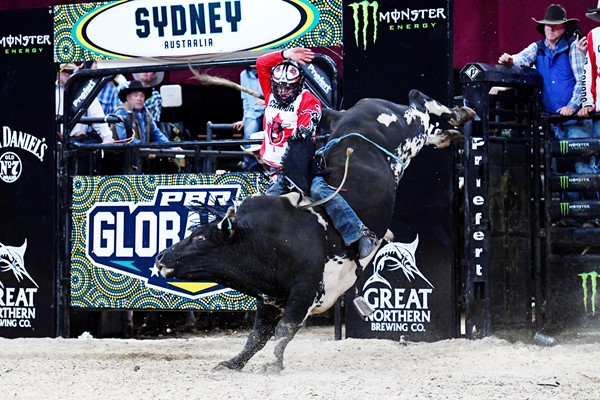 CALGARY, Alberta – Brock Radford's father Max was born and raised in Australia, and his grandparents are still residents of the faraway nation.
It's not often they get to watch their grandson ride, but this last trip was a delight.
"That was cool," Radford recalled. "My grandparents flew down and watched me at the Global Cup. I had my Mom and Dad, they flew over. We had family and friends in the stands watching and cheering, so it's cool.
"Obviously, they don't get to see me ride other than videos very often and the couple times I've been over there, so it's always fun to ride and do good for them."
The current No. 1 man in the PBR Canada Standings went a perfect 5-for-5 in his most recent adventure Down Under, between the second leg of the inaugural PBR Global Cup in Sydney, and PBR Australia's Iron Cowboy in Brisbane.
At the Global Cup, Radford earned an 80-point score on Sweet Pro's Turn It Up in Round 1, which he followed with an 86-point trip on Cookie's & Cream in Round 2 to help propel Canada to a third-place finish.
RELATED: Team Canada Third At PBR Global Cup in Sydney
Collectively, the eight-man Team Canada went 13-for-18, racking up 986.8 points, to finish third, just 19.75 points behind event winners Team Brazil.
While most of his teammates elected to return home, Radford, along with countryman Lonnie West, opted to make the most of their more than 14,000km journey, boarding a short flight to nearby Brisbane for the nation's Iron Cowboy.
Continuing his perfect streak, Radford went 3-for-3 to finish second, notably earning 70 world points and bumping him to No. 28 in the PBR World Standings, his highest career ranking yet.
"It kinda ended up working out really good," Radford said. "It was a slow start. I think I was only 82 on my first one so I had to go through the last chance bracket and then I rode, I can't remember what bull I rode, but ended up being enough points to get me back to the short round in really good shape."
Radford first scored 82.75 points on Cherry Ripe in Round 1, recording his fourth qualified ride in as many outs with an 84.5-point trip aboard Sweet Pro's Tough Task in Round 2.
RELATED: Radford Second at PBR Australia's Iron Cowboy
"I had second pick in the short round and I picked that Blossom of Brandenburg Bucking Bulls," Radford said. "That's the one that bucked me off right at the whistle in Townsville at their Iron Cowboy so I knew him. And obviously we got to watch him in the Global Cup with Cliffy (Richardson) being 87 on him. So I picked him and I just did my part and it worked out."
The 22-year-old scored 86 points on the bovine athlete, giving him a five-out ride streak heading into PBR Canada's richest stretch of events with six in six days and twelve in the month of July.
Looking back to the last PBR event in Canada before the trip down under, Radford went 2-for-3 in Moncton with the only buck off being at 7.92 seconds against Happy Camper from Two Bit Bucking Bulls in the Championship Round. Across all levels of competition, he's gone 27-for-54 (50%).  
In Canadian Pro Rodeo Association (CPRA) competition he's ranked sixth.
"Yeah, we're busy, we go to Sundre tonight, Wainwright short round tomorrow then we've got a couple days off then we roll into Ponoka, Williams Lake, Airdrie, Ranchman's all them PBR's that are up here," Radford said after a muddy ride in High River, Alberta on June 23. "Then we'll head down south for Big Sky, Livingston, Cheyenne, Pendleton, the big ones down south and whatnot."
After last weekend, Radford has three rodeos counted of the necessary 15 to qualify for the Canadian Finals Rodeo (CFR), but he may have a conflicting event.
"PBR is our priority,' Radford said. "We're trying to get our rodeo count in right now so if we have the ability to go to the CFR, we can go. But it'll just be some business decisions to be made, cause if we are at the Velocity Finals, it's on the same time as the CFR.
"So we'd just rather set our hands up the best we can and then decide at the end of the year what we wanna do. Getting a gold ring at World Finals is where our minds are at."
Be sure to stay tuned to PBRCanada.com and follow the tour on Facebook (PBR Canada), Twitter (@PBRCanada), and Instagram (@PBRCanada) for the latest results.