Star in the Making – Two Point Oh
By: Kacie Albert Thursday, May 31, 2018 @ 8:00 AM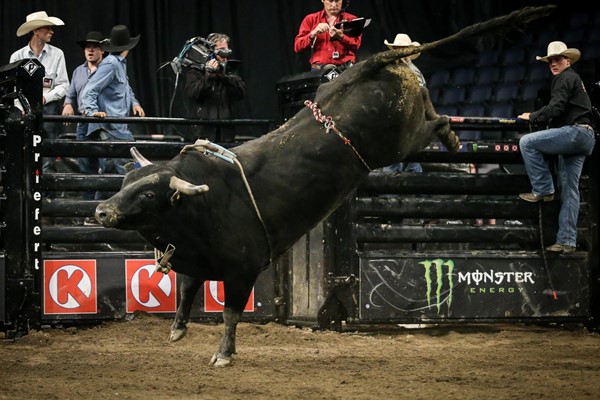 NEW YORK CITY – For the last several years, Skori Bucking Bulls' pen has been headlined by 2015 PBR Canada Bull of the Year Minion Stuart.
However, a five-year-old, black powerhouse named Two Point Oh is quickly climbing the ranks, set to potentially become the outfit's next star.
"He's definitely got a lot of heat to him," Lane Skori told PBR Canada's Ted Stovin. "He's had six rider trips in his life now, and just keeps getting better every trip, and hopefully he keeps on the up."
Thus far in 2018, only one rider has lasted more than 3.5 seconds on the bovine athlete, with Australian Lachlan Richardson taking the "long and tall" bull to the 5.65-second mark during Round 2 of the Monster Energy Tour's Canadian Iron Cowboy in Québec.
"He's just a real long, strung out bull and gets in the air and really whips," Skori said. "He's got a lot of speed and power. I haven't in a while seen a bull that spins that fast.
"Usually when you get a fast spinner bull like that, they can't kick because they're going too fast, but he seems to find a way to get that kick with going that fast, which is kind of hard to come by. [Two Point Oh]'s got the drop and the kick to go along with the speed that he spins."
The bull's season began the first weekend in May, bucking in the Championship Round of the Touring Pro Division's Prince Albert, Saskatchewan event, sending Jared Parsonage to the dirt in 3.5 seconds.
Two Point Oh was then identified as one of the nation's best when he was selected to travel eastward for the four events on the Monster Energy Tour taking place in Ottawa, Québec, Halifax and Moncton.
More than 3,000 km from home, Two Point Oh seemed unfazed by the journey, bucking off Matt Triplett, who twice in his career has finished inside the Top 5 in the world standings, in his first out. Besting the Montana rider in 1.64 seconds, he earned a 42-point bull score for the Round 1 out in Ottawa.     
After earning a 40.5-point score for his out against Richardson, he most recently dispatched Wyatt Gleeson in 3.01 seconds during the Championship Round in Halifax for a 43.5-point bull score. Not only were the marks the top of his career, but also were the second best at the event.
"I want to see him get rode," Skori said of his fast rising bovine athlete. "I like to see them good bulls get rode, shows you what you've got."
"I hope next weekend someone rides him for 90, that's always the goal. Lots of guys want the buckoff and the big bull score; I want to see guys getting on them."
While Two Point Oh's dominance in the arena may be on full display now, it wasn't always a talent that was readily visible.
"He is [a star], and Ellie was actually the one to predict it," Skori said of his dad and founder of Skori Bucking Bulls.
"He'd had one rider trip in his whole life and [Ellie] just knew. He can just pick that out of them."
"As a calf, he wasn't anything spectacular," Skori further recalled, adding, "He was really wild."
"We dummied him as a two-year-old, and we didn't buck him as a three-year-old. We took him to one bull riding the summer he was four, and then he just sat. He sat that whole winter and dad kept telling me, you need to get him bucked, I bet you he's a short rounder, and sure enough."
Looking back, Skori also noted, "when we dummied him he was kind of exotic, blowing the air, would kick real hard, but dad's got a good eye for that stuff I guess, he's done it for 39 years now."
Fast becoming a new face for the Skori Bucking Bull operation, Two Point Oh is one of many legends to pass through the ranks founded by Ellie at the conclusion of his bull riding career.
"[Ellie] bought his first brahma cow [after he] went to a bull riding school when he was 15 years old," Skori said of the early years of the family business.
"Dad use to, up until he was done riding bulls, right, every good bull that he'd get he would just sell to Harvey [Northcott]. And then once he retired, and he retired kind of young, cause he had kids and stuff and he was pretty banged up and had a farm, and just got tired of leaving home, just started packing them on his own.
"And then it's just went up since then."
With the likes of Trick or Treat, a three-time qualifier to both the PBR World Finals and National Finals Rodeo, and Big League raised by his dad, Lane grew up completely immersed in the western lifestyle.
 "We've got pictures of them hanging in our house," he said. "And we've got Trick or Treat's buckle from winning Bull of Canada [in 1995]. He won Bull of Canada the year that I was born."
So when Ellie recently asked Lane whether or not he wanted to continue with the business, Lane's answer came without hesitation.
"He said at one point, 'if you don't want to do it, we can get out of it and sell everything,'" Lane said.
"But of course I love it, so I was like no. And he said if you want to keep in it then you've got to buy out half of everything, so I bought out half the cows and half the bulls. I've got half of every bull on the place, and every cow.
"He basically leaves the bulls up to me now. I take them to the college where I dummy buck them, but he's still, when I have something that I can't figure out, he's still the guru that I go to, to ask.
"I mean he notices things in bulls that I've never seen anything out of before. "
When the tour rolls into Moncton, New Brunswick this weekend, Lane Skori will once again be on hand to tend to his bulls, a job he looks to as one of the best in the world. 
"To come out and travel the country with all the people that you like to associate with, and hang out with, it's pretty special. There's just nothing more fun.
"How many people get to go and see all the stuff that we do? Do all the things that we do? It's just a good way of life.
"It's fun getting up every day and doing what you love. Every morning you start going out and feeding bulls and hanging out with them, it's a good day in my books."
The Monster Energy Tour stops in Moncton, New Brunswick on Saturday, June 2 at Moncton Coliseum. The event gets underway at 7:00p.m. AT.
Be sure to stay tuned to PBRCanada.com and follow the tour on Facebook (PBR Canada), Twitter (@PBRCanada), and Instagram (@PBRCanada) for the latest results.