Roy honored to coach Team Canada at PBR Global Cup
By: Kacie Albert Thursday, February 22, 2018 @ 11:00 AM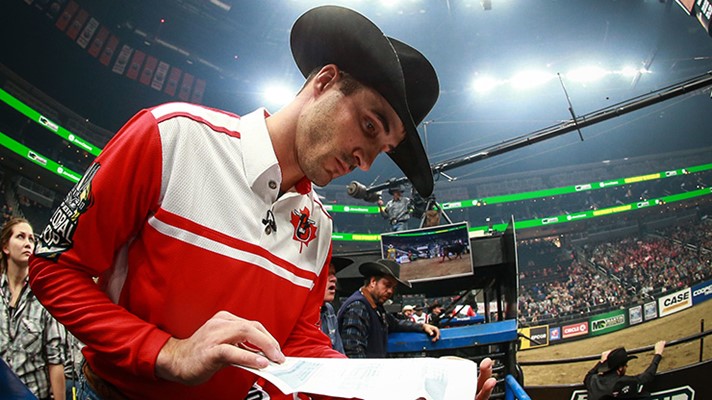 SASKATOON, Saskatchewan – When the PBR hosted the first-ever Global Cup in Edmonton, Alberta, last November, Team Canada had much to prove – and defend – as the host nation.
With the event featuring a rarely-seen team format in the sport of bull riding, famed Canadian rider Aaron Roy was the man at the helm of the contingent as coach for the Canuck squad.
RELATED: Confident Roy Read to Lead Team Canada
The three-time Canadian champion will once again be assuming his role as the nation's leader with the second PBR Global Cup on the near horizon in Sydney, Australia, and Qudos Bank Arena.
The PBR announced Thursday that Roy would be returning as coach of Team Canada for the next edition of the Global Cup when the event heads down under. Roy joins Team USA's Justin McBride as coaches set to return. Team Australia, Team Brazil and Team Mexico will be announcing their coaches later this week.
"It's an honor," Roy said. "I thought they'd have to go through the whole voting stage again, and when I heard everyone wanted me to be coach again, it was a no brainer for me. I had fun doing it, and it was a learning experience for me. A new challenge too."
Roy led the Canadians to a third-place finish last November inside Rogers Place after the 14-rider contingent went 10-for-32.
RELATED: Team Canada Defends Home Soil, Leads PBR Global Cup After First Night
Despite leading after the first night, the team that proudly represented the Maple Leaf suffered numerous critical injuries. Team Canada was without Dakota Buttar and 2017 PBR Canada Rookie of the Year Coy Robbins to a broken foot and concussion, respectively.
RELATED: Team Canada Confident Despite Injury Setbacks
The home-nation was led by Lonnie West's 2-for-3 performance.
While two-time and reigning PBR Canada Champion Zane Lambert, Brock Radford and 2015 PBR Canada Champion Tanner Byrne all put points on the board, they inevitably fell 188.25 points and two qualified rides short of defending their home dirt, with Team USA emerging victorious.
RELATED: Team Canada Third at Inaugural PBR Global Cup
Looking forward to this June's event, Roy is excited for the talent that could possibly fill his team.
"There are a lot of guys out there now that are riding really good," Roy said of the currently competing Canadians.
"It's pretty much anyone's game who can make it on the team," he elaborated. "We've got a lot of guys going."
The first three riders for each country will be announced Saturday night during the WinStar World Casino & Resort Iron Cowboy, powered by Kawasaki.
There are a variety of riders including Byrne, Lambert, West, Jordan Hansen and Radford that would be good fits for Team Canada.
The PBR will also announce how each seven-rider team (Australia will have 14 riders) will be selected at this time as well.
Australia will come with extra significance for Roy. He was selected to compete as part of Team Canada at the first-ever PBR World Cup in Gold Coast, Australia, in 2007 where Team Canada finished in second place.
"First year they had the World Cup, I actually went over there as part of Team Canada," Roy recalled.  "I found it very similar to Canada going over there riding. The bulls are kind of similar.
"You wear the country on your sleeve and try everything you have to get a qualified ride."
"Just to go over there is an eye-opener for everybody when you get to travel that far to compete as a team and to bring home a Global Cup Championship."
Roy says he will lean on riders' previous experiences at competing in Australia when trying to learn about the country's bovine athletes.
"I haven't been over there recently, but there are going to be guys on the team that have been over there in the last two years, and I know lots of guys over there too to help us with the bulls," Roy said.
And while his team won't have a home field advantage this go around, Roy is confident they will be a top contender to bring the Australian horn and dirt back to Canada.
"Our chances are really the same as going anywhere," he said.
"The team we had in Edmonton, I was extremely proud of them. They did everything they could. We were missing a few guys that went a different route, but hopefully they come onto this team this year and we go over there and take the championship back.
"Get redemption for Edmonton."