Robbins Sets Sights on Qualifying for Elite Tour with First Stateside Push
By: Kacie Albert Tuesday, January 23, 2018 @ 2:02 PM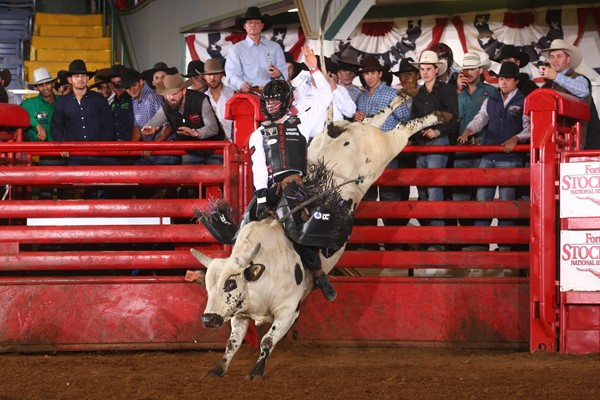 NEW YORK CITY – While 18-year-old Coy Robbins had planned for his first stateside run competing at PBR events to begin sooner, despite a two month delay, the fast-rising rider is fresh off his first push south.
RELATED: Robbins Sidelined by Injury Following Global Cup; Stateside Plans Put on Pause
At the start of the year, the 2017 PBR Canada Rookie of the Year, along with fellow countrymen Bryce and Lonnie West, and Dayton Johnston, to name a few, made the more than 3,000km trek from their homes to Fort Worth, Texas for the Touring Pro Division's (TPD) Cowtown Classic.
From there, the travelling contingent of Canucks made the journey to Denver, Colorado and Portland, Oregon for events on the Real Time Pain Relief Velocity Tour (RVT).
"Bryce's driving could use a little bit of help," Robbins joked of his journey across the United States.
"But no, it was good. That was my first time going south and I can't wait to get back."
"The goal is to get on tour this winter, but if that doesn't happen there's all these PBR Canada events we can go to and work our way there."
At the first stop on his journey, Robbins went 0-for-2 in Texas, bucking off B5 Ranch's Land Shark at the 3.21-second mark in Round 1, followed by a 4.11-second buckoff aboard Tommy Julian/D&H Cattle's High Test.
"My bull was so small, when I slid up on my rope my spurs touched underneath him," Robbins said.
Travelling partner Lonnie West was the lone Canadian to record a qualified ride at the event, making the 8 aboard 3J Ranch's KW48460 for 77 points.
"Lonnie he did pretty good in the long round at Fort Worth, got one rode, made the short round," Robbins recalled.
"I got back on time, and Bryce kind of drew some hard to ride ones down there and didn't have any luck."
After a more than 11 hour journey northwest, Robbins earned his first qualified ride in the United States at Denver's National Western Stock Show.
"That's a cool PBR event, Denver. It was a blast," Robbins said.
His 8-second effort came on Talbert & Anderjaska Bucking Bulls' Compact, earning him a score of 84.5 points.
Despite the success in the first round, he was unable to cover his next two draws in Hooky and Scrappy.
The 1-for-3 effort led Robbins to a sixteenth place finish, just outside of the placement needed to earn points and/or money.
Veteran Canadian rider and reigning PBR Canada Champion Zane Lambert led the field of Robbins' countrymen, finishing eighth and earning $2,409.46 after he covered Geronimo for 84.5 points and The Hulk for 84 points in the final two rounds.
In a field of nearly a dozen Canadians, Jordan Hansen and Tanner Byrne also recorded qualified rides, finishing 11th and tied for 18th, respectively.
After an overnight stop in Pocatello, Idaho, Robbins next found himself in Portland for the tenth RVT event of the season.
While the core of Canadians stateside began to generate successful momentum in Denver, none recorded a ride in the City of Roses, including Robbins who bucked off Have Faith at the 5.34-second mark.
With his first stateside trip in his rearview mirror, Robbins is more focused than ever on achieving his goal of qualifying for the league's top tour, 25th PBR: Unleash The Beast, but is cognoscente of the rest he needs to ride his best.
"And I mean, I'm only 18 and my right shoulder is pretty buggered up as it is, I don't need my left one getting messed up," Robbins said.
"Taking weekends off this winter, might put another two months onto the end of my career."
With a three-week break to allow his body to recover, Robbins next plans to enter the RVT's Youngstown Invitational in Youngstown, Ohio.
"This early in the year, it's still early winter and there's no use beating yourself up every single weekend down there," Robbins said.
"I'll rent a car and go to Youngstown. Rent a house in Youngstown for a week and hang out there. And then get on in Youngstown and fly home."
Be sure to stay tuned to PBRCanada.com and follow the tour on Facebook (PBR Canada), Twitter (@PBRCanada), and Instagram (@PBRCanada) for the latest results.