Richardson Strikes Gold in Calgary
By: Kacie Albert Wednesday, July 4, 2018 @ 12:33 PM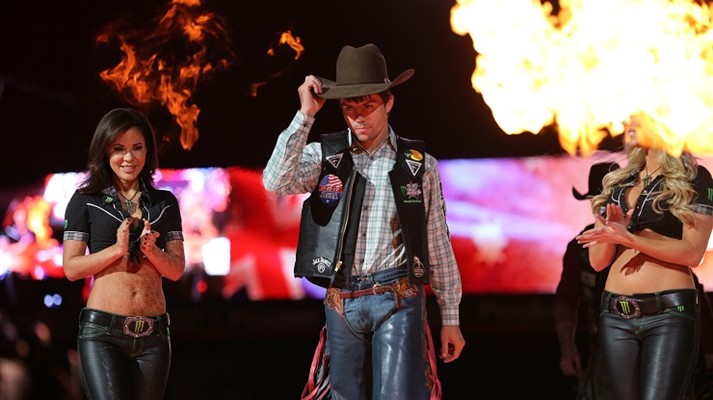 NEW YORK CITY – For Australia's Lachlan Richardson, Canada has become somewhat of a second home.
First competing in the nation in 2012, his rookie year riding at PBR events, the Great White North has helped Richardson reach new career heights. And with a win at last night's Ranchman's PBR BullBustin' in support of the Society for Treatment of Autism, presented by Wolseley Canada, Canadian competition is once again pacing to be an instrumental element to the 25-year-old's season.
"It's good, really good," Richardson said of the event moments after receiving his buckle. "A really good atmosphere and the people are great, and they look after everyone.
RELATED: Richardson Wins First Night of Ranchman's PBR BullBustin'
"There seem to be a lot of events up here, and I enjoy them up here, it's like a second home to me up here -- in the warmer months anyway."
The Gresford, New South Wales native began the event with an 83-point trip on Outlaw Buckers Rodeo Corp.'s Slick Cat in Round 1, tying him for fourth heading into his final out of the night.
Awaiting him in the Championship Round was Girletz Rodeo Stock's Willy Wonka, whom he knew little of. "I'd never seen him before," Richardson said. "But no one even knew about him, so I don't know if that helped."
When the chute gate cracked open, Richardson and the black-and-white bovine athlete connected for a round winning 89.5-point score, catapulting him to the top of the leaderboard.
"He's one you want to get on, he bucked really hard," Richardson said of the bull who went into his hand. "I think when they're bucking like that it doesn't really matter, but I like them into me hand, but still going to ride them if they go the other way."
Adding to the significance of the ride, Richardson's marks in the Championship Round were his best of the 2018 season thus far.
"Lachlan Richardson has spent the last few years on Canadian soil," announcer Brett Gardner told the sold-out crowd during the buckle presentation. "We are so proud to have [Lachlan] on Canadian soil."
While Gardner praised the bull rider, fans couldn't help but notice Richardson's ever present smile.
"I've always got a smile because I like what I'm doing," he said while standing in the center of the arena. "Thanks to everyone for coming out. It was a great bull I got on tonight and the travelling buddies I've got pumped me up and made it easier."
 For his effort, Richardson earned $4,743.00 CAD and 60 world points.
Notably, at the beginning of the night the Aussie was ranked No. 62 in the PBR's World Standings, rising to approximately No. 55 compliments of the victory.
The finish is Richardson's best thus far of 2018, which while it began on the elite 25th PBR: Unleash The Beast, saw him fall victim to the cut line following the February event in Anaheim, California.
Since, he has been competing on various tours in Canada, the United States and Australia looking to regain his position in the Top 35.
As he seeks his seventh qualification to the PBR World Finals come November, Richardson has gone just 18-for-61 (29.51%) across all levels of competition, however is no stranger to a strong summer run to drastically change the trajectory of his season.
And one has to look no further than last season to see this illustrated.
After tearing his bicep during the 2016 PBR World Finals, Richardson began his 2017 schedule in his home nation the final weekend in May, sidelined the entirety of the first half. With one event under his belt, he travelled to North America where in roughly two months he went from being unranked to No. 38 in the world rankings.
RELATED: Richardson Returns to Competition from Torn Bicep
Riding at 19 events, Richardson recorded nine Top-5 finishes to propel him to the doorstep of the Top 35, highlighted by three event wins, two of which came on the Canadian Touring Pro Division in Kinsella, Alberta and North Battleford, Saskatchewan.
RELATED: Richardson Riding Torrid Pace Into Big Sky
And Canada has played a larger role in his career when you examine Richardson's complete resume. Not only was Montreal, Quebec the site of the rising talent's first PBR event win, but it was also the event that propelled him to his elite tour debut in 2012 in Uncasville, Connecticut – an event he won in historic fashion.
 RELATED: First Time's a Charm for Richardson
Looking forward, Richardson has a slate of Canadian and U.S. events he hopes will propel him back inside the Top 35, much like they did last season. First on the docket, a return to Ranchman's tonight for the second day of action from Cody Snyder's bull ridings for a cause.
"Great event," Richardson said of the annual tour stop. "I'll be back tomorrow to do it again."
Fans can relive all the action from last night's event, which raised more than $30,000 for the Society for the Treatment of Autism, on demand on RidePass.
The three-day slate of events continues tonight with the Ranchman's PBR BullBustin' in support of Canadian Mental Health Calgary, presented by Victory Lab at 7:00 p.m. MT. Fans can watch all the action LIVE on RidePass.
Be sure to stay tuned to PBRCanada.com and follow the tour on Facebook (PBR Canada), Twitter (@PBRCanada), and Instagram (@PBRCanada) for the latest results.