Richardson Seizes Opportunity in Canadian Debut
By: Kacie Albert Tuesday, May 15, 2018 @ 11:03 AM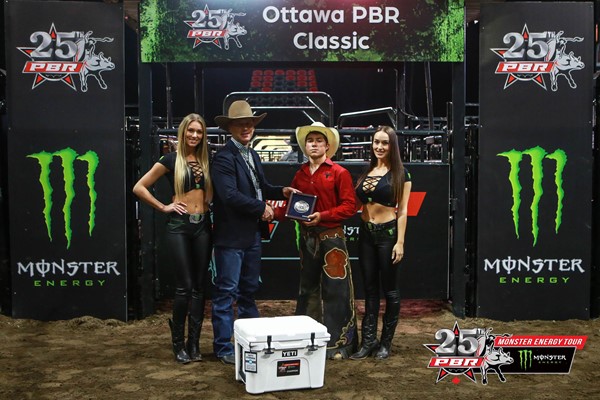 NEW YORK CITY – In Ottawa for the second stop of Canada's 2018 Monster Energy Tour, the draw included some of the nation's most well-known riders, including the likes of Tanner Byrne and Zane Lambert, in addition to several home-province hopefuls.
However, at event's end, Austin Richardson, an 18-year-old from Wilmer, Texas, stood at center arena, crowned the event champion after going a perfect 2-for-2.
RELATED: Austin Richardson Rides to First PBR Victory in Ottawa
"I can't thank the lord enough for the opportunities he's given us," the near speechless first-year pro said to PBR Canada's sideline reporter Scott Byrne moments after receiving his buckle. "And thank you to my friends and family for supporting me."
His career-best finish in Ottawa, also marking his first PBR Event win, began when he was one of seven to cover his first round draw. In Round 1, Richardson covered Wild Hoggs Bucking Bulls' El Camino for 83 points. 
Advancing to the Championship Round, Richardson then faced one of the rankest bulls in the nation thus far this season in Happy Camper hailing from Two Bit Bucking Bulls. The reigning ABBI Canada Classic Champion, the four-year-old bovine athlete entered the matchup having earned the top-bull honor at the tour's first stop of the season in Calgary, marked 43.5 points for his 4.44 second buckoff of Jake Gardner.
RELATED: Happy Camper Begins Second PBR Season with Win in Calgary
While Happy Camper sent Richardson to the dirt less than a second after the chute gate cracked, the Texan was awarded a re-ride after not calling for the bull.
"He looked good," Richardson said of the bull who has bucked at the sport's top level including the 2017 PBR World Finals and Global Cup. "Shoot, I was still kind of off the back of my rope and he was still leaning and I didn't call for him. I was blessed to get another one. "
In the re-ride pen, Richardson drew another bull from the Two Bit nation, this time in Catch My Drift, who had been ridden just once in three prior attempts.
Continuing his flawless streak in Canada, Richardson made the 8 on the bovine, scoring 87 points, including a career-best 43-point bull score from Catch My Drift.
"He was good, just right," Richardson said of the out.
For his flawless performance, the Texan earned a paycheck for $6,416.48 along with 500 Canadian and 120 world points.
"It means everything," Richardson further elaborated of the win. "A great opportunity I had to come up here into Canada, and I just had my chance and I took it."
Richardson is now ranked No. 55 in the world, 147.5 points outside of the Top 35 and a spot on the elite 25th PBR: Unleash The Beast.
This weekend, however, Richardson will not return to the Monster Energy Tour, instead returning home for his event Buckin on the Block which he puts on in tandem with Kane and Koal Livingston.
"Last year we gave away a Cadillac car, this year we're giving away a dirt bike," Richardson said of the event. "It's a pretty cool deal, it's all over Facebook and everything."
Fans can relive all the action from the second Monster Energy Tour event of the season, including Richardson's path to victory, on Tuesday, May 29 on TSN2 at 7:00 p.m. ET when the network broadcasts a one-hour highlights show.
The Canadian Monster Energy Tour next travels to Quebec City, Quebec for the second-ever International Major, the Monster Energy Tour Canadian Iron Cowboy, presented locally by Couche-Tard, on May 19 at the Videotron Centre. The action will begin at 7:00 p.m. ET with $75,000 and 300 world points on the line.
Be sure to stay tuned to PBRCanada.com and follow the tour on Facebook (PBR Canada), Twitter (@PBRCanada), and Instagram (@PBRCanada).